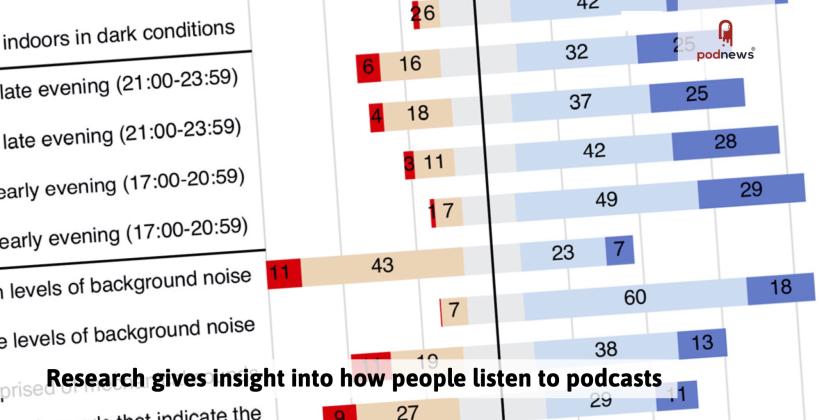 Research gives insight into how people listen to podcasts
LISTEN
· · 5.2 minutes to read
In the
Podnews Weekly Review
this week - Bumper's Jonas Woost talks more about why Listen Time should be the real measurement of podcasts; Lex Friedman talks about consulting life after Amazon; and we hear more from Sam Sethi about Podfans. Get the show
ad-free
on Apple Podcasts.
Thank you to Gilded Audio, who have become our latest supporter today. The only award-winning podcast production studio to ever send us a picture of their logo in cheese, they describe themselves as good-natured and trustworthy, producing shows for Spotify, Audible, Accenture and Chobani (so we assume a picture of their logo in greek yoghurt is coming soon). You can be like them - not the cheese but the support - by following this link.
Moves and hires
Tips and tricks - with Podcast Movement Evolutions
Podcast News - with editaudio

From editaudio:
Ozarks True Crime
How do three women vanish without a trace? In Season One, Journalist Anne Roderique-Jones investigates the 1992 disappearance of three women from a single-family home in her hometown of Springfield, Missouri.

In the
Podnews Weekly Review
this week - Bumper's Jonas Woost talks more about why Listen Time should be the universal measurement of podcasts; Lex Friedman talks about life after Amazon; and we hear more from Sam Sethi about Podfans.

True-crime podcast
The Fall Line
is in the middle of a three-part podcast miniseries on the nearly two decade long cold case of Chairo Garibay Ferreyra. The miniseries aims to bring attention to Chairo's cold case and encourage new media focus that could lead to tips and even resolution. It's from Glassbox Media.


CBC's The Vinyl Cafe might be Canada's most beloved radio show; and
Backstage at the Vinyl Cafe
features stories about Dave, Morley and the kids; and stories from the much-missed show with producer Jess Milton. It's hosted by Acast and launches this week.

Relationship and dating advice isn't just for young folk. Just launched -
Dear Nelly
, with Aussie comedian Nelly Thomas, brings guests and advice from the other side of 40. It also explores break-ups, parenting, marriage, and programming the remote.

City of the Rails
is new from iHeartPodcasts. Journalist Danelle Morton wonders why her daughter has dropped out of school to hop trains; and immerses herself into the hidden world of railroads, their historical roots within the labor movement, homelessness and more.

New this week,
Mind Set Win
features amazing people from the world of sport
talking frankly about the mental tactics behind their success
– followed by practical tips for listeners to build a winning mentality. Initial guests include cricketer Ben Stokes, tennis star Stefanos Tsitsipas, Olympic gold medallists Mondo Duplantis and Mutaz Barshim, triathlete Lucy Charles-Barclay, football great Mario Gomez, and big wave surfer Justine Dupont.

Life Out Loud with LZ Granderson
returns for a new season today from ABC News. An award-winning podcast focusing on LGBTQ+ issues, the new season contains more vulnerability and more from the community.
Podcast data for Jan 20
Pod Events - with Radiodays Europe 2023
Getting
the
five
latest
events
This section is continually updated. Data: Podevents. See more and add yours, free
Latest Pod Jobs
This section is continually updated. Data: Podjobs. See more and add yours, free