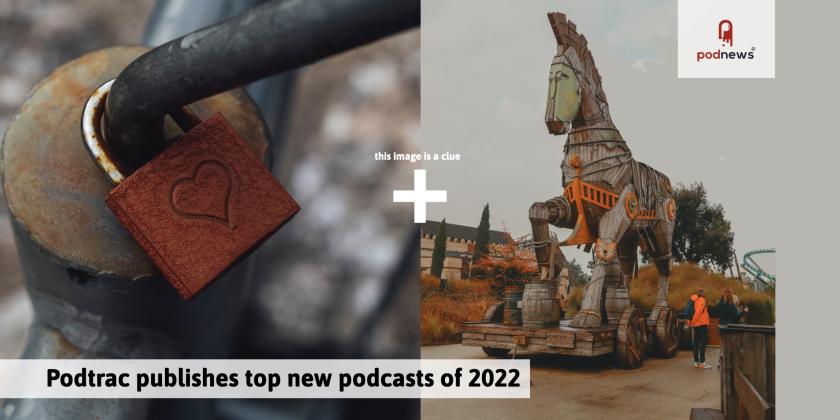 Podtrac publishes top new podcasts of 2022
LISTEN
· · Updated · 4.2 minutes to read
Podtrac published its top 25 new podcasts of 2022 by average downloads per episode. The Trojan Horse Affair, from The New York Times, is #1. It measures participating publishers only.

Podcast host Ausha has achieved IAB certification. The company was already following the ACPM guidelines, one of the two French podcast audience measurement organisations. Ausha's press release includes an infographic explaining what an IAB download is.

Data: Spotify's Anchor continues to lose market share: it was down to 21.6% of all new podcast episodes in November. However, Spotify's overall market share remains the same after Megaphone posted the biggest share increase in the top 15 podcast hosts.

In other data, Podtrac remains the largest prefix tracking service, having signed iHeart's Spreaker. Spotify's Chartable and Podsights are #2. Amazon still runs podcasting: Cloudfront delivered 49.4% of all episodes in November (including ours).
Our data shows Anchor is still gaining podcasters, though: 136 podcasters moved to Anchor last month, and the hosting company gained 75 overall. Megaphone gained 78 new shows in our sample.
Moves and hires
Tips and tricks - with Blinkist: powerful ideas in fifteen minutes
Podcast News - with Campaign Legal Center
Enter The Webbys. Stand out on a global stage.
Paid content
Since 1996, The Webby Awards has been recognized as the preeminent international honor for Internet excellence. Last year's Webby Awards received over 13,500 entries from around the world.
By participating in The Webbys, you place your work on the same stage as boundary-pushing talent, like past Webby Winners Crooked Media, Spotify, VOX, The Daily, Pivot, California Love and Stitcher to name a few.
To ensure winners reflect the very best of the Internet, we added several new categories this year, including new Podcasts honors for Best Partnership or Collaboration, Experimental & Innovation, and Best Video Series plus Technology and Scripted Fiction in Individual Episode. For the first time, The Webby Awards will recognize the company with the most wins, nominations, and honored entries across categories as Podcast Company of the Year.
Learn more, and enter the 27th Annual Webby Awards by our Final Entry Deadline of December 16th, 2022
Podcast data for Dec 2
Pod Events - with Podcast Movement Evolutions
Getting
the
five
latest
events
This section is continually updated. Data: Podevents. See more and add yours, free
Latest Pod Jobs
This section is continually updated. Data: Podjobs. See more and add yours, free