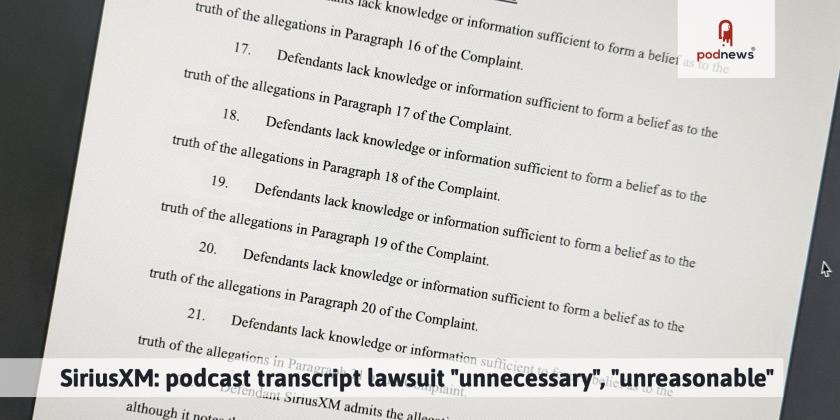 SiriusXM: podcast transcript lawsuit "unnecessary", "unreasonable"
Exclusive: Back in Dec 2021, SiriusXM were sued by the National Association of the Deaf and Disability Rights Activists, for not providing podcast transcripts. Almost eight months later, lawyers acting on behalf of SiriusXM have responded with an aggressively-worded 32-page document, which Podnews has obtained, calling the filing "unnecessary", a "public assault", and "a cudgel to tarnish responsible companies". The request for transcripts for all shows on the platform is "misplaced and completely unreasonable"; and the whole filing is just "a public relations campaign".

Opinion: SiriusXM claims that Stitcher has transcripts available for "some but not all" podcasts, and has "been working diligently to identify and select the technology to implement closed captioning". Let's save them the time - the solution is the podcast:transcript tag, which is in production in a number of podcast hosts, including Buzzsprout, Captivate and others. An already-supported, creator-friendly, open tool that allows both transcripts and closed-captioning could certainly help.

To promote its paid subscriptions, Apple Podcasts has launched two new 'charts'. One displays the "top subscriber shows", and the other "top subscriber channels". Both charts are visible only in the UK, US, Canada and Australia. For interest, here's Australia's top subscriber channels and shows.
Magellan AI has released the company's Q2/22 podcast advertising benchmark report. Podcast ad spending is up 11%, the company says; BetterHelp remains the biggest podcast advertiser, spending more than $20m in the quarter.

Podcast promotion, production and distribution company Amplified Audio has launched in Denver CO, USA. The company has a new tiered fee structure to attract better opportunities for creators.

The first podcast network of sober podcasts has launched. The Sober Powered Media Network is the brainchild of Gillian Tietz.

Oprah Winfrey's Podcast Network, currently with SiriusXM, is looking for a new deal, according to Bloomberg.

Transcript service Otter is increasing its prices: some users are seeing a price hike of more than 50% a month, and an 80% reduction of minutes from 6,000 to 1,200.

The Turkish media regulator, RTÜK, has fined Spotify for having a playlist with a name that insulted the country's president, Recep Tayyip Erdoğan.

Another reason to go to Peoria AZ, USA: Peoria Main Library now has a podcast studio, called "Amplify Studio".

Podnews's word of the day: "cudgel" - a short, thick stick used as a weapon. An Old English term, it was popular with people in 1590 and 1780, after which seemingly the only people who've used it are SiriusXM's legal team.
Tips and tricks
Podcast News

From KFI-AM 640,
Unsolved with Steve Gregory
returns for
a new season
tomorrow, with a focus on the 2013 case of Bryce Laspisa, a missing student who was driving home from college to visit his family in Orange County.
This page contains automated links to Apple Podcasts. We may receive a commission for purchases made.
Number one for podcasts - Aug 19
Pod Events
Getting
the
five
latest
events
This section is continually updated. Data: Podevents. See more and add yours, free
Latest Pod Jobs
This section is continually updated. Data: Podjobs. See more and add yours, free