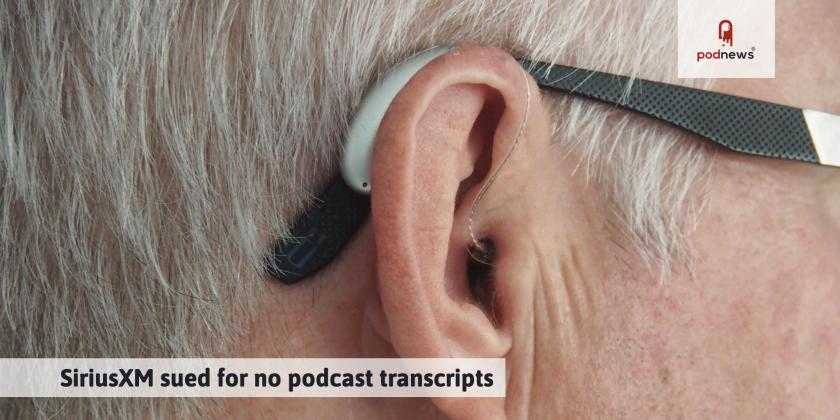 SiriusXM sued for no podcast transcripts
LISTEN
· · 4.8 minutes to read
In a test case with repercussions for the entire industry, SiriusXM is being sued for failing to provide podcast transcripts for deaf users by the National Association for the Deaf and the Disability Rights Advocates. We've a focused look at transcripts below.

Podfollow, a configurable service which generates free links for your podcast to help you promote it, has had its 20 millionth clickthrough. It had achieved 1m in Dec 2019.

Podbuddy is a new app for iOS that makes interactive video clips from podcast audio. Based on your phone, rather than your desktop, it allows for easier sharing to places like TikTok, Snapchat, or Facebook.
An Apple fan writes to Tim Cook about all that is wrong with Apple Music. Tim Cook responds. (Anyone want to do this for Apple Podcasts?)
Moves and hires - with Pod People
Transcripts: the state of the industry
Opinion: Just as podcast publishers are responsible for libel or copyright infringement, so podcast publishers should be responsible if they flout the ADA, the UK's DDA, or the other laws in place globally. It should be the podcast publisher's role to produce a transcript.
Publishers must be able to produce those transcripts themselves, or to allow an automated transcript to be produced for them by a podcast host or other third party: the podcast:transcript tag allows transcripts to be hosted by anyone.
There is no excuse for podcast hosting companies not to rush support for the raw podcast:transcript tag. It's a simple URL field, or set of URL fields, for each episode. They can then offer automated transcripts or raw text editors as a further feature to help produce these.
Proprietary solutions are unhelpful here, and should be resisted. Automated transcripts that publishers cannot amend are a legal liability and a poor experience. An open solution would let everyone produce transcripts or captions - from the smallest indie to the largest production.
We welcome the NAD and DRA's action here: it's unfair to single out Stitcher/Pandora, but it's also a clever move - the company owns a podcast hosting company, a content publisher as well as two podcast apps, so the court's decision should help the industry as a whole move forward.
Tips and tricks
Podcast News - with Memberful

And Just Like That…
, the HBO Max series which premiered its first two episodes last Thursday, has launched an official podcast.
And Just Like That…The Writers Room
has writers, directors and producers talking about the show, and we're promised special guests. It's produced by HBO Max in conjunction with Pineapple Street Studios.
Pod Events
Getting
the
five
latest
events
This section is continually updated. Data: Podevents. See more and add yours, free
Latest Pod Jobs
This section is continually updated. Data: Podjobs. See more and add yours, free