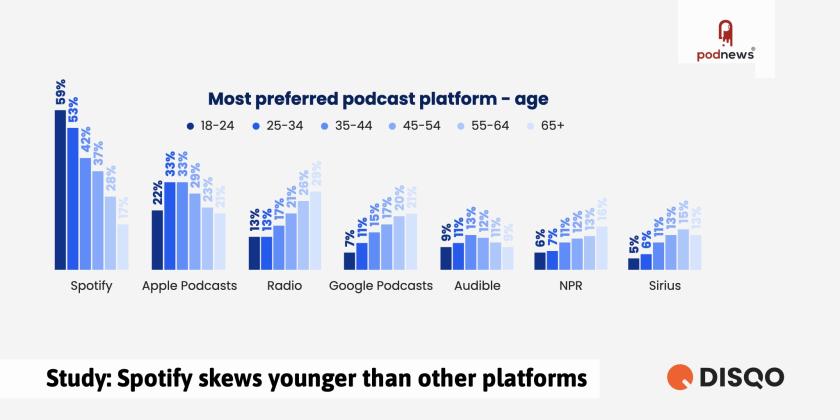 Study: Spotify skews younger than other platforms
LISTEN
· · 3.5 minutes to read
DISQO has released a free report containing data from more than 17,000 podcast listeners. Spotify is the most "preferred" podcast platform, though Spotify skews significantly younger than Apple Podcasts. For people aged 65+, Google Podcasts and Apple Podcasts are most 'preferred' (after the radio).

Apple Spotify Google Google Podcasts Apple Podcasts

Greg Marston, a professional UK voiceover, has discovered his voice has been cloned by Revoicer, an AI-powered text-to-speech service, without his knowledge. It turns out that the company had bought the rights to his voice from a company he'd signed a contract with in 2005 to lend his voice to a satnav. Marston, the voice of LBC, Joburg's 702 and Virgin Smooth in Bangkok, now finds himself in competition… with his own voice.

Aussie podcasters Toni and Ryan are to embark on a marathon 50+ hour livestream: one minute for every new Patreon member. The podcast, a Spotify exclusive, gets more than a million downloads a month.

Spotify
mowPod has added AI-powered ad copy and precision targeting to its self-serve platform. The product turns podcast episodes into display ads, which are placed across the web to attract new listeners.

mowPod

RAIN reports that the number of new podcasts launched in June was the lowest in twelve months, according to ListenNotes. Our active podcast trend graph, sourced from Podcast Index, shows a fall for active podcasts, by about 10% since March.

Congratulations to podcast advertising agency Oxford Road, which is ten years old this week. Media Roundtable looks back at the company's bootstrapped beginnings.

Naughty step, part 1: Podcast hosting company Podbean is misleading Google users searching for its competitor, Captivate. A search for "Captivate FM" returns (in third place when we looked) a paid result from Podbean impersonating the company, against Google Ads policy and US trademark law. Podbean didn't respond to Podnews's enquiries this week; the misleading ads are still running.

Google Captivate

Naughty step, part 2: The BBC has announced a set of topical satirical shows for its Friday Night Comedy podcast. "Each special will be available after broadcast, first on BBC Sounds and on RSS soon after," says the press release. "Soon after"? The BBC press office admits to Podnews that these shows are delayed for 30 days on open RSS, as part of a trial announced 18 months ago to push listeners to install the BBC's data-hungry Sounds app. Currently the podcast consists of a topical news show looking at "the week's headlines"… which is being released 30 days late.

Podnews

Threads, a new social media network from Facebook owner Meta, went live today in most countries, apart from Europe (for privacy reasons). You need an Instagram account to use it - so if you already have one, your username is safe. We've no idea what we'll do with our account.

Meta
Podcast News

The Booker Prize Podcast
is new today from the 54 year-old UK-based literary prize for English-language novels. The podcast will delve into the history of the Booker Prizes, looking at the shortlists and ceremonies from years gone by – and some of the Booker's more controversial moments. It's produced by Daddy's SuperYacht Productions.

LA Made
looks at Barbie in a new mini-series, out today from LAist Studios. Barbie is a cultural icon but what do you really know about her? Co-hosted by Antonia Cereijido and M.G. Lord, author of Forever Barbie: The Unauthorized Biography of a Real Doll, hear the wild stories from never-before-heard tapes of interviews with Barbie inventor Ruth Handler, her wardrobe designer and the sculptors and fabricators, and the innovative marketers who made her what she is today.

Believable: The Coco Berthmann Story
is the first true-crime podcast from Dear Media. Hosted by Pulitzer Prize-winning journalist Sara Ganim and produced by Edward R. Murrow Award-winning reporter Karen Given, "Believable" will delve into the dark past and intricate web of lies surrounding Coco Berthmann, who became internet-famous sharing her story of surviving sex trafficking as a young child growing up in Germany and later was arrested after raising money for a fake cancer diagnosis. It launches today.
Podcast data for Jul 6
#1 in Apple Podcasts

The Retrievals (Serial Productions & The New York Times)

The Retrievals (Serial Productions & The New York Times)
#1 in Spotify

The Joe Rogan Experience (Joe Rogan)

The Joe Rogan Experience (Joe Rogan)
Over the last week, 198,121 podcasts published at least one new episode (down 3.0%). source
Events
Getting
the
five
latest
events
This section is continually updated. See more and add yours, free
Latest Jobs
This section is continually updated. See more and add your vacancies, free