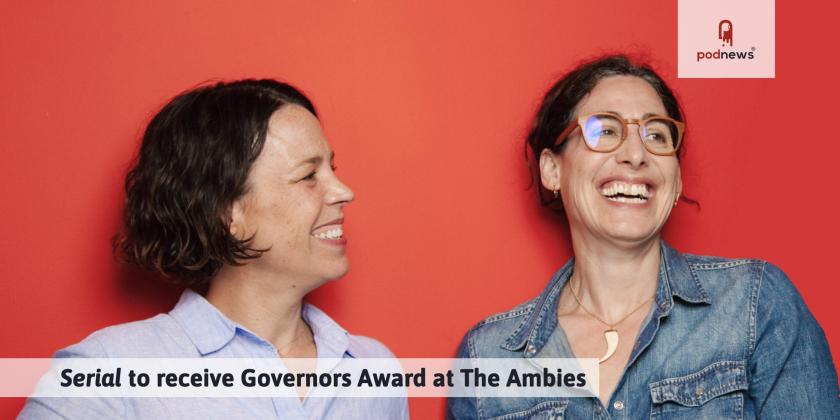 Serial gets a governors award
LISTEN
· · Updated · 2.7 minutes to read
BREAKING: The Podcast Academy has just announced that Serial will be awarded the Governors Award, recognising the impact a podcast or individual has had on the industry. Co-creators Sarah Koenig and Julie Snyder will accept the award at The Ambies next Tuesday.

Spotify has updated its list of partners for Spotify Open Access, a method to make subscription content available on Spotify. It's now supported by subscription platforms Supporting Cast, Supercast, Memberful, Hello Audio, Audiomeans, and Vriend van de Show.

Harry and Meghan's Archewell Audio is getting ready to launch a new show on Spotify: and given some clues as to why there have been delays. A spokesperson for Archewell Audio has told Podnews that they've been having conversations with Spotify about trust and safety, minimising the spread of misinformation and supporting transparency. They've had a number of meetings with the company - including their senior leadership - stressing a responsibility for quality, fact-based information, especially around mental health. Those meetings appear to have gone well; and so Meghan, the Duchess of Sussex, is now on track to launch her first podcast series this summer.
Programming note: We're at Podcast Movement Evolutions next week. From Tuesday to Friday, we'll be focusing on a smaller amount of stories from the event.
Moves and hires
Podcast News

Today's episode of
Pod Chat
from Danny Brown features Podnews's Editor, James Cridland. The fortnightly show launched this month with an interview with Hall of Famer Evo Terra.

Pod Events - with The Podcast Show 2022
Getting
the
five
latest
events
This section is continually updated. Data: Podevents. See more and add yours, free
Latest Pod Jobs
This section is continually updated. Data: Podjobs. See more and add yours, free
Comments via boostagram
To send us a comment, listen to this episode on a supported podcast app, and send a message using a "boost". It will appear here within ten minutes.