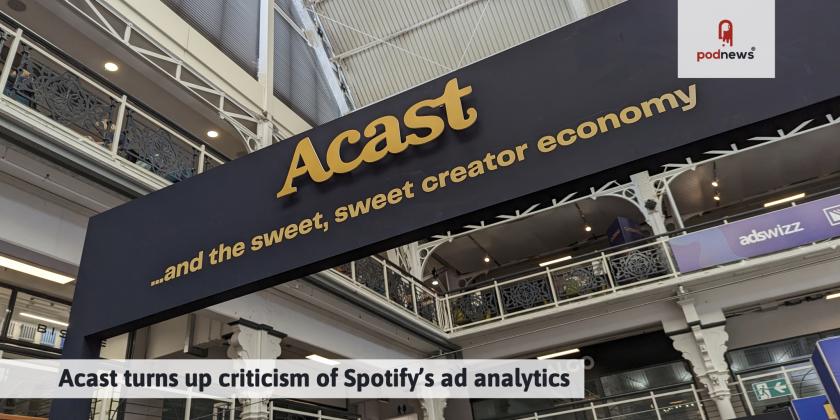 Acast turns up criticism of Spotify's ad analytics
LISTEN
· · 2.7 minutes to read
Google
Γειά σου - our Editor is in Athens, Greece, and is free in the evening of Friday Sep 29. Πίνεις μπύρα; Θέλετε να συναντηθείτε και να μιλήσετε για το podcasting; Αντιλαμβάνεστε ότι ο εκδότης μας είναι ένας τεμπέλης Βρετανός που δεν μπορεί να μιλήσει ούτε μια λέξη από τη γλώσσα σας; Hit reply if so.
Thank you to Paul Vogelzang who became our newest personal supporter today. He's the host of Not Old - Better which recently teamed up with Prevention Magazine. Every personal supporter lessens our reliance on advertising, and ensures our independence. You can be like Paul.
Tips & Tricks
Podcast News - with Airwave

From the Airwave Podcast Network:
IGN Daily Update
is IGN's daily update on the world of video games, movies, and television, featuring the latest news, previews, and reviews. It recently looked at announcements from Nintendo and Playstation, as well as the success of The Little Mermaid on Disney+.


Small Town Dicks
is back for a thirteenth series. It's co-hosted by Yeardley Smith (the iconic voice of Lisa Simpson), identical twin detectives Dan and Dave, and acclaimed Cold Case investigator, NYT best-selling author, and true crime expert Paul Holes. The podcast explores big-time crime in small towns through in-depth, first-hand accounts from the detectives that cracked each case.
Podcast data for Sep 22
#1 in Apple Podcasts

Murder in Apartment 12 (NBC News)

TED Talks Daily (TED)
#1 in Spotify

The Joe Rogan Experience (Joe Rogan)

Comfort and Growth with Crystal Lim-Lange (Crystal Lim-Lange)
Over the last week, 209,150 podcasts published at least one new episode (up 0.4%). source
Events - with Podnews Live: where podcasting connects
Getting
the
five
latest
events
This section is continually updated. See more and add yours, free
Latest Jobs
This section is continually updated. See more and add your vacancies, free