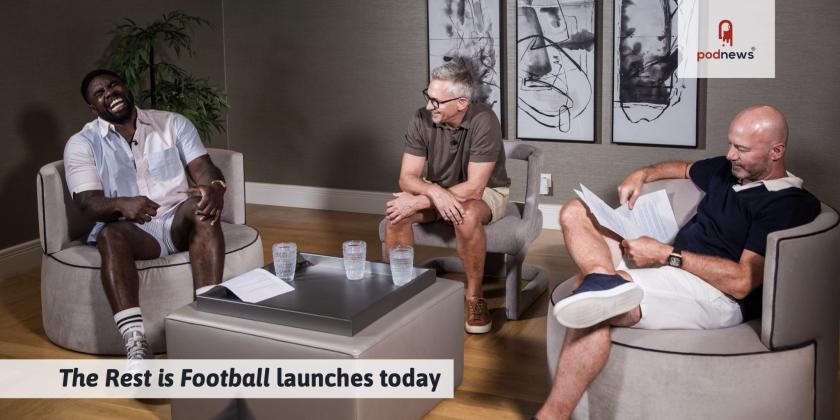 The Rest is Football launches today
LISTEN
· · 3.3 minutes to read
Google
Supercast
Tips and tricks - with Pod Predictor by Coleman Insights
A download is not the same as a listen, or a play, or a stream. Our article on how to understand podcast stats seems to be well received.

Is your podcast everywhere it could be? Our sister publication Podcast Business Journal spoke to Spafax, a company that gets podcasts and audio dramas into in-flight entertainment systems in aeroplanes. They had a number of ideas of how to get your show on board.
The Tech Stuff - with RSS․com
Could anonymous reporting of player stats allow for better podcast search tools? Dave Jones was wondering aloud in this week's Podcasting 2.0 podcast. It might be that 'podroll' - where podcasters add "other shows you may enjoy" into their feed, like here - would be a good signal too.
Adam Curry published a new episode of Boostagram Ball, the music podcast that pays the artists. Music artist Ainsley Costello received more than $104 in two weeks from the plays on Boostagram Ball and others like it; in April, on more than 60 distribution platforms, she earnt $22.49.
Our Editor wanted to try a music show to understand how it all works. Here's the show - listen on Podverse, Fountain or Podfans to support the artists.Fountain Podfans
Podcast News - with Airwave

Part of the Airwave podcast network:
How She Does It
focuses on female leaders who make their own space and build their careers in unique ways. Host Karen Finerman talks to women with power - their place in the world and the economy, but emotions, careers, families and much more. A new episode is out today.


Wanted
is
new from Jack Laurence
, featuring interviews with intriguing people who have been - or are currently - wanted by authorities in connection with alleged criminal activities.
Podcast data for Aug 7
#1 in Apple Podcasts

The Retrievals (Serial Productions & The New York Times)

The Girlfriends (iHeartPodcasts & Novel)
#1 in Spotify

The Joe Rogan Experience (Joe Rogan)

The Joe Rogan Experience (Joe Rogan)
Over the last week, 190,996 podcasts published at least one new episode (down 102.1%). source
Events
Getting
the
five
latest
events
This section is continually updated. See more and add yours, free
Latest Jobs
This section is continually updated. See more and add your vacancies, free