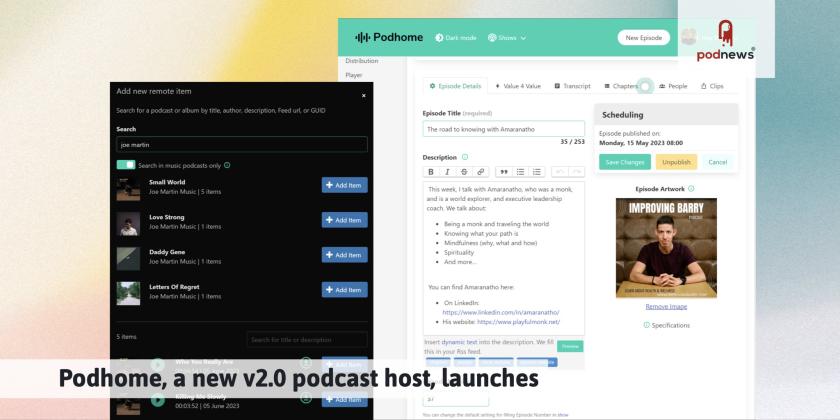 Podhome, a new v2.0 podcast host, launches
LISTEN
· · 4.2 minutes to read
Podhome, a new podcast hosting platform, has launched. The service offers transcripts and AI suggestions; support for Value4Value and other new "Podcasting 2.0" features like the ability to host music shows; and also offers team members, embedded players and podcast websites. The founder and lead developer is Barry Luijbregts, who gives us the code Podnews (it's case sensitive) for two months free.

Podcast host RSS.com has sold the streaming rights to Se Dice y No Pasa Nada with Chumel Torres, the company's first fully-owned Spanish language podcast, to TVOAI and Grupo Formula. It has been in production for 2 seasons, and was filmed for video. Se Dice y No Pasa Nada is also available on YouTube.

In Denmark, GoLittle Creative won Prix Audio 2023's "Pioneer of the Year" award for an audio-based children's entertainment platform aboard DFDS ships.
Apple
Spotify
Apple Podcasts
Mac-based audio tool Audio Hijack has added a transcription module, which works in 57 different languages. It uses OpenAI's Whisper, and comes with no additional costs. We tried it out.

Popular podcast app Pocket Casts appears to have added a new payment tier. Pocket Casts Plus is US$39.99; while Pocket Casts Patron is US$99.99, offering "early access to features" and more cloud storage.

Pocket Casts

On social media, the podvibes.co Mastodon instance is to close. A specific instance for audio drama makers, you've three months to switch elsewhere (with Mastodon you can take followers with you, though not old posts).

9to5Google reports that Apple almost completed Apple Watch support with Android phones; but cancelled the work when it was "nearly complete", to protect iPhone's sales. Why a mention in Podnews? Because, while Apple Music and Apple TV are available for Android, Apple Podcasts isn't, and this might be the reason.

Apple Google Apple Podcasts
People News
The Tech Stuff - with RSS․com
Podcast News - with Airwave
Podcast data for Nov 6
#1 in Apple Podcasts

The Kids of Rutherford County (Serial Productions & The New York Times)

The Rest Is History (Goalhanger Podcasts)
#1 in Spotify

The Joe Rogan Experience (Joe Rogan)

The Joe Rogan Experience (Joe Rogan)
Over the last week, 207,500 podcasts published at least one new episode (down 0.5%). source
Events
Getting
the
five
latest
events
This section is continually updated. See more and add yours, free
Latest Jobs
This section is continually updated. See more and add your vacancies, free