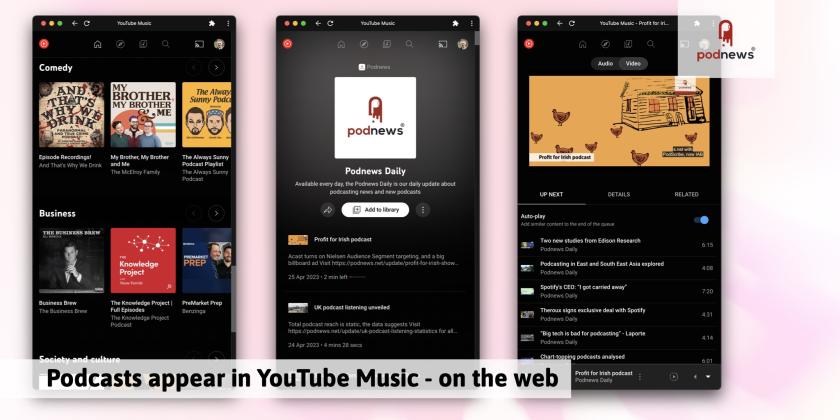 Podcasts appear in YouTube Music - on the web
LISTEN
· · 4.4 minutes to read
YouTube Music now has podcasts - on the website version only for now. Use a US VPN, and you'll see a podcasts tab top left. Click it to see recommended episodes (Podnews Daily as #1 probably suggests it's personalised), and beneath, a list of featured podcasts showing the square images, like comedy and business. Searching for a podcast, like Podnews Daily, returns a list of podcasts and episodes. Podcast pages allow you to "add to library" (no subscribe or follow button here); and pressing play gives you the option of audio-only or video, as is standard with YouTube Music. The player automatically plays "similar content", which are not in any specific order; there's skip-forward 30 seconds and skip-back 10 seconds buttons (which aren't there for music). YouTube Music's web version is usually very similar to the app in UX and featureset; so podcasts through the app is presumably coming very soon.

We're told to say "Listen to our podcast on YouTube", not on YouTube Music. (Podcasts in YouTube Music is US-only, for some reason; but podcasts on YouTube can be played everywhere).

Spotify released its Q1/23 financial report. Podcast revenue grew by nearly 20%, "driven by Original and Exclusive podcasts where sold impressions grew strong double-digits and CPMs increased high single-digits. The Spotify Audience Network saw double digit Q/Q growth in participating publishers and shows."

Spotify 🇸🇪

Daniel Ek said in an earnings call: "You're right in calling out the overpaying and over-investing, and I can start off by saying that we're not going to do that." He added that because Spotify was now the largest podcasting platform (albeit by reach, if not by downloads), "we should be in a better position should we want to renew a deal." Worthwhile remembering that Joe Rogan's $200mn deal is up for renewal in the next six months.Spotify 🇸🇪

Listeners to radio shows on podcast platforms are older, less well educated, and significantly more male than listeners to "native podcasts" made for the medium, says new research from Acast about listening in France (in French).

Acast 🇸🇪
Canadaland 🇨🇦

Podscribe has launched a new content analysis tool, powered by ChatGPT. It uses the existing GARM framework, but is better at understanding sarcasm, context and other factors to avoid un-needed "high risk" categorisation of content. You can join the waitlist if you'd like to try it.

Vespucci has launched a new podcast commissioning fund, which will produce ten original podcast series over the next two years. Shows from Elle Fanning and Love + Radio are both in the works.

With a month to go, The Podcast Show 2023 in London reports that day passes for the event are almost sold out. The event has announced 350 speakers and 150 sessions across ten stages. You can use the code PODNEWS to grab yours at a discount.

Announcing a new case study, audio ad management company Frequency says that Audacy is now more than 3x more efficient with Frequency's tools.

Audacy 🇺🇸

Close to the Mic is a new "podcast news and reviews" website from New Zealand, focusing on podcast stories from NZ, Australia and Asia. "Creating a platform that brings great content and podcast-related news together in one place will help to build a strong community" says the website's editor Sonia Yee.

Scribbler is a free podcast summariser, which works through Telegram.

Thinking about Podcast Movement in Denver? You might have received an email from some random company calling itself "Reconfirming Hotel Accommodation" or "Rooms-line", offering rubbish deals in awful airport hotels for the event. We checked with Podcast Movement's Dan Franks - it's not from them (we got it to a different email to the one we registered at PM with). Mark it as spam and help others.
Wanting our Indonesia article? It's coming tomorrow. That YouTube news was kind of important.
Moves and hires
Tips and tricks
Podcast ads in the wild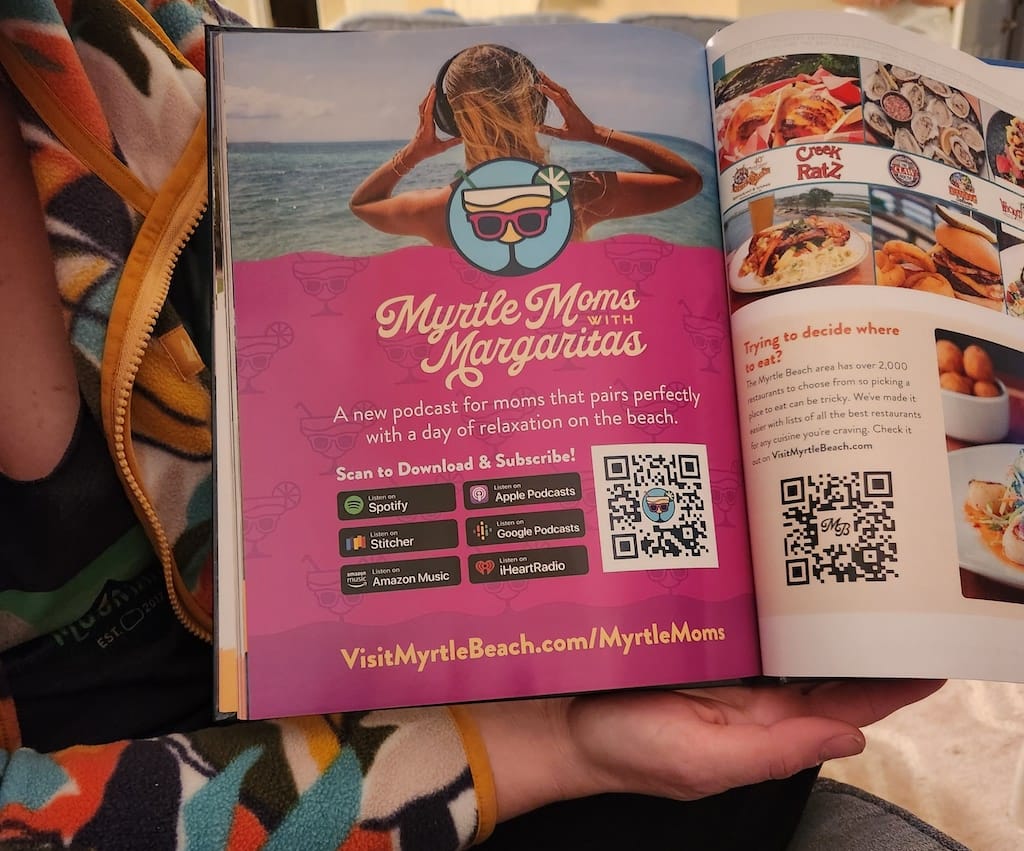 Podnews reader Matt was on vacation in North Myrtle Beach SC, USA last month, and found this ad for Myrtle Moms with Margaritas in a welcome magazine left by the condo company. "Can't say I'm in the target audience for this one, so I haven't listened to it. But I did notice the ad!"
Podcast data for Apr 26
Pod Events
Getting
the
five
latest
events
This section is continually updated. Data: Podevents. See more and add yours, free
Latest Pod Jobs
This section is continually updated. Data: Podjobs. See more and add yours, free