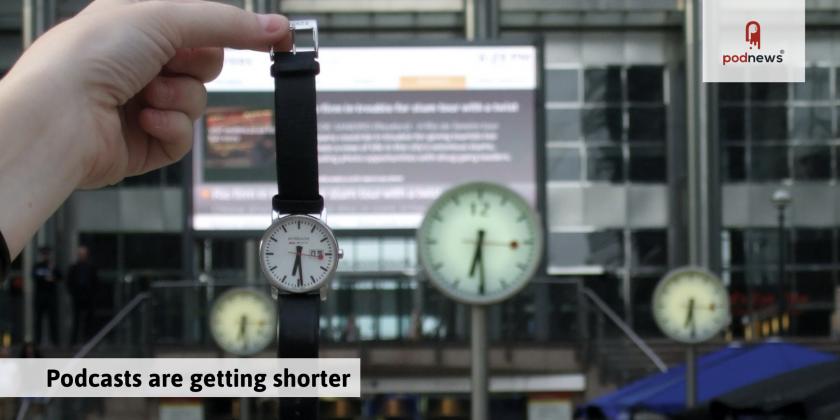 Podcasts are getting shorter
LISTEN
· · 2.2 minutes to read
This article is at least a year old
Podcasts are getting shorter, so says podcast host Megaphone, who looked at the top 200 (US) podcasts, and offer the advice to "start shorter than your first instinct tells you to".

Stagepass, a company that allows podcast hosts and other creatives to increase their income by selling tutorials, retreats, sessions and other experiences, has announced a partnership with Blubrry, a podcast host that supports over 100,000 podcasters and shows. Blubrry's MacKenzie Bennett calls the partnership a "refreshing new take on monetisation".

Steven Goldstein has an interview with Westwood One's Pierre Bouvard, highlighting how people are changing their habits when it comes to podcasting.
On 3 June, we reported that Tim Ferris had dropped advertising, moving to a subscription model. Last week, he reversed that decision. "Many of my assumptions were totally off," he says.
A data point from Tim Ferris: "The podcast passed 400 million downloads a month ago". We presume that's 400 million downloads ever.
The True Crime Podcast Festival took place over the weekend in Chicago.
Noted: Podimo, a Danish "Netflix of podcasting" to launch later this year, promises "a compensation model that rewards all podcasters for their work - whether it's a niche podcast with a handful of dedicated listeners, or a well-known show with a massive following."
Joseph Gordon-Levitt, the star of Inception and Looper, is working with Cadence13 to launch a new podcast.
Real Agenda has set up a new political podcast network in the UK, and aims to partner with an initial 30 campaigning organisations whose combined online following is over 500,000.
Podcasts


Pod Events
Getting
the
five
latest
events
This section is continually updated. Data: Podevents. See more and add yours, free
Latest Pod Jobs
This section is continually updated. Data: Podjobs. See more and add yours, free