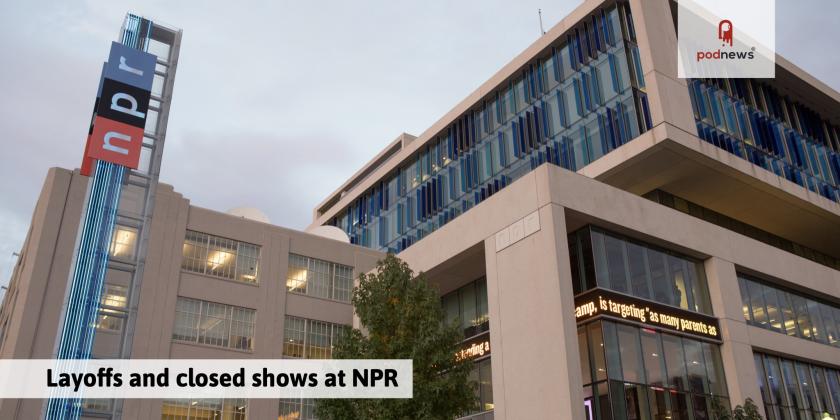 Layoffs and closed shows at NPR
LISTEN
· · Updated · 2.4 minutes to read
As announced in February, NPR has made 10% of its workforce redundant in a cost-cutting move. The cost-saving has also impacted NPR's podcasts, with Invisibilia, Louder Than A Riot and Rough Translation, as well as a short-form comedy show Everyone & Their Mom, all stopping production. The Embedded podcast will also absorb a number of other narrative series; no radio shows were cancelled. The equivalent of 150 job losses, it's the largest job reduction at NPR for fifteen years.

Audible has announced the launch of Dolby Atmos on the platform, and a launch of more than 40 shows mastered in spatial audio. "Dolby Atmos expands the possibilities of audio storytelling through the ability to place sounds in a multidimensional space, drawing listeners into a deeper, richer, and more lifelike spatial sound experience that fully engrosses them in each story."

Audible 🇺🇸

A number of podcasters are making their way to Prague for Radiodays Europe 2023. Speakers include Eric Nuzum, Arielle Nissenblatt, and Podnews's Editor, James Cridland.
Tips and tricks - with Phantom Producer
Podcast News - with Left Over

In the
Podnews Weekly Review
, Sam Sethi is back from skiing, and we talk to Captivate co-founder and CEO Mark Asquith about his company's recent embrace of the new podcast namespace. We also discuss YouTube's recent announcements.

Hiding in
The Ringer NFL Show
over the next week is
Blackballed
, a new four-part narrative podcast hosted by Chelsea Stark-Jones examining the "Forgotten Four" Black players who reintegrated professional football in 1946. It's new from Spotify's The Ringer.
Spotify 🇸🇪

Podcast data for Mar 24
Pod Events
Getting
the
five
latest
events
This section is continually updated. Data: Podevents. See more and add yours, free
Latest Pod Jobs
This section is continually updated. Data: Podjobs. See more and add yours, free