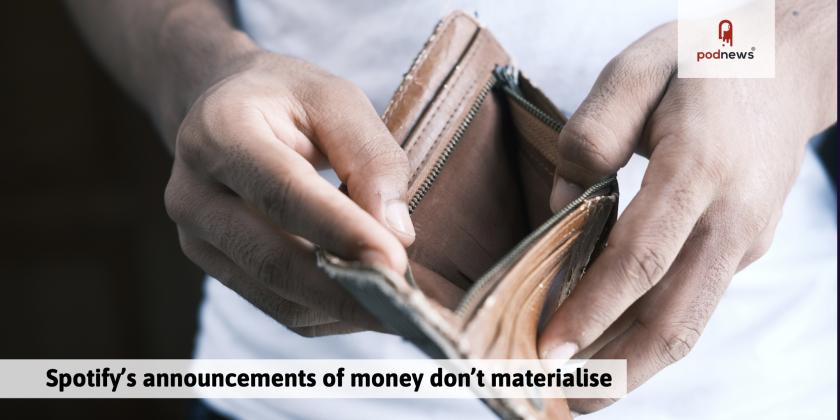 Spotify's promises of money don't materialise
LISTEN
· · Updated · 4.7 minutes to read
Spotify 🇸🇪

YouTube appears to have turned-on specific UX for podcasting in the normal YouTube app. Our Editor sees it on iPad, iPhone and Android - with a full transcript and wording encouraging users to "Explore the podcast". The Podnews Daily podcast is on YouTube.

Podscribe has announced "simulcast reporting and attribution", a tool allowing publishers to sell their podcast and YouTube audiences combined.

Sennheiser has launched the Profile USB microphone, a USB-C condenser microphone built for podcasters, gamers and streamers. It also comes in a streaming set with boom arm.

Sennheiser 🇩🇪

Formula 1 has signed with Audioboom for a further three years. The international racing championship has been with Audioboom since 2018.

Audioboom 🇬🇧

Triton Digital's Canada Podcast Ranker for February was released. Measuring participating publishers only, there was no change in the top five podcasts. CBC/Radio-Canada moved up one place in the top sales network listing to #2.

Earlier this month, PodX Group acquired Finland's largest podcast company, Suomen Podcastmedia. It's the latest acquisition by the company; no terms were given.

The shortlist has been announced for The New York Festivals Radio Awards. There are 105 nominations for podcasts.

The Hidden: A True Crime Podcast has released a statement about inadvertently publishing a legally protected conversation between a recently-sentenced murderer and his attorney. They blame the Colleton County Sheriff's Office for wrongly releasing it.

iOS 16.4, which fixes Apple Podcasts sometimes calling itself "AppleCoreMedia", was released in final form to developers yesterday, which suggests that it'll be rolled out to everyone next week. For podcast hosting companies that correctly split out Apple Podcasts and AppleCoreMedia, the end of April should see growth for Apple Podcasts of about 6%, we predict.

Apple 🇺🇸 Apple Podcasts 🇺🇸
Tips and tricks - with Phantom Producer
Moves and hires
Libsyn's AdvertiseCast has hired Cody Kleitz as a Sales Associate. He was at Havas Edge, where he served as a Media Buyer for the performance marketing agency's Influencer Marketing team. Before that, he was a Media Manager at Veritone One.Libsyn 🇺🇸 AdvertiseCast 🇺🇸
Where the Internet Lives
Paid content
Guided by host Stephanie Wong, Where the Internet Lives is a Webby Award–winning podcast from Google about the fascinating world of data centers. Venture into places that very few people ever see firsthand – and learn about the technology, people, and places that make the internet run.
This season, explore how data centers change the world around us in surprising and beneficial ways. Hear stories about prairie restoration, the solar-energy boom, recycled canal water, and cities undergoing economic transformation – all enabled by data centers.
Find and follow Where the Internet Lives on Google Podcasts, YouTube, Apple Podcasts, Spotify, or anywhere you listen to your shows. The show is made by Post Script Media.
Spotify 🇸🇪
Apple 🇺🇸
Apple Podcasts 🇺🇸
Podcast News - with Left Over
Podcast(ing) in the wild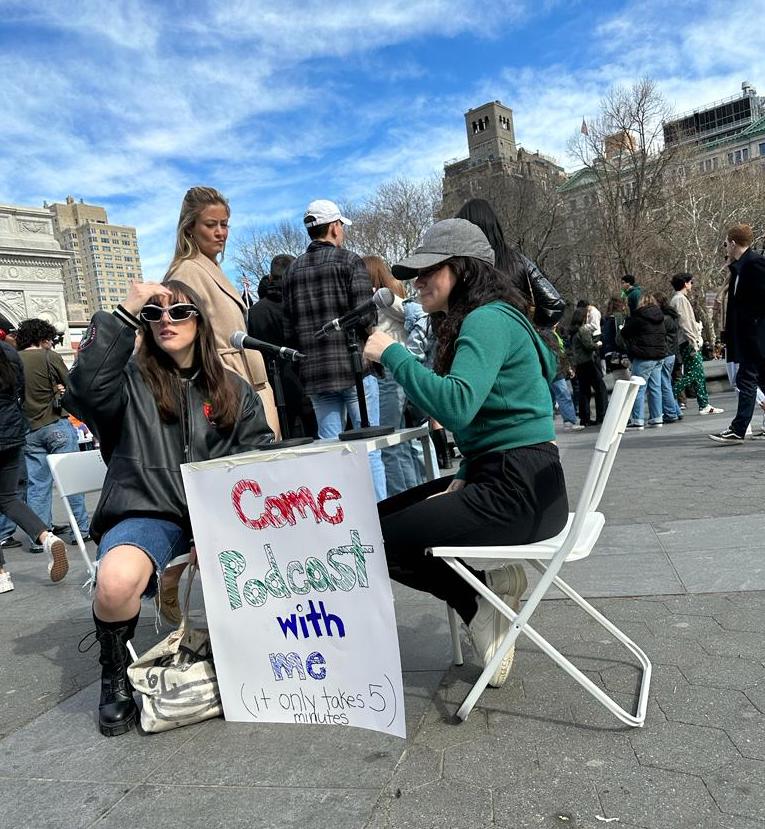 Spotted in Washington Square Park in New York NY, USA, over the weekend - an un-named podcaster just doing their thing. Spotted by a member of the Ausha team, we suspect they might now have some hosting lined-up for when they launch.
Podcast data for Mar 23
Pod Events
Getting
the
five
latest
events
This section is continually updated. Data: Podevents. See more and add yours, free
Latest Pod Jobs
This section is continually updated. Data: Podjobs. See more and add yours, free