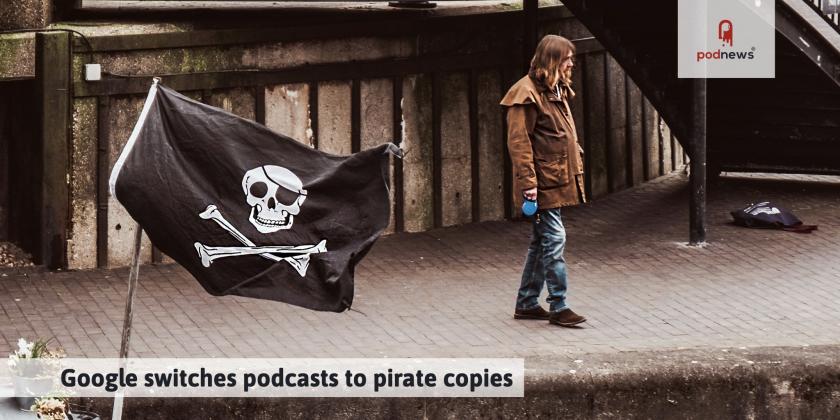 Google switches podcasts to pirate copies
LISTEN
· · 5.2 minutes to read
In Sounds Profitable with Podsights this week, Fatima Zaidi from Quill Podcasting writes about how to measure the return on investment of a branded podcast. Do Bryan Barletta a favour: he needs just 19 new subscribers to hit 4,000. Subscribe here.
Thank you to Steve Stewart, who becomes our latest personal supporter. Steve Stewart Podcast Productions has been involved in podcasting since 2016, and runs a Podcast Editor's Facebook group.
Spotinews
Tips and tricks - with Podpage
Podcast News - with Quill

Produced by Quill:
The Great Indoors
How has technology changed around the world? Join Matt Roberts from Amdocs as he discusses how human technological adoption habits are evolving as a result of the COVID-19 Pandemic, and how we're rediscovering the magic of technology as a necessary result of being indoors.

The sound of your own name is quite a personal thing. In today's
Twenty Thousand Hertz
, Dallas Taylor meets Dallas Taylor, Dallas Taylor, Dallas Taylor, Dallas Taylor and Dallas Taylor. One Dallas Taylor is a former lead singer of a heavy metal band; but not Dallas Taylor, who makes podcasts about sound.

Hot Chicken and Cage-Free Conversation
is new from comedian Byron Kennedy. Never knowing what direction that conversation might take or how badly that "hot chicken" might burn, we're promised that we're in for an entertaining ride. -
read more
Share your work with the internet's best
Paid content
Enter The Webbys. Win New Business and Exposure.
As the internationally-recognized symbol of digital excellence, a Webby Award proves that you produce the best work in your field. It also signals this to prospective clients and collaborators. That's great for business: Over 80% of Webby Winners report that their award helped drive new business. That's because when you're honored in The Webby Awards, the industry has its eyes on you.
Learn more, and enter the 26th Annual Webby Awards by the Extended Entry Deadline next Friday, February 11th, 2022.
Pod Events
Getting
the
five
latest
events
This section is continually updated. Data: Podevents. See more and add yours, free
Latest Pod Jobs
This section is continually updated. Data: Podjobs. See more and add yours, free