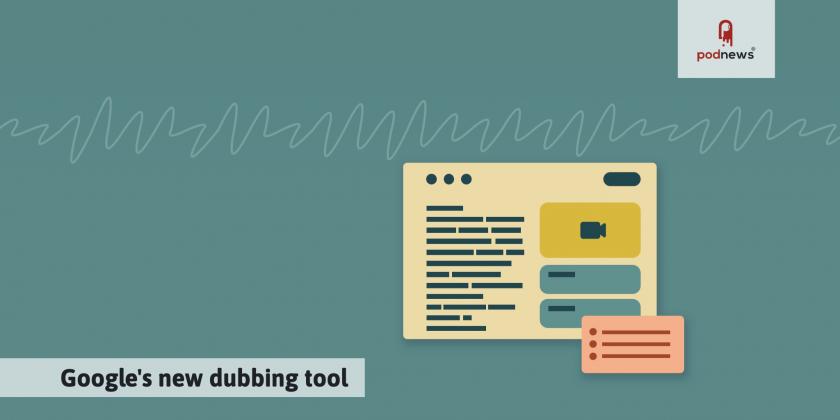 Google's new dubbing tool
LISTEN
· · 5.5 minutes to read
Kids Corner
Lots of movement in this space recently, like…
Spammer Corner
Moves and hires
Tips and tricks
Podcast News

Fighting For Ukraine
is new, and hosted by Yuriy Matsarsky, a Ukranian journalist turned civilian fighter against the Russian invasion of Ukraine. He'll bring daily updates from the frontlines of the Ukranian resistance. It's reporting from a warzone like you've never heard.

Profoundly Pointless
is celebrating
a nomination in The Ambies
. The press release starts: "They have celebrities, studios and a wide array of producers, marketers and engineers. Nick VinZant has an iPhone, a trial Canva subscription and a full-time job. But despite these massive differences, VinZant's show Profoundly Pointless has just been nominated for an Ambie for Best Interview Podcast, alongside Jon Stewart (Apple), Jemele Hill (Spotify) and shows created and promoted by major podcast networks."

Behind the Mic with AudioFile Magazine
today features a chat with Pushkin Industries owner Malcolm Gladwell interviewed by Michele Cobb (who is publisher of AudioFile Magazine, and also Executive Director of The Podcast Academy). "Gladwell's enthusiasm for the podcast format is one of the founding principles of Pushkin and this special episode explores what is beyond the boundaries of traditional audiobooks as a result of the explosion of the podcasting industry."
Pod Events - with The Podcast Show 2022
Getting
the
five
latest
events
This section is continually updated. Data: Podevents. See more and add yours, free
Latest Pod Jobs
This section is continually updated. Data: Podjobs. See more and add yours, free
Comments via boostagram
To send us a comment, listen to this episode on a supported podcast app, and send a message using a "boost". It will appear here within ten minutes.