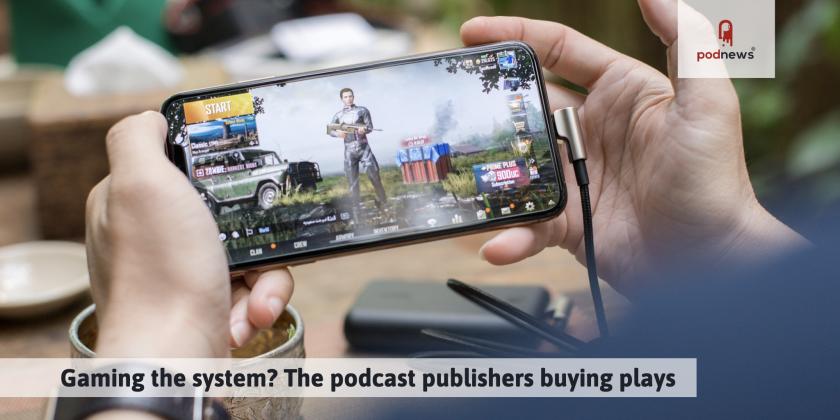 Gaming the system? Podcast publishers buying plays
LISTEN
· · Updated · 3.2 minutes to read
Podcast companies are buying short podcast plays within mobile game apps, causing official downloads of shows no one may be playing longer than twenty seconds according to Bloomberg's Ashley Carman. Time has also published the story outside a paywall.

Players get game tokens if they listen to a podcast for just twenty seconds. (Carman posts a graphic). But, because more than 60 seconds of audio are downloaded by the player, as demonstrated in this article in Sounds Profitable, these plays count as an IAB-certified download from podcast hosts and in prefix services like Podtrac. That allows podcasts promoted in this way to charge for the ads delivered in the show, and for that traffic to be counted in rankers.

Who is doing this? One ad company interviewed by Carman says its "main podcast client" is iHeartMedia. Here's a video showing two podcast ads within Subway Surfers - the podcasts in the video are from Bloomberg, which distributes and monetises its shows using iHeart.

Exclusive: Are these plays counting for iHeart's "#1 for podcasting" Podtrac ranking? Podnews analysis confirms that the embedded podcast players used, as documented by DeepSee, make a call to Chartable and a call to Podtrac. Unless Podtrac filters out this traffic, the plays will count for iHeart's ranking: we've asked Podtrac for comment. In 2018, Podnews discovered that iHeartMedia was embedding podcasts on their radio station websites, leading to inflated play counts.
Moves and hires
Tips and tricks
Podcast News - with Lemonada Media

From Lemonada Media:
Every day, the world seems on the brink of crisis. In
In the Bubble with Andy Slavitt
when overlapping crises and a relentless news cycle overwhelm Americans, Andy finds the right helpers to help us move forward together.


The Prince
is the first long-form podcast series from The Economist. Xi Jinping is the most powerful man in the world: he's ruled for ten years and he's set to break convention by securing a third term at next month's Communist Party congress. He could rule for life, but we hardly know anything about him. The Economist's China correspondent Sue-Lin Wong cuts through the propaganda and the censorship to figure out what makes him tick.
Podcast data for Sep 28
Pod Events - with Podcast Day 24 on Oct 4
Getting
the
five
latest
events
This section is continually updated. Data: Podevents. See more and add yours, free
Latest Pod Jobs
This section is continually updated. Data: Podjobs. See more and add yours, free