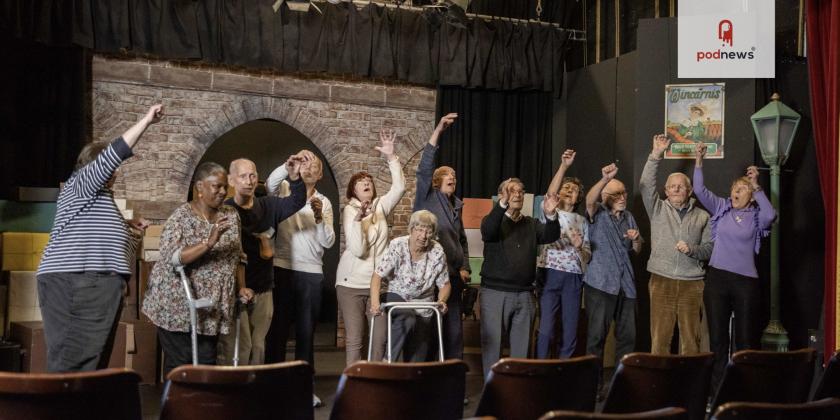 Award-winning children's podcast takes flight with Virgin Atlantic
Press Release · Manchester, UK ·
British not-for-profit arts organisation, Made By Mortals, is spreading its wings after joining Virgin Atlantic's entertainment offering as the airline's first inflight children's podcast.
Virgin Atlantic teamed up with the Manchester-based CIC to offer its young passengers an unforgettable flight experience with its award-winning podcast, Armchair Adventures.
Described as a 'positive podcast' by BBC Radio 4, Armchair Adventures is a journey of the imagination. It follows the story of Connie, a young girl whose family-run travel agency is at risk of going bust as a result of the pandemic, so working with her customers, who are portrayed by the group's elderly participants, they create an alternative to a traditional holiday – an adventure from the armchair.
The news of the partnership comes shortly after Armchair Adventures took home the Bronze prize for Best Family Podcast at this year's British Podcast Awards. This is the latest addition to the podcast's growing trophy collection, which has previously picked up awards from the Digital City Awards and Manchester Publicity Association Awards.
Cathy Walters, Manager of Inflight Entertainment at Virgin Atlantic, said: "We love the story of Armchair Adventures, which brings different generations together through this fun, interactive podcast. We're really proud to have them as part of our entertainment line-up and I'm sure children will enjoy letting their imaginations fly while onboard."
Series 3 of Armchair Adventures launches on Thursday 6th October and as well as brand-new artwork for the series, they're now releasing TWO episodes per month.
Led by directors Paul Hine and Andy Smith, Made By Mortals work alongside elderly people and those with mental health conditions across Manchester and the North West, bringing their experiences to life through participatory music and theatre sessions. Made By Mortals works with a diverse range of people who would typically not engage with the arts and are at risk of exclusion and isolation for many reasons, which became particularly prominent during the COVID-19 pandemic.
When the 2020 pandemic saw millions of people restricted to the walls of their homes and deprived of vital social interactions, Made By Mortals recognised a crucial need for an outlet which people, young and old, could turn to for unity and a sense of support. As a result, Armchair Adventures was born: a fun, interactive podcast for children, created by older people.
Listen
This is a press release which we link to from Podnews, our daily newsletter about podcasting and on-demand. This is reprinted verbatim; we may rewrite headlines and descriptions.
This page contains automated links to Apple Podcasts. We may receive a commission for any purchases made.