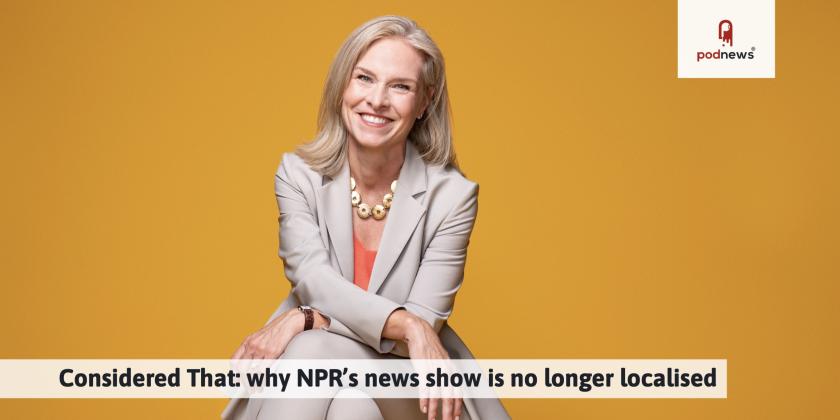 Considered That: why NPR's news show is no longer localised
LISTEN
· · 3.6 minutes to read
Launched Sept 2020 in Podnews, NPR ends localised versions of the Consider This podcast this week, which they claimed at the time was the "first localised daily news podcast". Localisation "did not prove sustainable", said a spokesperson; Current reports that the production process wasn't scalable; audiences didn't value it much anyway; and NPR is moving to Megaphone which means the use of different tools. Consider This continues, with national content (featuring anchors like Mary Louise Kelly, above)

Podnews Megaphone

Your News Now, an Australian podcast with "news and weather for your location", was launched in May; while dynamic audio tool Spooler, launched in March 2022, is readying additional features.

On a recent episode, The Accidental Tech Podcast discussed their current sponsorship situation and the importance of membership. Their revenue is "super down this year" because they don't wish to offer DAI nor join an ad network. John Spurlock has a transcript and link to discussions on Mastodon and Reddit.

Ads in Pocket Casts are 25%-off during the month of September, the company announced.
Google
Canadaland
Tips and tricks - with Pod Predictor by Coleman Insights
The Tech Stuff - with RSS․com
You might use audio tool ffmpeg in your production process, but it comes with "a learning curve that looks suspiciously like a brick wall", according to Hackaday. The good news? There's a nice website here that adds a graphical interface to fiddle with it all. We didn't realise that there's an audio compressor built-in to ffmpeg, or a silence remover. Anyway, it'll let you play about with it all, and copy the output command. (We use ffmpeg to produce our daily podcast (from a WAV), and our YouTube version).

YouTube

Lemmy, the increasingly popular Reddit alternative, might be working on an ActivityPub-compatible 'replies' collection API to enable it to work with the emerging podcast:socialinteract feature in Podcasting 2.0. A volunteer is taking a look at how to support this API, which might bring cross-app comments to podcasting.

Podnews's RSS feed supports socialInteract through ActivityPub, but if you wanted our opinion, we'd like it enabled on the channel (i.e. "show level") as an option, rather than only for individual episodes.
Podcast News - with Airwave
Podcast data for Aug 28
#1 in Apple Podcasts

Over My Dead Body (Wondery)

The Trial of Lucy Letby (Mail Metro Media)
#1 in Spotify

The Joe Rogan Experience (Joe Rogan)

The Rest Is Football (Goalhanger Podcasts)
Over the last week, 190,733 podcasts published at least one new episode (down 100.2%). source
Events
Getting
the
five
latest
events
This section is continually updated. See more and add yours, free
Latest Jobs
This section is continually updated. See more and add your vacancies, free