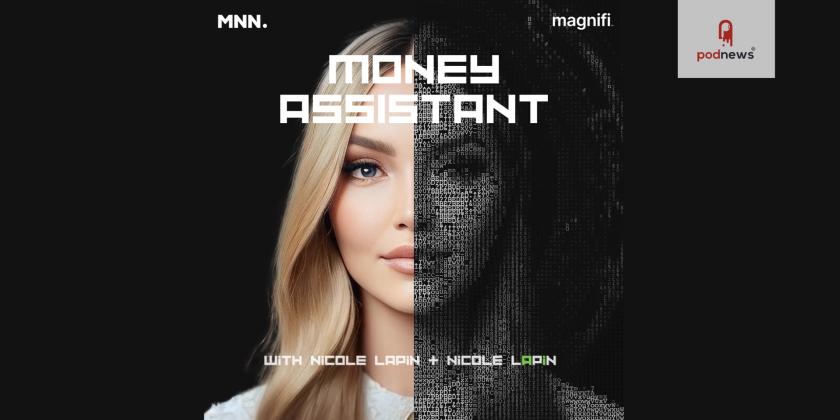 Introducing Money Assistant: A Groundbreaking Podcast by Money News Network and Magnifi
Press Release · Boulder, CO, USA ·
Money News Network and Magnifi announced today a first-of-its-kind podcast, Money Assistant, hosted by renowned financial expert Nicole Lapin and the voice of Magnifi's AI-powered investing assistant. This cutting-edge collaboration promises to revolutionize the way listeners engage with personal finance, offering a fresh blend of human expertise and artificial intelligence insights.
Hosted by Nicole Lapin, prolific New York Times and Wall Street Journal bestselling author and former CNN, CNBC and Bloomberg news anchor, Money Assistant aims to bring actionable financial guidance to those who need it most, demystify complex money matters, and inspire financial confidence.
To accomplish this mission, in each episode, Lapin will sit down with someone who has faced a real-life financial challenge, and help them strategize to meet a financial milestone. With the goal of giving access to tools and resources that have traditionally only been available to the wealthy, Lapin is joined on the show by an "AI" version of herself, relaying the guidance from Magnifi's advanced artificial intelligence technology. Nicole Lapin's deep knowledge and experience in the world of finance combined with the AI capabilities of Magnifi will provide a fresh and innovative approach to helping people navigate their financial journey. Through Money Assistant, Money News Network and Magnifi aim to bring invaluable financial resources to all.
"I have spent my career working to democratize the financial tools that have previously only been accessible to the rich," said Nicole Lapin, host of Money Assistant and CEO of Money News Network. "I'm bullish on AI as a tool to narrow the wealth gap. We at MNN are excited to partner with Magnifi, because they're driven by the same mission."
"Enabling more people to understand and benefit from the power of informed, responsible investing has always been our northstar for Magnifi," said Tom Van Horn, COO of Magnifi. "With Money Assistant, we're able to take another big step toward helping Americans see how financially capable they truly are and recognize they're not alone as they try to unlock their financial goals — much in the same way Nicole Lapin has done in so many of her other endeavors."
The collaboration between Money News Network and Magnifi signifies a powerful partnership dedicated to enhancing financial literacy and accessibility. Money Assistant will provide listeners with an intimate view into the financial questions so many struggle with and a deeper understanding of how AI can help them get personalized guidance and recommendations for their own unique financial situations.
The first full episode of Money Assistant premieres on September 4th. The production team is led by Executive Producer Morgan Lavoie, known for producing chart-topping podcasts like Money Rehab with Nicole Lapin, Just B with Bethenny Frankel, Minnie Questions with Minnie Driver and more.
Listen
This is a press release which we link to from Podnews, our daily newsletter about podcasting and on-demand. We may make small edits for editorial reasons.
This page contains automated links to Apple Podcasts. We may receive a commission for any purchases made.