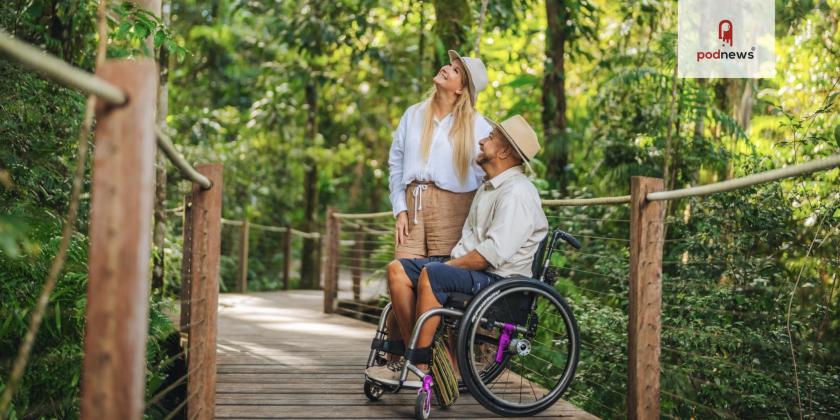 Queensland and The Peers Project partner to launch accessible travel podcast series
Press Release · Brisbane QLD, Australia · via The Peers Project ·
Travel should be accessible for every ability. To help us all get there, Queensland has partnered with The Peers Project on a new podcast designed to enact meaningful change for the tourism industry and travellers with a disability. Accessed That hits podcast players today.
The Accessed That podcast explores what it's really like to travel while living with a disability. The aim is to both educate the tourism industry about the specific needs of guests living with disability, while at the same time, inspire travel without limitation.
Driving the conversation each week is Oliver Hunter, award-winning standup comedian living with Cerebral Palsy, and Karni Liddell, Paralympic swimmer, TV presenter and proud Queenslander who was diagnosed with Spinal Muscular Atrophy as a child. The duo chat with each of their 10 guests, travellers with a range of disabilities, to share their own insights of travelling with disability 'having been there, accessed that'.
Oliver Hunter, Accessed That Co-Host said: "For people with a disability, the best resource to prepare for anything, especially travel, is to hear direct from others with lived experiences. Firsthand reviews are what the Accessed That podcast offers. Each episode is filled with experiences straight from the horse's mouth."
Michelle Akhidenor, Chief Executive Officer of The Peers Project said: "Queensland's focus on inclusivity is something we greatly admire, and is directly aligned with The Peers Project's mission to raise diverse voices and stories through the powerful medium of podcasts. Bringing a podcast project like this to life for Queensland, and the incredible guests and hosts who have shared their stories, is an opportunity the scale of which is not lost on us, and we greatly value their partnership."
Tourism Minister Stirling Hinchliffe said Queensland has a golden opportunity to become the world's all-abilities destination of choice ahead of the Brisbane 2032 Olympic and Paralympic Games.
"The Queensland Government has declared 2023 as the State's $12 million Year of Accessible Tourism to accelerate inclusive infrastructure, technology and industry knowledge," Mr Hinchliffe said.
"Accessed That is about sharing supportive and welcoming travel experiences to inspire visitors of all-abilities to explore Queensland's great lifestyle and iconic destinations.
"Accessible tourism is a transformative $1.8 billion opportunity for the visitor economy and good jobs because Queensland is too good not to be enjoyed by everyone." To drive awareness of accessible tourism, grow advocacy and position Queensland as an accessible and inclusive destination of choice, TEQ will launch a dedicated marketing campaign comprised of above-the-line placements across OOH and Radio to build awareness, and targeted placements across social, display, and podcast network advertising to encourage consumers to take action.
With incredible guests including TikTok star Jimmy Jan, Appearance Advocate Carly Findlay and Artist Prue Stevenson, Accessed That launches August 28, 2023 with episodes released each week.
Listen
This is a press release which we link to from Podnews, our daily newsletter about podcasting and on-demand. We may make small edits for editorial reasons.
This page contains automated links to Apple Podcasts. We may receive a commission for any purchases made.