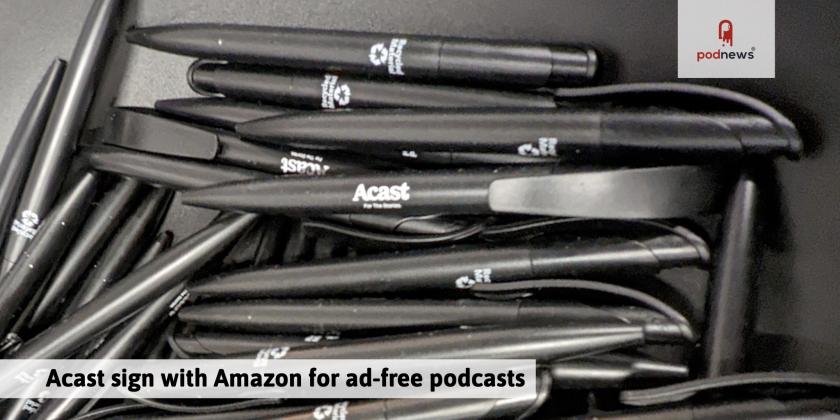 Acast sign with Amazon for ad-free podcasts
LISTEN
· · Updated · 4.9 minutes to read
Amazon Music Prime users, and Amazon Music Unlimited, now has thousands of ad-free podcasts from Acast. Acast will share revenue from the agreement with creators. This news builds on Amazon's announcement earlier in the week that they would offer ad-free podcasts for Prime users.

"Thousands of ad-free podcasts" doesn't mean every single podcast available on Acast, and it doesn't include shows that Acast don't fully-host (like shows from the BBC, for example). Qualifying shows are marked in the app. The company wouldn't share specifics of earnings with us, but a spokesperson told us that creators are going to be "thrilled" with the additional revenue.

Podcast hosting company Libsyn - the first in the world - turns 18 tomorrow. Founded by Dave Mansueto, Matt Hoopes, Marty Mulligan, and Dave Chekan on Nov 5, 2004, here's the back story and, rescued from the web, Libsyn's first video ad. Libsyn's CEO Brad Tirpak told Podnews: "We're proud of our growth and transformation. Our innovation and investments are paying off — with the scaling of our advertising business, international expansion, and enhancements to our industry-leading tools." Under US law, now it's 18, Libsyn will be legally able to get a tattoo, vote, use a meat slicer, and adopt a child.

Wonder what podcasting pays? Ashley Carman has gathered NYC podcast salaries, after a new NYC law requires salary ranges to be put in job ads. (Podjobs can do that, and it's free!)
Podcast News - with CBC Podcasts
Enter The Webbys. Stand out on a global stage.
Paid content
Enter The Webbys. Stand out on a global stage.
Since 1996, The Webby Awards has been recognized as the preeminent international honor for Internet excellence. Last year's Webby Awards received over 14,000 entries from around the world.
By participating in The Webbys, you place your work on the same stage as boundary-pushing talent, like past Webby Winners Stitcher, Audible, The Daily, Pivot, California Love and Lemonada Media, to name a few.
To ensure winners reflect the very best of the Internet, we added several new categories this year, including new Podcasts honors for Best Partnership or Collaboration, Experimental & Innovation and Best Video Series; Scripted (Fiction) and Technology Podcast added to Individual Episode. Plus, for the first time, The Webby Awards will recognize Podcast Company of the Year.
Learn more, and enter the 27th Annual Webby Awards by our Final Entry Deadline of December 16th, 2022.
Podcast data for Nov 4
Pod Events
Getting
the
five
latest
events
This section is continually updated. Data: Podevents. See more and add yours, free
Latest Pod Jobs
This section is continually updated. Data: Podjobs. See more and add yours, free