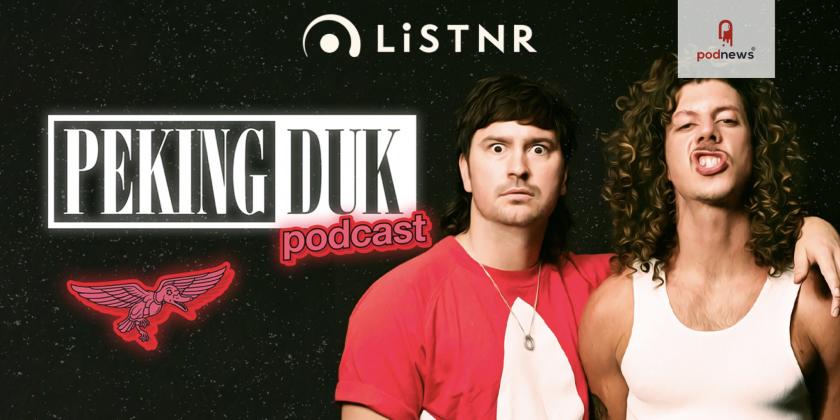 Aussie music sensation Peking Duk launch brand new podcast on LiSTNR
Press Release · Canberra ACT, Australia ·
ARIA Award-winning Aussie music powerhouse Peking Duk are taking their remarkable stories and artist faves to the LiSTNR studio as the duo launches their very own podcast, Peking Duk Podcast today, Friday November 4.
The podcast, which is the first of its kind for an Australian music band, will see the duo of Adam Hyde and Reuben Styles talk through their and their guests' hits and misses, the greatest successes and most embarrassing fails plus a whole lot more.
Joined by some of their favourite musicians, artists and creatives, the podcast comes with original music overlays and immersive sound effects where the boys and their guests recount crazy career moments.
Listeners can expect The Duk to chat with some of their best mates in the music and media industry including The Inspired Unemployed, The Kooks, Brooke Boney, Tony Armstrong, Flex Mami, Alex Dyson, Jack River, Muselk, Alex Lahey and more.
Peking Duk are one of Australia's most successful music acts and since their start in 2010 the Canberra born duo continue to rise through the charts. With triple platinum certification for some of their biggest hits, the duo have won several industry awards from the ARIA Awards, AIR Awards, APRA Awards, National Live Music Awards and received nominations for the MTV Europe Music Awards.
"From playing at cocktail bars in Canberra to playing Coachella, we've had lots of wild sh*t happen. We love sharing stories. We also love banter and conversations. We are recording it all and conning all our fave mates like The Inspired Unemployed and Brooke Boney to join in!" said Adam and Reuben.
Head of Entertainment & Culture – LiSTNR Original Podcasts, Sam Cavanagh, said: "In my 20 years producing radio and podcasts, I booked Peking Duk as guests any chance I got! Adam and Rueben always delivered the best stories and hilarious banter. So, when the opportunity came up to create a podcast with them, it was an easy 'YES!'"
In addition to the two new episodes released today, Peking Duk has also released their festival-ready single 'Spend It' ft. Circa Waves. This track follows the ARIA Award-winning duo's club-banger 'Honest' ft. US Hyperpop singer Slayyyter and follows a string of live shows, most recently headlining Grapevine Gathering across regional Australia.
Listen to 'Spend It' ft. Circa Waves now and catch the Peking Duk Podcast on LiSTNR or wherever you get your podcasts.
Listen
This is a press release which we link to from Podnews, our daily newsletter about podcasting and on-demand. This is reprinted verbatim; we may rewrite headlines and descriptions.
This page contains automated links to Apple Podcasts. We may receive a commission for any purchases made.