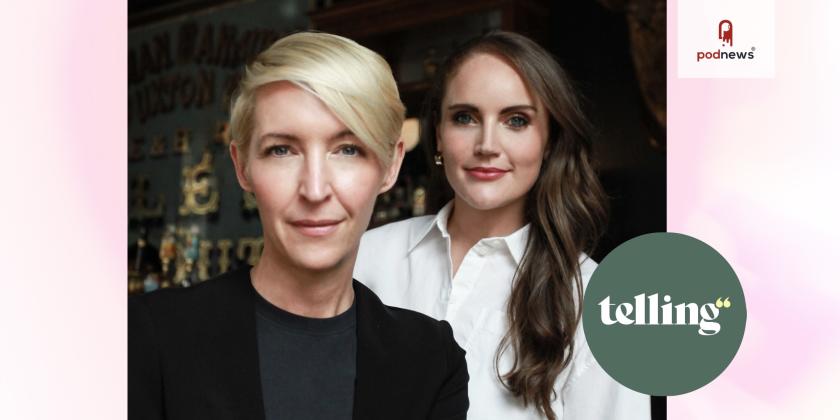 There's no Telling the power of performance marketing in podcasts, says new UK media agency
Press Release · London, UK · via Sundaze ·
A new podcast media agency and consultancy, Telling, is launching in the UK this week, with a specific focus on championing the power of performance marketing in podcasts. Its Founders will be bringing expertise from the billion-dollar US podcast market to the UK and Europe which has, to date, been dominated by more brand-style podcast campaigns. The new agency will be co-led by Georgina Holt and Christiana Brenton, making it one of the few female-founded companies internationally in both the media agency and podcasting space.
In the US, performance marketing (or 'direct response') has underpinned the podcasting advertising industry, equating to 52% of the total US podcast advertising revenue (forecasted to hit $2.3bn in 2023 according to PwC). Here in the UK, the spend on performance marketing campaigns in podcasts is estimated to be less than 20%, despite numerous studies that cite podcasts as the leading platform for capturing consumer attention which translates into direct action. Through its performance marketing approach, Telling will seek to maximise return on ad spend for advertisers and drive new customer conversions.
With Telling, Brenton and Holt have the dual objectives of supporting US based direct-to-consumer (DTC) brands to reach more customers in the region, as well as working with new and existing UK and European high-growth DTC companies to achieve or expand their podcast marketing results. High-profile global DTC brands including BetterHelp, Athletic Greens, Squarespace, Audible and HelloFresh currently invest millions of dollars in podcasting to acquire new customers, continually proving the power of the channel in driving key performance objectives.
Telling will leverage its Founders' combined years of international podcasting and media experience across APAC, EMEA and the Americas. Holt has more than two decades of experience in commercial and strategy roles. Prior to joining Acast - where during her three year tenure she was UK and IE Managing Director before moving to New York as Managing Director of Americas, and named as one of The Hollywood Reporter's most influential people in podcasting - Holt was the Executive Director and Publisher of Stylist and Stylist Studios and has previously worked for Hearst as Publisher of Cosmopolitan and Commercial Strategy Director. Brenton has over a decade of media experience across three regions globally. Prior to joining Acast in 2019, Brenton worked in Sydney as Group Sales Manager for Nova Entertainment and received the accolade of being named one of B&T Magazines 30 Under 30. During her time at Acast, Brenton was the number one global revenue generator, before moving on to key sales and strategic leadership roles to deliver consistent, double digit YoY growth for the podcast marketplace. Brenton's thought leadership around the advertiser challenges of concentrating spend in the top shows alone has recently been captured at the IAB Podcast Upfronts and published in the Podcast Business Journal.
Together, in podcasting, they have led Acast's market and sales teams in both the UK and US, supporting brands with successful advertising strategies in podcasting and working with some of the biggest and most respected international publishers including The Economist, The Guardian, BBC and The Financial Times and some of the world's most popular independent global creators and agents such as; Higher Ground Productions founded by President Barack Obama and Mrs Michelle Obama, Off Menu, WTF with Marc Maron, Sh**ged Married Annoyed, Stak, YMU, WME and Avalon.
Christiana Brenton, Co-Founder of Telling said: "We launched Telling as we firmly believe podcasting is one of the most important and essential media channels available to advertisers in their search for consumers' finite attention. No other platform has the combination of attention and influence that come from consuming your favourite podcast. In fact, there's now universal alignment from every major research body that podcasts deliver the strongest ad receptivity vs any other media channel*.
"And as the Lumen model* demonstrates there's a direct correlation between attention and sales conversions, which is why performance marketing and podcasting go hand-in-hand. We have seen through our experience how effective performance marketing is in the US and we understand the reasons why its potential just hasn't been fulfilled here in the UK. We know we can change that. We want to help more brands understand the power of performance and how through the right combination of podcasts, flighting and ad creative, we can drive measurable growth for advertisers. It is an exciting opportunity to help our partners achieve their growth ambitions and I couldn't be happier to be launching Telling into the UK marketplace alongside such an incredibly experienced talent like Georgie."
Georgina Holt, Co-Founder of Telling adds: "With our collective experience in the industry, most recently in the US, Christiana and I see there is a huge opportunity in the UK & European market for exponential growth in performance marketing spend in podcasting due to the exceptional results it achieves for advertisers. We both love podcasts with their ever evolving potential and we are here to ensure the long-term success of the industry and the amazing creators, publishers, platforms and companies that make it so special. We truly understand the performance marketing opportunity and want to share this knowledge with brands and podcasters to help them both realise their ambitious growth goals.
"Being able to also launch one of the very few female-founded companies in both the media agency and podcasting space with the super talented Christiana, is something we are very proud to be bringing to life together. We'd also like to thank everyone at Acast who has been hugely supportive of us and this vision."
This is a press release which we link to from Podnews, our daily newsletter about podcasting and on-demand. We may make small edits for editorial reasons.