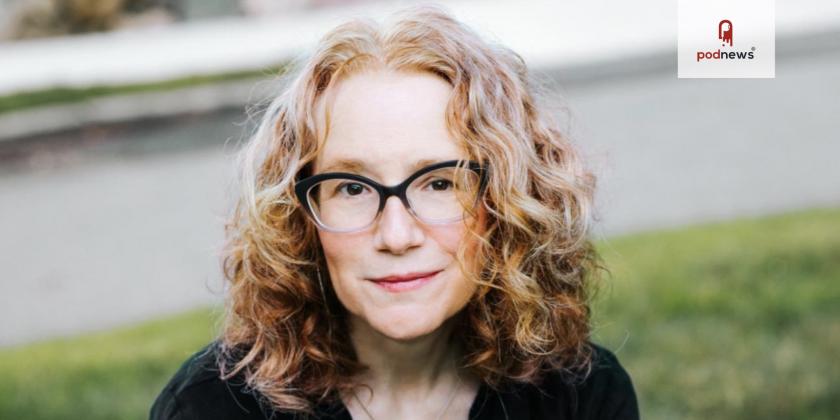 Novel Announces Julie Shapiro (Radiotopia and PRX) as Executive Creative Director
Press Release · London, UK ·
Today, Novel, the UK-based studio that has become Europe's largest independent podcast producer on the back of an array of acclaimed, award-winning and globally chart-topping podcasts for partners including Spotify, Audible, iHeart, Wondery, and the Premier League, announced the hiring of Julie Shapiro as their new Executive Creative Director. Shapiro comes over from her role as Vice President of Editorial and Executive Producer at Radiotopia and PRX, the award-winning podcast network for independent creators.
Shapiro brings to Novel a keen ear for talent and the creative vision necessary to develop promising ideas into fully realized, award-winning shows. As Executive Producer of Radiotopia she oversaw the growth and creative evolution of the network from 2015-2021. She was instrumental in the development of the hit podcast Ear Hustle, which won Radiotopia's Podquest contest in 2016, and under Shapiro's direction as Executive Producer, has been recognized as a Pulitzer finalist, twice-nominated for a Peabody Award, won two Webby Awards, and has been downloaded more than 62 million times.
Previously, Shapiro co-founded the highly acclaimed Third Coast International Audio Festival in 2000, and as Artistic Director through 2014, shaped the Festival's creative trajectory and nurtured a robust international listening culture for creative audio storytelling.
A vocal advocate of women in the podcast and radio industries as well as a mentor to upcoming voices of various backgrounds, Shapiro brings a wealth of experience to the Executive Creative Director role at Novel. Says Shapiro: "I'm eternally grateful to PRX and Radiotopia for the opportunity to push the creative boundaries of podcasting, and to have worked alongside exceptional producers and remarkable colleagues during the past seven years."
She continues: "Looking ahead, I'm deeply impressed by Novel's creative ambitions and dedication to craft, and I'm thrilled to be joining their team. I'm keen to bring my experience and artistic vision into this international podcast environment, and to continue working with creators to explore podcasting's endless capacity to express big ideas and impart beautiful and impactful stories."
Sean Glynn, CEO of Novel, says, "I have long been an admirer of Julie and her work, both at Radiotopia and for the industry as a whole. I'm delighted to be welcoming her, and her incredible experience and enthusiasm, to take on the newly created role of Executive Creative Director at Novel."
"We know there are huge opportunities – and audiences – for the type of well-told, beautifully-produced shows Novel is known for. Our recent hires have added to our already considerable in-house expertise and we are looking forward as we continue to push the boundaries and shape this ever-changing audio landscape. As we expand into launching Novel originals and continue to grow our firmly-established work-for-hire and partnerships business, we can think of no better person than Julie to lead the creative charge."
Today's announcement is Novel's latest in its series of top-level podcast industry talent hires: in April, Novel announced that Austin Mitchell would be joining as Creative Director, Production (formerly of New York Times' The Daily), Mythili Rao as Managing Editor (formerly of The Guardian's Today In Focus), and Indira Birnie as new Head Of Marketing and Communications (formerly of Penguin Random House). Now with over 40+ staff — plus a newly-announced partnership with United Talent Agency — Novel is primed to meet the demands of its ambitious repertoire of content planned throughout 2022 and beyond.
This is a press release which we link to from Podnews, our daily newsletter about podcasting and on-demand. This is reprinted verbatim; we may rewrite headlines and descriptions.