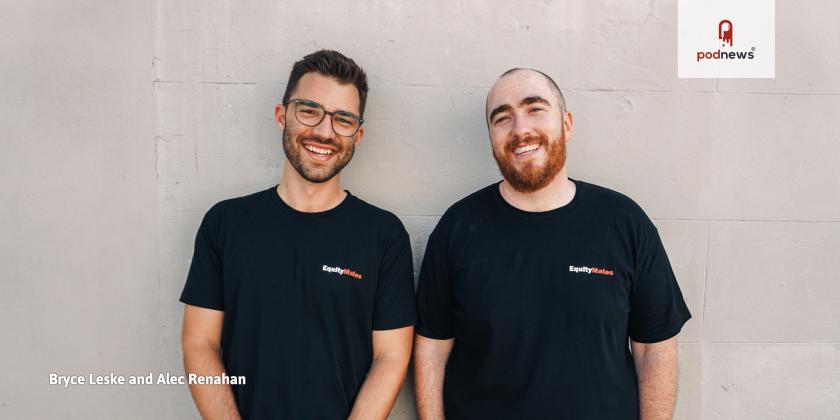 Equity Mates complete $1.2 million seed round, aim to democratise access to financial information
Press Release · Sydney NSW, Australia ·
This article is at least a year old
Equity Mates Media, the podcast business behind some of Australia's largest business and finance podcasts, today announced they have successfully raised $1.2 million in seed funding. The funding will allow Equity Mates to grow their team, expand their stable of content and develop resources to help every Australian build the knowledge and confidence to take control of their financial future.
Started in 2017, co-founders Alec Renehan and Bryce Leske, above, created their first podcast, Equity Mates Investing Podcast, as a way to learn more about the stock market, hold themselves accountable and find experts to share their knowledge. Four and a half years later, Equity Mates Media has seven podcasts, a streaming show and recently released a book, Get Started Investing.
The company raised this funding to continue building their stable of content and grow their audience both in Australia and around the world. Co-founder Alec Renehan explained, "Over the past four years we've learnt the importance of investing. Understanding your finances and getting started investing early is a critical life skill. Yet, it is not taught at school and too many Australians never get started. We want to engage young people with the opportunity in the stock market and help this generation be the most financially literate in Australia's history."
In the past 12 months, the Equity Mates podcasts have seen significant growth. In the 12 months to September 2021, Equity Mates had 4.1 million podcast downloads, up 120% year-on-year. Contrary to the caricature of young investors presented in the media, day-trading meme stocks and cryptocurrencies fuelled by Reddit speculation, the young Australians listening to Equity Mates are looking to the stock market to build long term wealth. 76% make just 1-3 investment decisions (buy or sell) a month, just 27% invest in cryptocurrency and over half (54%) dollar-cost average with a micro-investing app.
The Equity Mates business sits at the intersection of two trends that have driven growth over the past few years. The first is the rise of the retail investor in Australia. According to the ASX's 2020 Investor Study, there are close to 9 million Australians that hold investments outside their superannuation and primary dwelling. Of that number, almost one-quarter started investing in the past 2 years.
Alec Renehan commented on the increase in young investors turning to the stock market, "In the past few years we've seen a number of factors drive increased participation in the stock market. House prices make investing in property inaccessible for most young Australians. New platforms and exchange-traded products have driven the cost of investing in the stock market to almost zero and have made it easier than ever before. And barriers to entry have been reduced to the point where funds that traditionally required thousands of dollars minimum investment can now be accessed with just a few cents."
The second trend is the explosive growth of podcasts, both in Australia and around the world. In Australia, 9 million people have listened to a podcast, which is up 54% year-on-year and PWC have forecast that commercial expenditure in Australian podcasting will hit $105million in 2022, which is up from $5mil in 2017.
Equity Mates partner with Acast, a global podcast hosting company, to distribute, monetise and grow their podcasts. Guy Scott-Wilson, Content Director for Acast Australia & New Zealand, explained the growth Acast has witnessed in the podcasting space over the past few years. "The growth of podcasting continues to outpace all predictions, both in terms of audience and revenue. The emergence of large-scale, highly targeted communities like those that Equity Mates Media have built are huge contributing factors to that growth. Acast has been able to connect many of Australia's leading advertisers to the Equity Mates audience since we started working together, helping to increase revenues and grow advertiser demand for this incredible network of content."
Co-founder and CEO of Equity Mates Media, Bryce Leske, reflected on the change he's witnessed in the podcast space. "A couple of years ago when we were speaking to potential investors, podcasting was very unproven and we spent a lot of time answering the question 'are podcasts investible?'. In just a couple of years we've seen some big deals overseas - Joe Rogan, Gimlet, Wondery - and Australia's investment community are realising the huge opportunity in podcasting. This won't be the last deal in this space."
The round includes several high-profile investors, including ASX-listed Magellan Financial Group, co-founder of Zip Larry Diamond and multiple-award winning financial advisor and CEO of Pitcher Partners Sydney, Wealth Management Charlie Viola.
Bryce Leske commented on the investors that participated in the seed round, "It is humbling, and something that we are immensely proud of, to be partnering with such high-profile and accomplished investors. For these investors to see the opportunity ahead of Equity Mates is a reminder of how far we've come from those early days."
Larry Diamond shared his thoughts on the Equity Mates team, "I am a massive believer in levelling the playing field and democratizing access to investor information for all. The team at Equity Mates are working hard to bridge the gap between retail investors and instos, and I am proud to support their efforts."
This is a press release which we link to from Podnews, our daily newsletter about podcasting and on-demand. We may make small edits for editorial reasons.