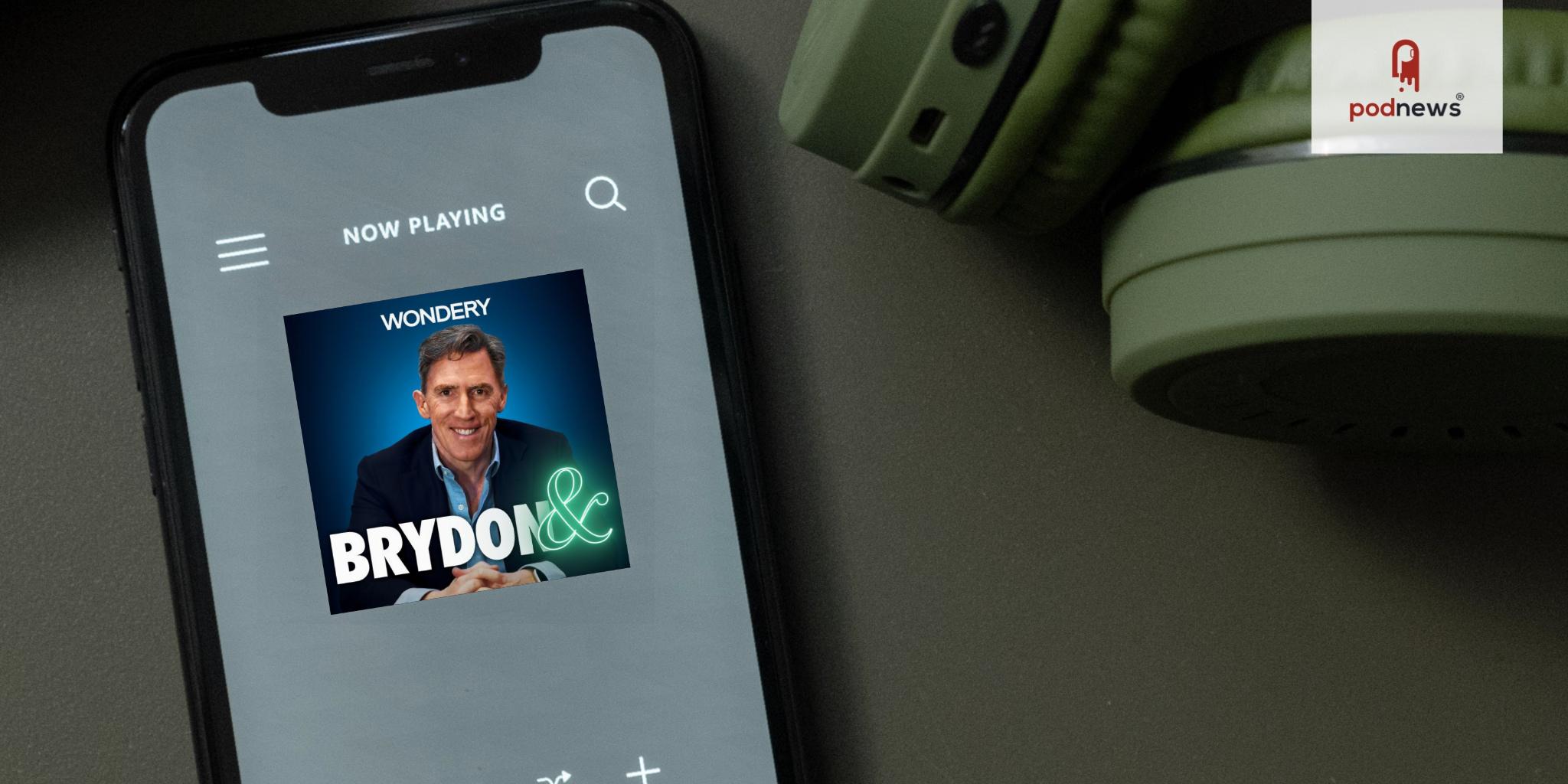 Wondery and Amazon Music Announce Distribution and Ad-sales Deal with Comedy Podcast Brydon &
Press Release · London, UK ·
Wondery and Amazon Music today announce a podcast distribution and ad-sales rep deal with award-winning Welsh comedian Rob Brydon for his hit podcast series Brydon &. The deal will see episodes of the renowned hit show publish one week early and ad-free on Amazon Music (available to Amazon Music Unlimited subscribers and Amazon Prime members) and Wondery+ from May 25th. Brydon & is produced by Rob Brydon in partnership with Talent Bank and will continue to be available on all podcast services after the one-week exclusivity window.
The podcast sees the multi award-winning Brydon chat to some of the biggest names from the world of entertainment, with comedian and author Ben Elton confirmed as the first guest on Amazon Music and Wondery+ on 25th May. Brydon's interview with Steve Coogan will also be available on all podcast services on 25th May. Future star interviews range from former Doctor Who companion Arthur Darvill to world-renowned singer-songwriter Charlotte Church, Bridgerton's Luke Thompson to actress and comedian Julia Davis, with episodes dropping weekly.
Today's news follows the recently announced Wondery and Amazon Music deal with Suruthi Bala and Hannah Maguire, the award-winning duo behind the global chart-topping podcast RedHanded. The news also builds on Wondery's recent standout, binge-worthy UK-centric podcast stories including Stolen Hearts, Harsh Reality: The Story of Miriam Rivera, Who Killed Daphne?, and British Scandal.
Marshall Lewy, Chief Content Officer, Wondery, commented: "Rob Brydon is one of the UK's finest comedic talents and a singular voice. We're thrilled for Amazon Music and Wondery to collaborate closely with Rob, and for our global listeners to discover his already successful podcast."
Rob Brydon commented: "What a joy to be able to bring this new series of Brydon & to the lovely listeners of Wondery + and Amazon Music. It's such a pleasure to share my conversations with some of the most fascinating and talented people working in entertainment today. I do hope everyone enjoys the podcasts as much as I've loved creating them."
James Cator, Head of Commercial, Europe at Wondery said: "Rob Brydon's distinctive charm and unique Welsh wit has entertained millions of fans across all mediums and we're delighted to announce 'Brydon &' as our second European podcast distribution and ad-sales rep deal. His unique style blended with a range of eclectic guests, will deliver both extensive reach and deep listener engagement and we look forward to offering impactful results for UK ad customers."
Brydon & publishes one week early on Amazon Music and Wondery+ from May 25th. Ad-free listening and early release available to Prime members on Amazon Music and Amazon Music Unlimited subscribers.
Listen
This is a press release which we link to from Podnews, our daily newsletter about podcasting and on-demand. We may make small edits for editorial reasons.
This page contains automated links to Apple Podcasts. We may receive a commission for any purchases made.