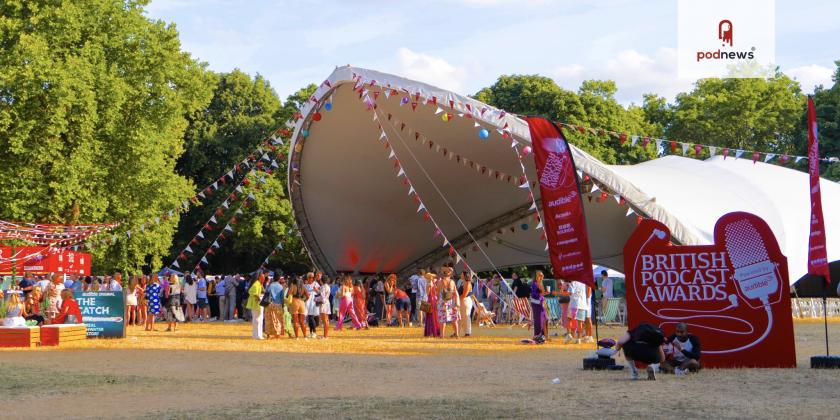 British Podcast Awards 2022: the winners
Press Release · Kennington, London, UK ·
On Saturday 23rd July, the 2022 British Podcast Awards powered by Audible took place in London's Kennington Park. Elis James and John Robins hosted, bringing their signature wit and humour, and telling an anecdote of bumping into each other yesterday, both in search of a suit for today. They were joined by the biggest names in podcasting including Idris & Sabrina Elba, Pandora Sykes, Jamie Laing, My Dad Wrote a Porno, Poppy Jay, Jon Sopel, Diana Vickers, Kem Cetinay, RedHanded, The Receipts' Tolani Shoneye and Dr Rupy.
One of the biggest awards of the night, the Podcast Champion, went to You, Me and the Big C. The award honours the work of Dame Deborah James, Rachel Bland, Lauren Mahon and their entire team, whose brilliant, honest, inspiring podcast has contributed hugely to public awareness and perception of cancer and cancer treatment, but has also been a source of solace for so many. The award was presented by Cariad Lloyd to Lauren Mahon, who said;
"Me and Deb had a little joke when Rachel died that I couldn't just do the podcast by myself because I couldn't call it 'Me, Me and the Big C'. The podcast is our happy place. It's a bit surreal to be standing here without both my girls. We knew this was a risk, that some of us would die when we started it, but we wanted to continue to champion it. There is more work to be done. I don't know what it looks like, but the podcast has always been a service. Last time we won at these awards, we dedicated the award to Rachel. I'm so proud to say that this is for Dame Deborah Fucking James!"
The crowd was delighted when Idris Elba joined his wife Sabrina to present Best Wellbeing Podcast to none other than Effin' Hormones, a podcast all about menopause. One audience member tweeted "Hearing Idris Elba say 'menopause' made my ovaries twitch".
Coiled won Moment of the Year, a podcast that explores Black Afro Hair in all its forms and textures. Host and producer Leanne Alie and Sylvie Carlos collected the award. Decode took home both the Smartest Podcast and Best Entertainment Podcast awards. The show delves into the UK rap that matters, with two series so far dedicated to Skepta and Dave.
Jamie Laing took to the stage to present Dear Daughter with the award for Best Family Podcast. Jamie attended the event with fiancé Sophie Habboo; the pair host their own podcast NearlyWeds. Dear Daughter also won the prestigious Podcast of the Year award, previously won by VENT Documentaries in 2021, Brown Girls Do It Too in 2020, and George The Poet in 2019.
The Best Fiction Podcast award was presented to Soundworlds by Diana Vickers and Chiara Hunter of Ki & Dee: The Podcast, known for their viral songs including their most recent, 'Anthem for Love Island 2022'. Jamie Morton and James Cooper of My Dad Wrote a Porno presented the Rising Star Award to Kirk Flash, who's comedy podcast This Is Gay examines the darker side of modern gay life.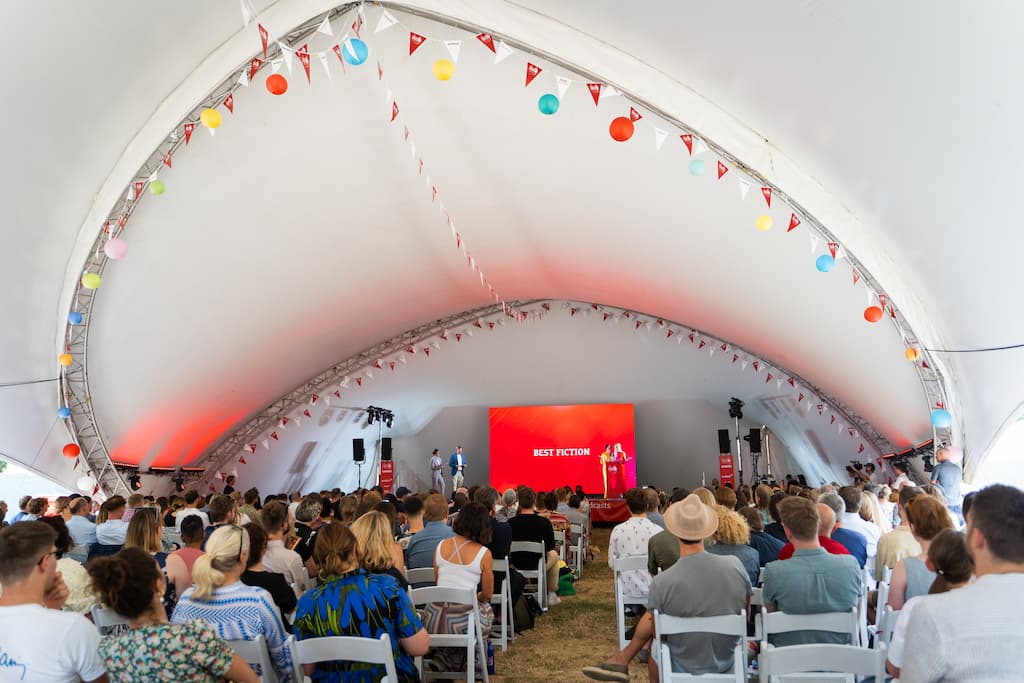 The Spotlight Award, which recognises a podcast reaching the masses and was presented by Dr Xand, was awarded to British Scandal, in which hosts Alice Levine and Matt Forde tell the stories of the murkier side of the British elite, from Phone Hacking to Saville to Profumo.
Best Arts & Culture Podcast was awarded to James Acaster's Perfect Sounds, whilst previous winner Poppy Jay (Brown Girls Do It Too) presented The Best Sex & Relationships Podcast award to Assume Nothing: Rape Trial. The podcast is narrated by Amybeth McNulty, of Stranger Things and Anne With an E, and explores a court case which caused Northern Ireland to find itself at the forefront of radical reform in the way rape trials are heard.
The only award voted for by the public, The Listeners' Choice Award, saw over 60,000 votes cast. The top spot this year was won by RedHanded for a second time. The true crime podcast offers a weekly dose of murder, wit and 'WTFs', hosted by Hannah Maguire and Suruthi Bala.
The winners, in full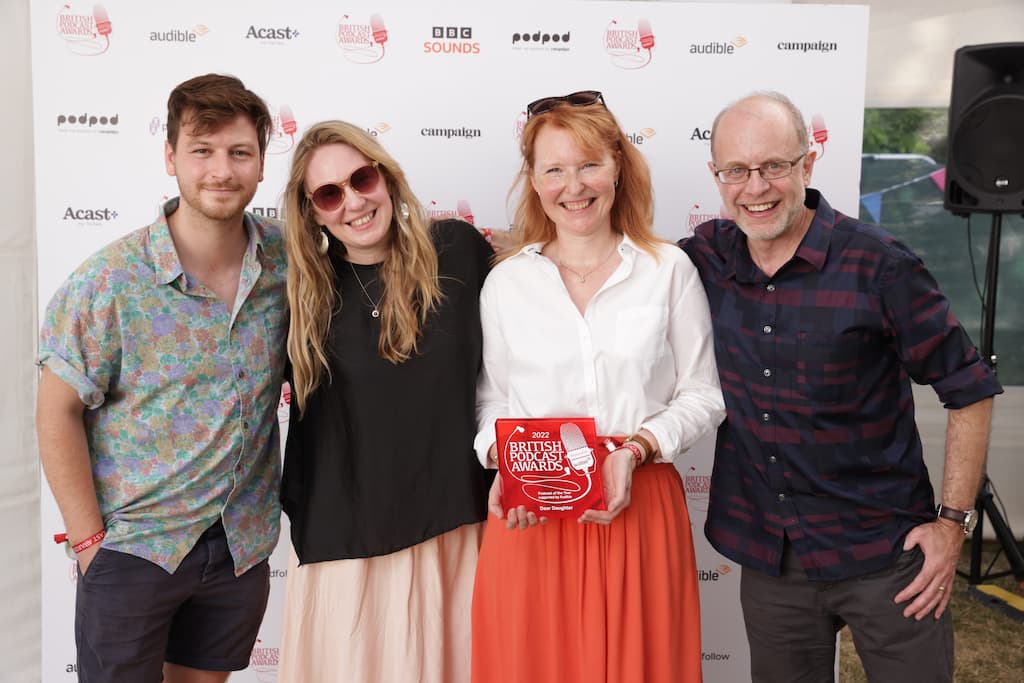 PODCAST OF THE YEAR
Supported by Audible; presented by Jesse Lawson of VENT Documentaries
PODCAST CHAMPION
Presented by Cariad Lloyd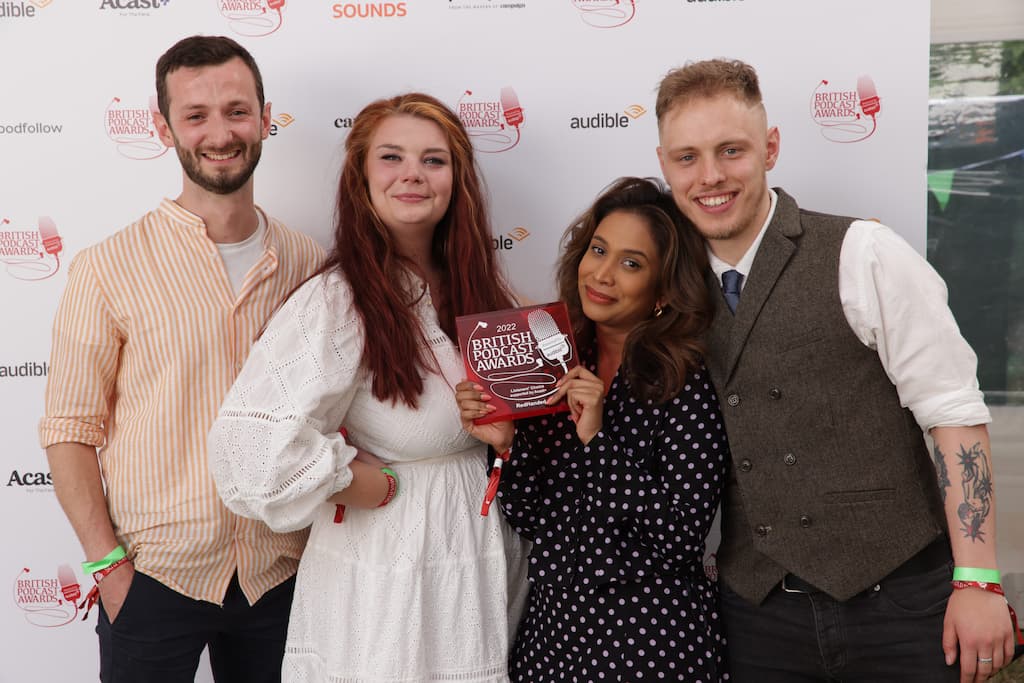 LISTENERS' CHOICE AWARD
supported by Acast+; presented by Jon Holmes
MOMENT OF THE YEAR
supported by Audio UK; presented by RedHanded podcast
BEST ARTS & CULTURE PODCAST
supported by Pod Bible; presented by Reed Amber
SILVER: Legends Fall In The Making - BBC Studio's Factual Podcast Unit for 1Xtra
BEST BRANDED CONTENT
Presented by Kem Cetinay
BEST BUSINESS PODCAST
supported by Subly; Presented by Danny Robins
BEST COMEDY PODCAST
supported by Amazon Music; Presented by Cariad Lloyd
GOLD: Jamali Maddix: Spooky Shit - Novel for Audible

SILVER:

This is Gay

- Kirk Flash

From:

Kirk Flash

Hosted by:

Anchor
BEST CURRENT AFFAIRS PODCAST
Presented by Jon Sopel
BEST DAILY PODCAST
Presented by Tolani Shoneye
BEST DOCUMENTARY PODCAST
Presented by Elis James & John Robins
GOLD: The Bias Diagnosis - Whistledown Productions for Audible

SILVER:

Harsh Reality

- Novel for Wondery

From:

Wondery

Hosted by:

ART19
BEST ENTERTAINMENT PODCAST
supported by Create Podcasts; presented by James Barr & Dan Hudson
BEST FAMILY PODCAST
Presented by Jamie Laing & Sophie Habboo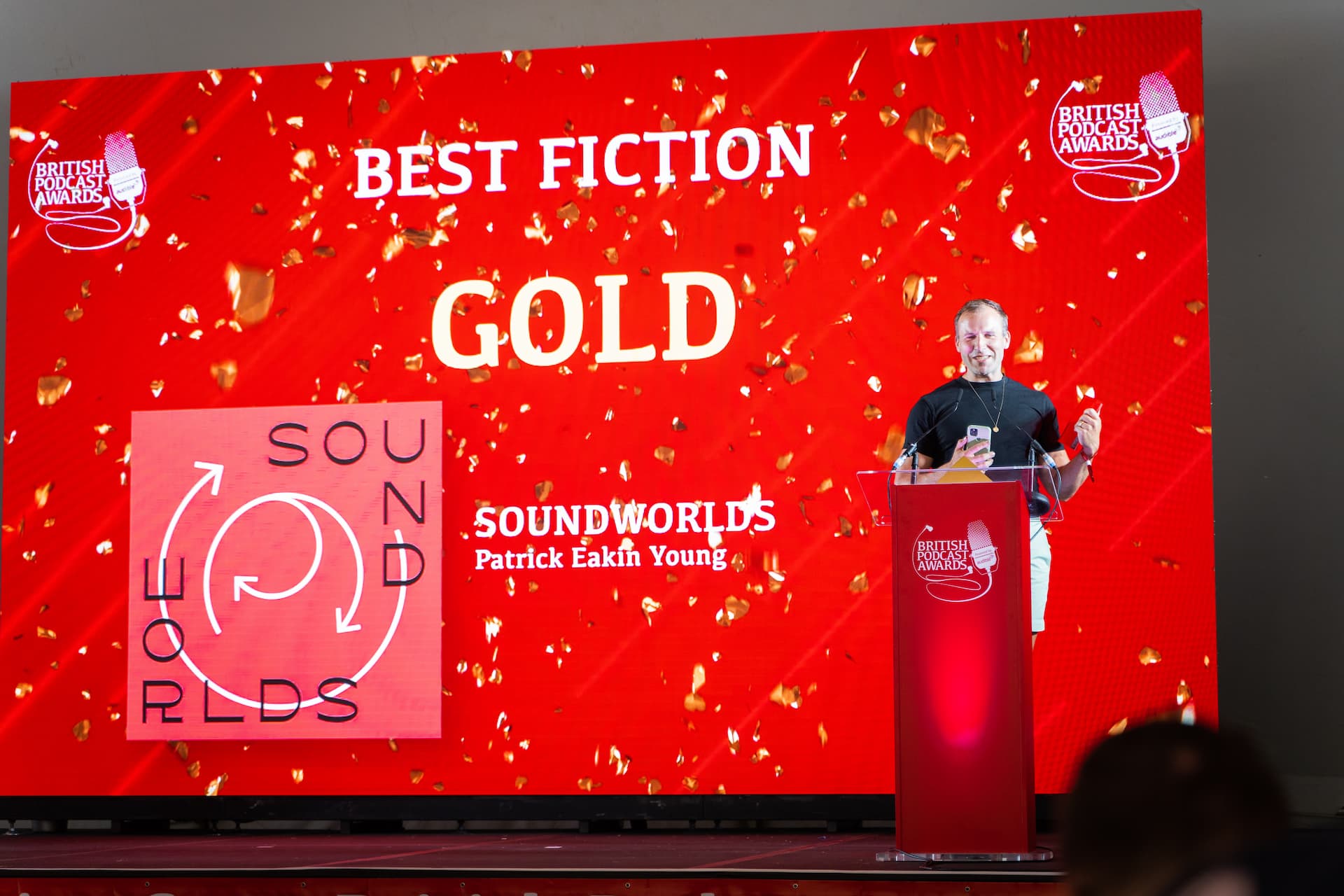 BEST FICTION PODCAST
Presented by Ki & Dee (Chiara Hunter & Diana Vickers)
BEST INTERVIEW PODCAST
supported by Podfollow; Presented by Jamie Bartlett
BEST LIVE PODCAST
Presented by Zeze Millz & Sideman
BEST NEW PODCAST
Presented by by Elis James & John Robins
BEST RADIO PODCAST
Presented by Pressed podcast
BEST SEX & RELATIONSHIPS PODCAST
Presented by Poppy Jay
SMARTEST PODCAST
Presented by Pandora Sykes
BEST SPORT PODCAST
Presented by Tom Whalley
BEST TRUE CRIME PODCAST
supported by Wondery; presented by Matt Forde
GOLD: The Catch - Message Heard for Audible

SILVER:

Wild Crimes

- Whistledown Productions for the Natural History Museum

From:

The Natural History Museum, London

Hosted by:

Libsyn

BRONZE:

The Northern Bank Job

- BBC Northern Ireland for BBC Radio 4 & BBC Sounds

From:

BBC Radio 4

Hosted by:

BBC
THE CLIMATE AWARD
Presented by Claire Holland, leader of Lambeth Council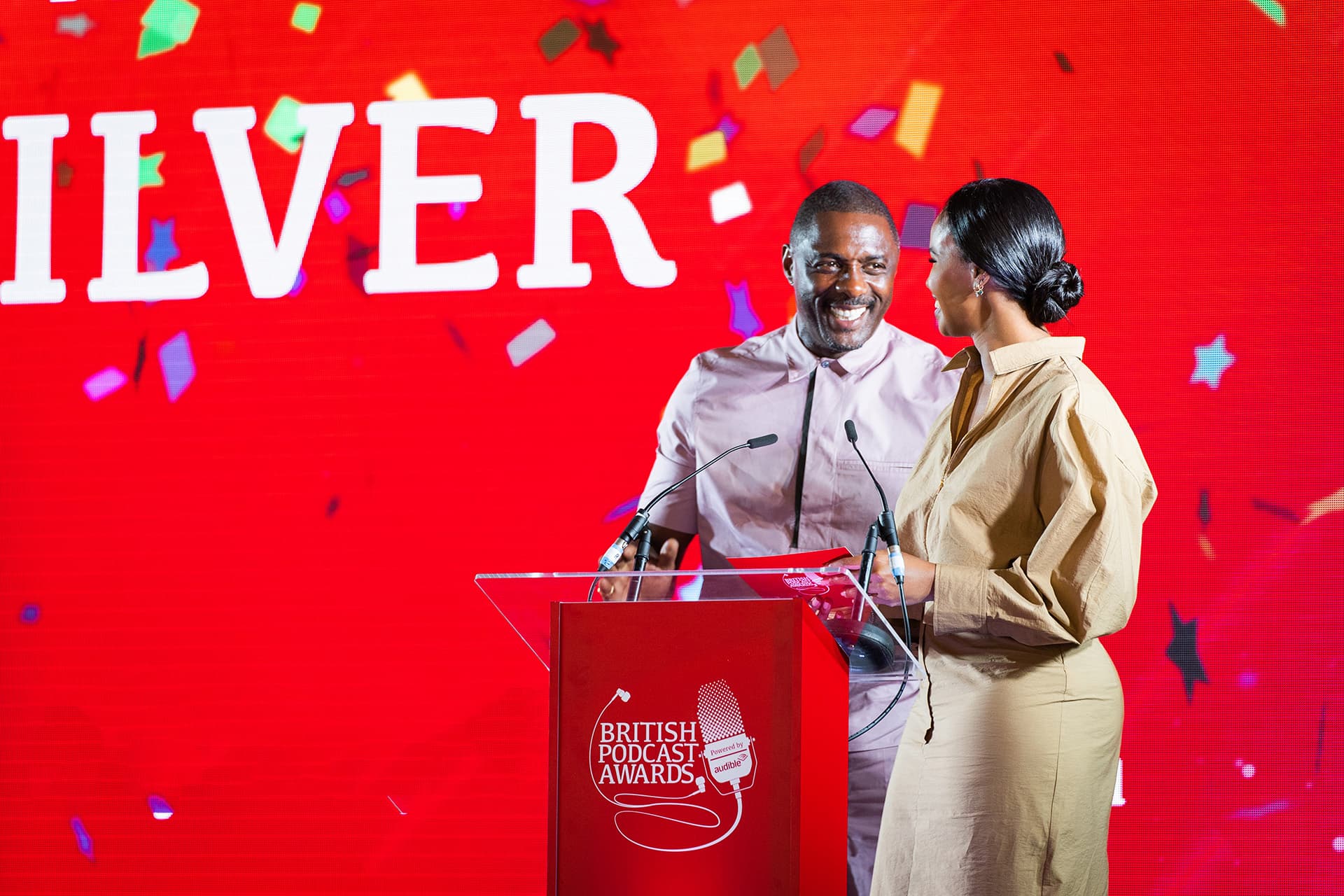 BEST WELLBEING PODCAST
supported by Audible; presented by Idris & Sabrina Elba
BEST WELSH PODCAST
Presented by Sian Eleri
BEST NETWORK OR PUBLISHER
Presented by Jon Holmes
GOLD: Mags Creative
SILVER: Stak
BRONZE: BBC Radio 5 Live
THE CREATIVITY AWARD
supported by Audible; presented by Grace Barry
BRONZE: Operation Ouch! The Podcast of Everything - Maverick Television & Listen
BEST SALES TEAM
Presented by Elis James & John Robins
GOLD: Fresh Air Production
SILVER: Adelicious
BRONZE: Message Heard Sales Team
BEST MARKETING CAMPAIGN
Presented by Elis James & John Robins
BEST COMMERICAL CAMPAIGN
Presented by Elis James & John Robins GOLD: Money Talks - Klarna & Acast Creative SILVER: Comfort Eating with Grace Dent - Guardian News and Media BRONZE: Ed Sheeran's + – = ÷ x Tour - Fun Kids
BBC SOUNDS RISING STAR
Presented by My Dad Wrote a Porno (Jamie Morton, James Cooper)
GOLD: Kirk Flash
SILVER: Meera Kumar
BRONZE: DJ Flight
THE SPOTLIGHT AWARD
Presented by Dr Xand
THE BULLSEYE AWARD
Presented by Dr Rupy
Photo credits: Matt Deegan; Paul Cochrane
This is a press release which we link to from our daily newsletter about podcasting and on-demand. This is reprinted verbatim; we may rewrite headlines and descriptions.