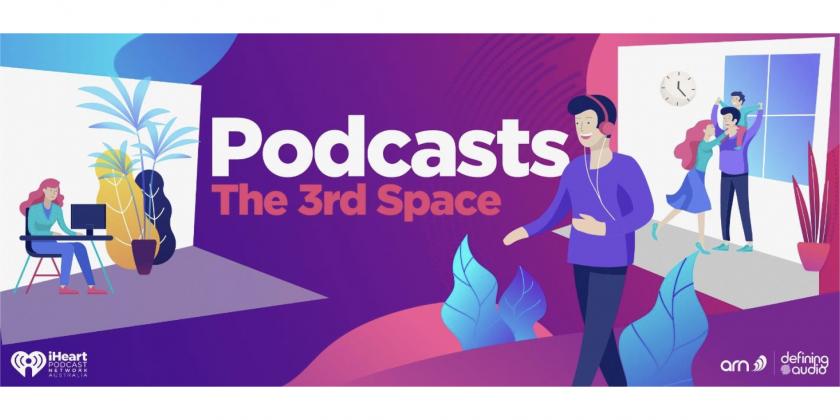 New data shows significant increase and shift in podcast listening habits
Press Release ·
This article is at least a year old
Sydney NSW, Australia—ARN's iHeartPodcast Network Australia has today revealed data demonstrating a significant increase and interesting changes in Australian podcast consumption.
ARN collaborated with leading podcast hosting service Megaphone to review the listening habits of over 600,000 Australians. The Megaphone data exposed shifting trends in the time of day that Australians are consuming podcasts. Up until the pandemic was declared, podcast listening trends peaked in line with morning and evening commutes but with working from home now the new norm, consumption remains relatively constant across the day with a sharp increase in listening between 11am and 1pm1.
ARN's National Strategy Director, Lauren Joyce said: "With many Australians no longer commuting, people are establishing a new routine. Without the distinct breakers between home, work and 'me' time, they are turning to the intimate listening experience of podcasts to carve out this 'third space'. As home and work life blend, podcasts are a circuit-breaker to the day with special interest content creating the 'escape' that either their commute or lunchtime at work with colleagues usually would.
The same data also demonstrates that overall podcast listening has increased by 15%2 since the global pandemic was declared.
This increase could in part be attributed to listeners' satisfying their appetites for COVID-19 content, with a three-fold growth in Australians accessing coronavirus related content.
ARN's Commercial Product and Audio Partnerships Director Corey Layton said: "This data shows that growing numbers of Australians are using podcasts to connect with COVID-19 content that tells the stories behind the headlines, or engaging with aligned content that entertains us, like Australian comedian Nazeem Hussain's Survivor's Guide to Coronavirus."
In addition, there were variations in the types of content that Australians are accessing. The Megaphone listening data provides evidence of Australians self-managing their consumption of emotionally weighty content3. The significant increase in consumption of COVID-19 content appears to correlate with a decline in listening to True Crime content, while consumption of emotionally lighter podcasts like entertainment, lifestyle and catchup radio has increased4. This is further demonstrated through podcasts such as Stuff You Should Know and The Kyle & Jackie O Show podcast experiencing higher rates of downloads during the surveyed period.
ARN's Commercial Product and Audio Partnerships Director Corey Layton said: "Given the intimate nature of podcast listening, we already knew that people were using it as a medium to escape, entertain and be informed. What this data indicates is that even with heightened competition from screens in the home, people are still actively choosing to listen to on-demand audio, which proves the transporting and engaging effects of the medium."
As Australia's #1 podcast publisher5, ARN's iHeartPodcast Network Australia continues to build on the breadth of podcast content during this period of social isolation, extending the slate with shows including Fake Doctors, Real Friends with Zach Braff and Donald Faison, Life Uncut, Rise & Conquer, Equity Mates, and Ordineroli Speaking.
ARN's National Strategy Director, Lauren Joyce said: "For advertisers this provides a unique opportunity to tap into audiences during the moments that they are actively seeking out content; when they are highly engaged and uninterrupted."
ARN Chief Commercial Officer Pete Whitehead said: "ARN continues to be committed to offering the very best content across all of our audio platforms – whether it be radio, music or podcasts. We know that while our audience's day-to-day behaviours might be shifting, they are consuming radio to remain connected, they're on digital to stay engaged, and are listening to podcasts to escape. Their day might have changed but their appetite for audio hasn't.
"As they listen for longer, it provides even greater opportunities for brands to engage. Due to the immediacy of radio, our advertisers can adapt their campaigns in real-time, aligning messaging for our engaged listeners.
"This is the true power of audio – it's adaptable and immediate in response to changing customer demands, offering clients the most optimal opportunities for integration."
About ARN
ARN is one of Australia's leading Broadcast and On-demand audio companies, 'Defining Audio', with ownership or investments in 12 radio stations nationwide in addition to digital entertainment platform, iHeartRadio. ARN's vision is to deliver the most complete audio offering for audiences and advertisers, and its network brands KIIS and Pure Gold, along with iHeartRadio and The Edge, entertain and influence over five million listeners each week across Australia.
Its KIIS network consists of Sydney's KIIS 1065 with Kyle & Jackie O, Melbourne's KIIS 101.1 with Jase & PJ, Adelaide's Mix102.3 with Jodie & Soda, Brisbane's 97.3FM with Robin, Terry & Bob and Perth's 96FM with Botica's Bunch for Breakfast. The National Drive Show across all stations is Will & Woody.
Its Pure Gold network consists of Sydney's 101.7 WSFM with Jonesy & Amanda, Melbourne's GOLD104.3 with Christian O'Connell, Brisbane's 4KQ with Laurel, Gary & Mark and Adelaide's Cruise 1323 with John Dean.
The Edge is available on FM as The Edge 96.ONE in Sydney and nationally via iHeartRadio and DAB+. The Edge Breakfast hosts are Mike E & Emma.
iHeartRadio, the world's fastest growing digital service, was launched by ARN to the Australian market in 2013 and since then, the platform has had over 2.2 million downloads of the app and over 1.6 million registered users. iHeartRadio is a free, all-in-one radio, music streaming, podcast and live events platform. In addition to being able to access their favourite music from around the globe, audiences can access their favourite stations in Australia from ARN, the ABC, SBS and Macquarie Media, as well as stations from New Zealand and the USA. In 2020 ARN launched iHeartPodcasts Australia, providing advertisers with access to significant scale across local, global and catchup podcasts.
ARN's suite of digital and social assets are the online home to Australia's leading radio stations, providing highly engaged entertainment content and news, complementing the on-air experience ARN's stations are best known for.
ARN is a HT&E company. For more details, head to www.arn.com.au.
About Megaphone
Megaphone is a podcast technology company that provides hosting and ad-insertion capabilities for publishers and targeted ad sales for brand partners. The Megaphone platform connects enterprise-level podcasters and media companies with best-in-class tools to publish, monetize, and measure their audio content. Megaphone Targeted Marketplace (MTM) revolutionizes podcast advertising by offering brands unprecedented listener reach, true measurement, efficient execution, and guaranteed brand safety.
Sources
1 Megaphone, March 2020, compared with February average weekly downloads
2 Megaphone, March 2020, compared with February average weekly downloads
3 Megaphone, March 2020, compared with February average weekly downloads
4 Megaphone, March 2020, compared with February average weekly downloads
5 CRA and Triton, Australian Podcast Ranker #7: Feb 17 – March 15, 2020 of the participating publishers
This is a press release which we link to from Podnews, our daily newsletter about podcasting and on-demand. This is reprinted verbatim; we may rewrite headlines and descriptions.