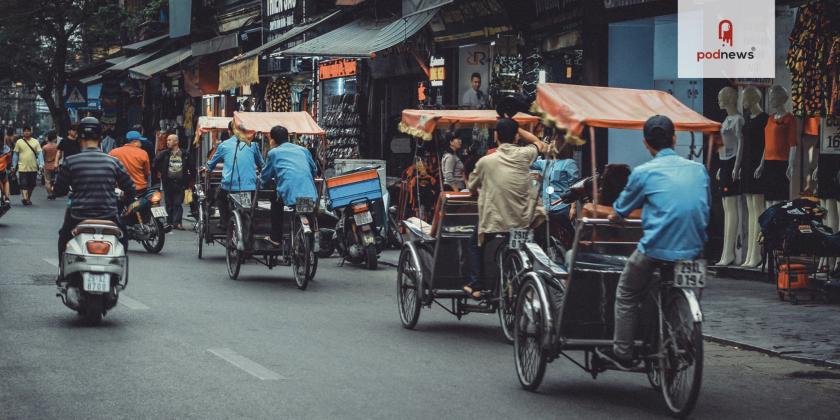 Vietnam: a podcasting deep-dive
· By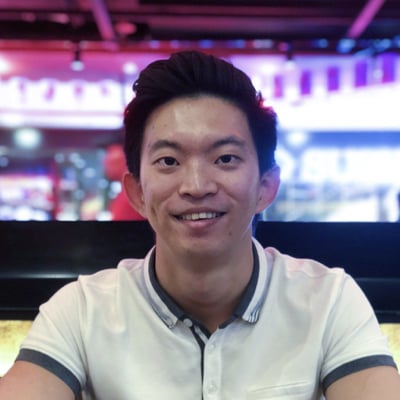 Guang Jin YEO
· 20.2 minutes to read
In the latest of our deep-dives into different East and South East Asian podcast markets, we go to a place where podcasting started early, and where those motorbikes make podcasting difficult to listen to on a journey.
What drives podcasting?
Before we can even discuss JKAPAC's deep-dive, we need to understand what drives podcast as a category. Content creation thrives on creators: the more creators you get on board a platform, the more viewers, or listeners, you will naturally attract.
What attracts a creator differs by platform - on Youtube or Tiktok it is more metric driven, where creators produce for the algorithm, and are rewarded for it in views. But for podcasting, where the barrier to enter is so low, a creator usually enters because they were inspired.
Serial no doubt attracted a large listener base, but critically, by inspiring a whole swath of true crime podcasters, it kept peole listening to podcasts. These shows, in turn, inspire the next - an entire genre which keeps new podcast listeners listening.
For a podcast to become a category-driving podcast, we believe that they must give a reason for listeners to become a podcast creator.
Usually there's three aspects to this:
Are there local barriers that prevent one from being a content creator? Is the topic easy to reproduce via a podcast?
Does the content have podcast superiority? Or put in another way - does removing visuals enhance the value of the production?
Does the content capture the locality, trends and influences of the time?
The more often the answer is "Yes", the more likely content is provided organically into the ecosystem, which eventually creates a category that drives podcast adoption.
Today in our deep-dive of Vietnam, we'll first explore what stage Vietnam is at for podcasting and its history, and what type of content can likely be a podcast category driver within Vietnam; ideally creating a Serial-like inflection.
We'll also share with you all the important metrics that you need - so if you love numbers like me, you're in for a treat.
Recap
In our last article we explored Vietnam's Spotify Charts, and realised that the majority of content is about wellness, similar to Indonesia.
But interestingly, while Indonesia's wellness podcasts are focused very much on the feeling of comfort, Vietnam seems more focused on teaching and personal growth. Our key hypothesis on why Vietnam is different is because of Mahayana Buddhism influences and confucianism that permeated the region.
Like Indonesia, Gen-Z topics seem to take the stage because of Tiktok: many creators have massive followings that they can migrate over to podcasts.
Today we'll learn how Vietnam was early to the podcast revolution, and explore an interesting trend that's fast emerging - audiobooks within Vietnam.
But first here's a snapshot of Vietnam's podcast statistics vs the rest of the region.
Snapshot of Podcast Listener Statistics (out of internet population)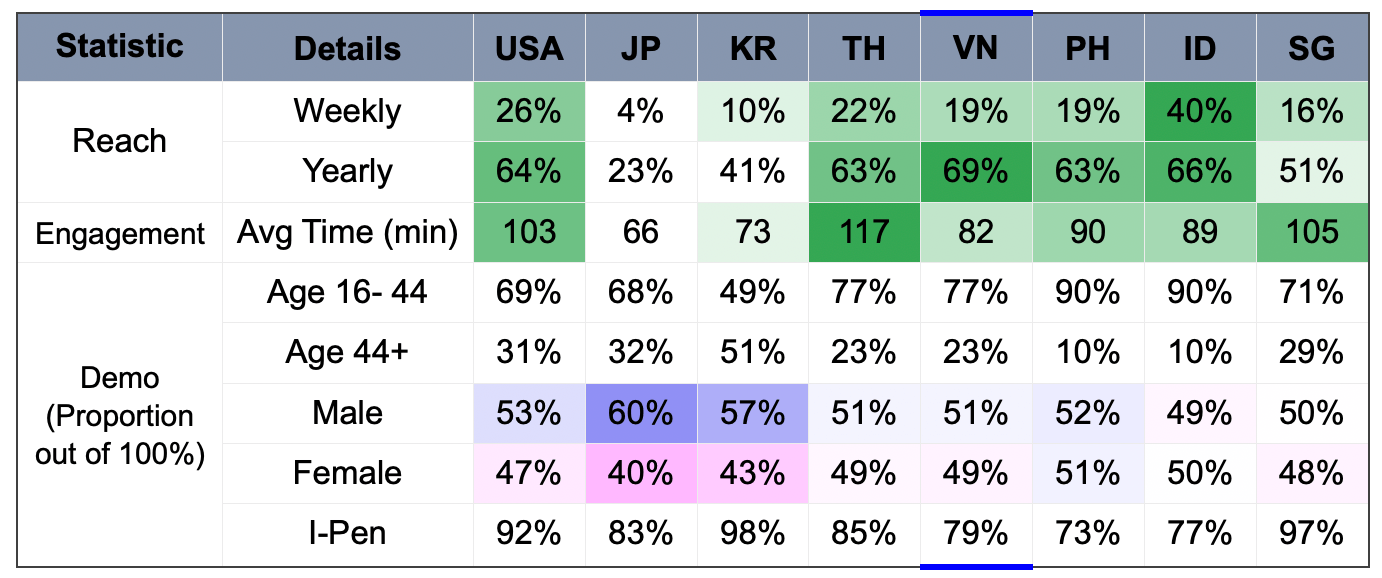 Vietnam has fairly average weekly podcast listenership, and average duration listened is in line with the region.
Podcast listener demographics aren't particularly different in Vietnam against the region as a whole
On a yearly standpoint, though, it has the highest podcast listenership (about 70%).
The last point is certainly interesting, and likely because of some misattribution of audiobooks to podcasts.
If you've followed our series, you would know that our data is based on GWI, which actually tries to clarify as best as they can with respondents, but through my experience of consumer research in P&G, it's impossible to fully weed out misattribution. But I digress.
A noticeable difference between pre vs post Serial is the emergence of iconic podcast networks and noticeable funding into the medium. For context, Gimlet Media was founded in 2014, while Wondery, Parcast and The Ringer were founded in 2016.
Serial provided a clear business case if not culture case to invest into podcasts, which slowly inspired an ecosystem where resources can be found.
For Vietnam they seemed to have leap-frogged the need for a serial-like boom, and instead went straight into early podcast networks and funding.
Vietnam's Podcast History
Vietnam has a rich history of resilience, from retaking itself from Chinese, French, and Japanese rule to the Vietnam War against the USA, which left Vietnam bruised.
Across its battles, a small group of foreigners would often be left behind, which is why some of the first few podcasts in Vietnam came from foreigners - particularly Americans who were familiar with the medium's existence, while based in Vietnam.
Most of these early podcasters would be English teachers that came over post 1994 after US President Bill Clinton re-established healthy relations with Vietnam.
Based on people familiar within the industry, the majority of those podcasts were either Vietnam-American War history, or English language teaching podcasts hosted by Americans. But no one particular podcast stands out, and most would vanish over time.
The landscape remained relatively muted, with some small podcasts popping out then fizzling out until the late 2010s. The timing couldn't be more significant, as over 40-50 years ago a mass diaspora of Vietnamese triggered by ideological difference and war, had migrated over to the US. These Vietnamese found refuge in different parts, some in Little Saigon, Houston.
Most would start a new life in America, eventually bearing the next generation of Vietnamese that by the 2010s were independent but confused, because few had an understanding of their heritage.
To be fair their uncertainty was an unfortunate situation of the time. Their only connection to Vietnam, which were their parents, were scarred from the Vietnam war. Of course it does not mean every Vietnamese couldn't connect with their past, but there was a chasm that many found difficult to cross.
Eventually these questions would motivate four young Vietnamese descent foreigners to start their own blog in 2016 named Vietcetera. Written in English, the blog explored Vietnam from the lens of a diasporic second generation Vietnamese, and developed a niche audience amongst young Millennials who wanted to learn more about the country.
Eventually, the two key partners of the blog, Hao Tran, and Guy Truong took Vietcetera to the next level - by translating it to a Vietnamese-first, English-second strategy in 2018 with a mission "To connect Vietnam to the World - and the World to Vietnam".
Vietcetera started to look more like the Vice Media of Vietnam, with a modern day podcast networks division. Releasing intellectual interviews such as "Have a Sip" or edgy podcasts such as Cởi Mở ("Take it off") that discusses sex in a conservative country; Vietcetera became one of the leading independent media outlets, which brought foreign media attention and funding.
As momentum built, Vietcetera then introduced Cast Camp, a competition aimed at fostering a vibrant community of podcasting in Vietnam. Beyond just a small local competition, it attracted sponsors such as Tiger Beer (owned by Heineken), Prudential, and leading Vietnamese startups.
Today there's about 32 podcasts under Vietcetera, that range from 4 episodes to well over 200.
During this period other groups started emerging, YAN news a online celebrity and everyday life news portal started investing in podcasts during 2021 (but discontinued around the middle of 2022), Thanh Nien ("Young People's Newspaper") one of the most influential state run print newspaper, aired a regular news podcast, then Zing News which reportedly has over 35 million monthly readers, the largest young people news magazine, started a whole suite of podcasts and (youtube). Arguably an audio purist would say Zing's podcasts are actually Youtube interviews, but the team is actively labelling them as podcasts or on occasion Vodcast.
But podcasting truly became legitimate - or at least more mainstream - when Voice of Vietnam (VOV) came into the mix. VOV is Vietnam's National radio broadcaster, directly related to the government. VOV has a rich history, dating all the way back to French colonial times, and was instrumental in transmitting state propaganda during some of the more turbulent periods of Vietnam's past. In fact one of its first broadcasts was memorialised by a popular photograph of Ho Chi Minh calmly reciting the declaration. Their current affairs podcast has over 356,000 listens, while the financial podcast has over 240,000.
The combination of state and private media pooled resources into the category, which like the rest of the world went on overdrive during COVID-19.
It's also worth noting a couple of independent creators Thuần!, Hieu Ngyuen, Sunhuyn, Giang ơi, Minh Niệm, and Chi Nguyen: these creators are KOL driven - touching on topics such as religion, lifestyle, wellness and personal development.
These independent creators reflect a positive sign of growth in podcasting - content broadening. Typically a content creator finds a super niche topic, then broadens as the listening appetite and creator brand equity expands. One example is Hieu Ngyuen that started with finance, then broadened to personal development. It's a positive sign whenever a creator can find reason in the industry to continue creating content, and wants to broaden topics for more listeners.
In some ways, podcasts in Vietnam have skipped a step - going straight into networks before a clear successful use case ("Serial") had emerged.
It's also worth mentioning that the entrance of podcast platforms such as Spotify, Apple Podcasts, and distribution content platforms such as Tiktok and Facebook is a useful driver in Vietnam much like the rest of the world.
However, while podcasts seem to be growing and becoming a common term amongst the masses - it seems that podcast listenership is not that common, and for most people it is a yearly habit.
A strange phenomenon, considering that Vietnam doesn't have many limited releases like the West.
The main reason, we believe, is misattribution to a rising audio medium in Vietnam - Audiobooks.
Audiobooks - Vietnam's next frontier (and barrier to podcasting)
For perspective, over the last 3 years, Vietnam had a whole bunch of Audiobook dedicated startups - Voiz FM, MyDio, Fonos, Waves.
While they are fairly similar, Fonos raised $1.8 million in pre-series A funding which includes Vietcetera as investors. Fonos has over 2,000 pieces of exclusive content, and in just two years have been ranked #1 top-grossing app in the book category in Vietnam for both Apple and Android app stores. This makes Fonos an incredibly powerful player in audiobooks.
Another interesting Audiobook startup is Voiz FM that consistently vies for the #1 as well. Taking funding from 500 startups, Voiz FM grew rapidly gaining about 2 million active users, one of the fastest growing audiobook platforms in Vietnam so far. Despite rapid growth, Voiz FM broke even within 3 years, and is set to explode aggressively.
Then there are mix-audiobook startups such as OnMic (a mix of Clubhouse and On-demand content). OnMic is interesting because they essentially plug the gap for a creator in Vietnam. Most would already be on Tiktok, and possibly podcasts, but don't have a livestream option that's uniquely Vietnamese. OnMic is also an online replication of Vietnam's hustling coffee-chat scene which young people already are involved in. Plugging the gap has proven successful with over 17 million minutes of voice-streaming logged or 32 years of content since it was founded in 2021.
There's also Liulo, and Soundio (Vietnam's Spotify for podcasting - where they crawl for RSS feeds and allow hosting, albeit not as popular as Spotify itself).
From a total addressable market value standpoint, it makes sense to target Vietnam - it has a sizable internet population that's well influenced by east asian diligence culture. But as you might guess, this does not necessarily exclude podcasts, so why so many Audiobook companies?
After talking to a number of audiobook founders, podcasters and industry insiders, there's a couple of reasons why.
We'll share the more obvious reasons at the end, while focusing on the ones most unique to Vietnam first.
One possible reason is Vietnam's long history with radio being more announcements, rather than conversation style.
Starting many years ago with loa phát thanhs (Public Loudspeakers) that were erected all around the North, loudspeaker announcements were historically blasted across the country. As announcements evolve to contemporary radio, the hosts still tend to feel a little more scripted rather than Indonesia's style of almost off the cuff radio presentations. These in combination makes the audiobook form more widely accepted.
A second uniquely Vietnamese region are the digital laws surrounding fake news, or dissident comments.
According to the Freedom House report, Vietnam is ranked 5th worst in the world for internet freedom. This proves that the Vietnamese Communist Party efforts were not in vain, as they gradually increased their grip over the internet. Through a combination of escalating web censorship, severe penalties on digital transgressions, and forced cooperation from internet giants - the country has created their own version of the great internet firewall.
The effect is devastating, as tech behemoths like Facebook experienced intentionally slower traffic, forced by the government for a period of 7 weeks, until Facebook was compliant.
While tech giants bend the knee, the public were taken to prison, with some 22 online critics arrested. Most were given prison sentences for sharing Facebook posts, or messages that go against the state.
If you're wondering why we're belabouring the point, that's because in theory, the government grants freedom of speech. But in practice, article 331 and article 117 enables the government to charge people for abuses of freedom and spreading anti-state content.
It's easy to pick up arms and assault Vietnam on their stringent media regulations - but in the last 20 years, Vietnam's GDP has grown by 10 times - not to mention that it was one of the rare few countries that grew even during the Covid period.
But its media regulations definitely makes it more challenging for content creators, most of all for a medium like podcasts that are known to be more direct, honest, and authentic.
To stay completely safe a content agency would rather repurpose content that's already approved - and the largest content out there (yet to become audio) are books. This makes it a much safer way forward, as only the form, not the content is altered.
At a regional level a unique driver is the overall rise of content mediums as a whole. Unlike in the West where different content types seem to come in waves, from podcasts and audiobooks - in Asian markets that are plugged into the internet, everything comes as a whole. It means that there's no legacy from the first mover that sets the rules and drastically reduces entrant momentum. Everything kind of grew as a whole, which is why Audiobooks seem disproportionate.
The other drivers that's more unique in the region are for book publishers and writers to diversify their sources of income, and for listeners to absorb information more conveniently. From our conversation with audiobook publishers, we know upwards of 70% of listeners hear audiobooks specifically to learn something, which is why the largest audiobook section is self-help and business references. For the Vietnamese who are on an eternal quest for learning, getting high quality information more conveniently is the most important.
A word of caution though, before you start thinking that e-book companies can be started up easily within Vietnam, you should know that Waves, one of the four audiobook startups, shut down and returned their 1.2 million USD seed funding back to investors.
The industry is like the Vietnam jungles - though it's thriving, it's not without its challenges. The greatest is on piracy that's even forced some publishing houses to charge as little as $0.04 USD per copy to stop the black market.
Vietnam's motorcycle culture and entrepreneurial driving also makes listening to podcasts challenging while riding. For the uninitiated, many foreigners commonly treat walking on Vietnam roads as a challenge because almost every driver makes their own rules when driving. This entrepreneurial approach turns zebra crossings into another road, some traffic lights as advisory rather than rules, and civilians into masterful road crossing acrobats. To a listener commuting, other than the loud "honks" all around, there's a significant mental load when driving.
As for podcasting, other barriers though obvious is worth mentioning for completeness: (1) Lack of Vietnamese content and speakers (in comparison to English), (2) Lack of advertisers in the market - right now major players largely see it as a different way to spread content rather than to monetise as a channel, and (3) Accents that fracture the market - particularly since North, Central and South are not completely mutually intelligible.
Ultimately, these barriers can be overcome with time, and with more use cases. Even the last point on accents is changing - previously the Hanoi accent is the most common radio voice, because of its precision and eloquence. But since the last decade new presenters around the region have introduced new variations in accents.
So what should we launch?
As always, it's impossible to predict what would be the next category driver in Vietnam, but we can always try.
Here's what we know for now:
An angle towards learning seems preferred
Audiobooks are popular - proving narration style podcasts are great
Naturally on form, a narrative edutainment style seems like the right move, but on topics the decision might be more flexible.
What is trending are Gen-Z topics such as wellness, but what would be most risk-averse and eventually lead to cumulative returns are evergreen topics. Topics such as (1) Culture & Arts - Arts is actually the top most common channel within Vietnam, (2) Global History, (3) General Science, and (4) Finance.
Because Vietnam seems already comfortable with narrative style podcasts, there's a good variety that can be produced.
Our suggestions will be very similar to the ones in Indonesia, but we've included Vietnamese shows as well.
It's worth noting that Vietnam has a lot of opportunities, even for foreigners who may not know the language.
While most people would describe Vietnam as a melting pot of influences given Chinese, and European (French colonial periods of 1800 to 1954) colonisation within Vietnam, there are parts that are distinctly not Vietnamese.
These segments are carved out because of foreign investments, for example Tan Phong Ward, District 7 which has become the largest KoreaTown in Ho Chi Minh City. An estimated third of residents are from South Korea - unsurprising as Samsung contributes to ~ 30% of GDP in Vietnam.
Then there's Little Tokyo, which sustains over 10,000 Japanese registered residents in Ho Chi Minh.
Of course, given the total addressable market, Korean would be the most likely foreign language if you're interested in starting one (to all my Korean friends out there!)
A great example is the Saigoneer - which originally started as an expat blog and now is becoming a popular site to discover new foods, activities and stories amongst locals. The Saigoneer is published in 3 different languages - English, Vietnamese, and you guessed it…Korean.
This wraps up our analysis for now, but there's definitely still a whole universe of things that we wanted to share! For example, why small mp3 messages might be a new form of podcasting in Vietnam, and why some media companies are setting age limits to their hires, refusing to take in candidates above 30 years old (and what this means for content creation). Unfortunately we couldn't possibly cover the whole history, but do follow us (subscribe to Podnews or my linkedin) as we release these articles!
The 1 Up Media Newsletter
Over the past few months we've been seated in a very privileged position, by producing podcasts ourselves in Singapore for TV networks, and talking to the vibrant community within East & Southeast Asia - we've developed a wide view of the region.
This includes the coolest creators, humblest key opinion leaders, and explosive production houses that are taking the region by storm.
We figured it's time we consolidate and bring their stories, expertise and influences to life via a newsletter.
If you find the article anything interesting, then you would enjoy our newsletter as well - our objective is to unlock the creator economy that supports the next two billion creators around the region.
If you're a
A content executive in the West, trying to figure out what to reapply to the East
A content creator within the East figuring out how to expand beyond your market
A media enthusiast who wants unique local insights & inspiration from the East
A media sponsor who wants visibility within the region
A media KOL who wants to share your knowledge
Then I would love to write for you 🙂
Sign up to the 1 Up Media newsletter here, and look forward to a breakdown of other country/ regional podcast breakdowns including Philippines (the largest English speaking market in Asia) that's coming up next!
But as always, no pressure. Even if you aren't interested, I'm happy to connect and talk to you if you've any more questions.
Stats from Vietnam
As usual, before we end things off, other interesting data worth showing to understand the landscape better:
Top music listening platforms used amongst listeners of podcasts
Spotify & Apple dominates.

Zing MP3, Nhạc Của Tui does not offer podcasts so were removed. Rest of startups were not part of GWI survey. Reach out to me for estimates.
Top topics listened to on Podcast
Vietnam has ~ 3000 podcast channels across 124 genres. The top 3 most popular channels are Art > Education > Business. It's likely that Art is the top most common channel because the majority of podcasters are still side hustles/hobbyists - and in Asia, Art, though important, is often viewed at best for hobbyists.
Podcast Statistics from Liulo.FM.
Vietnam Mobility Data
Measured as a % against the 5-week period (Jan 3–Feb 6, 2020): Increased listening via public transport will not be a significant driver in Vietnam, as covid is now the new normal - remaining consistent since Sep'22 (active cases, below). It is likely then that the mobility of the last 2 months from Oct'22 will be sustained - generally lower reliance on transit as more Vietnamese continue to favour personal motorcycles.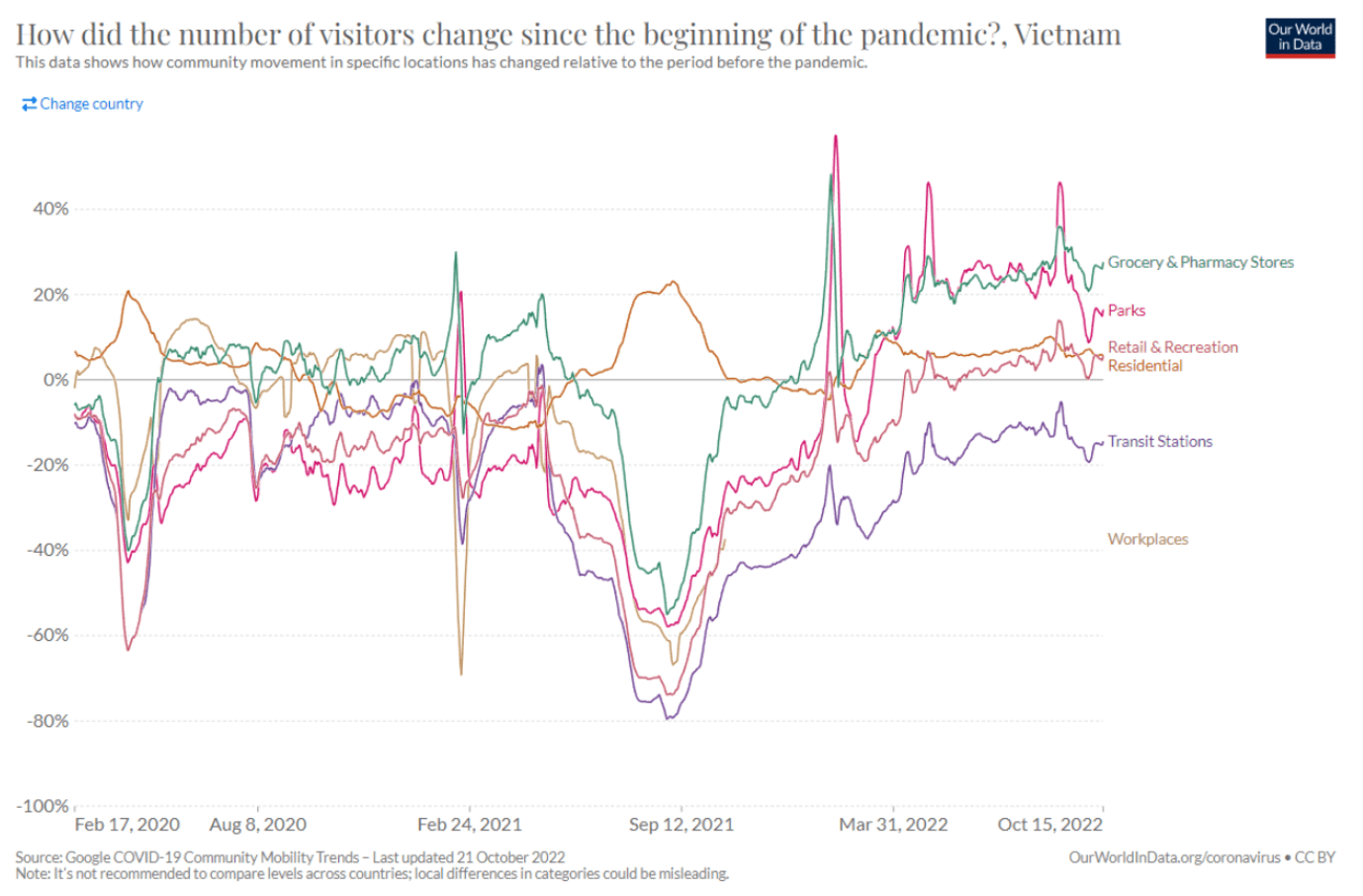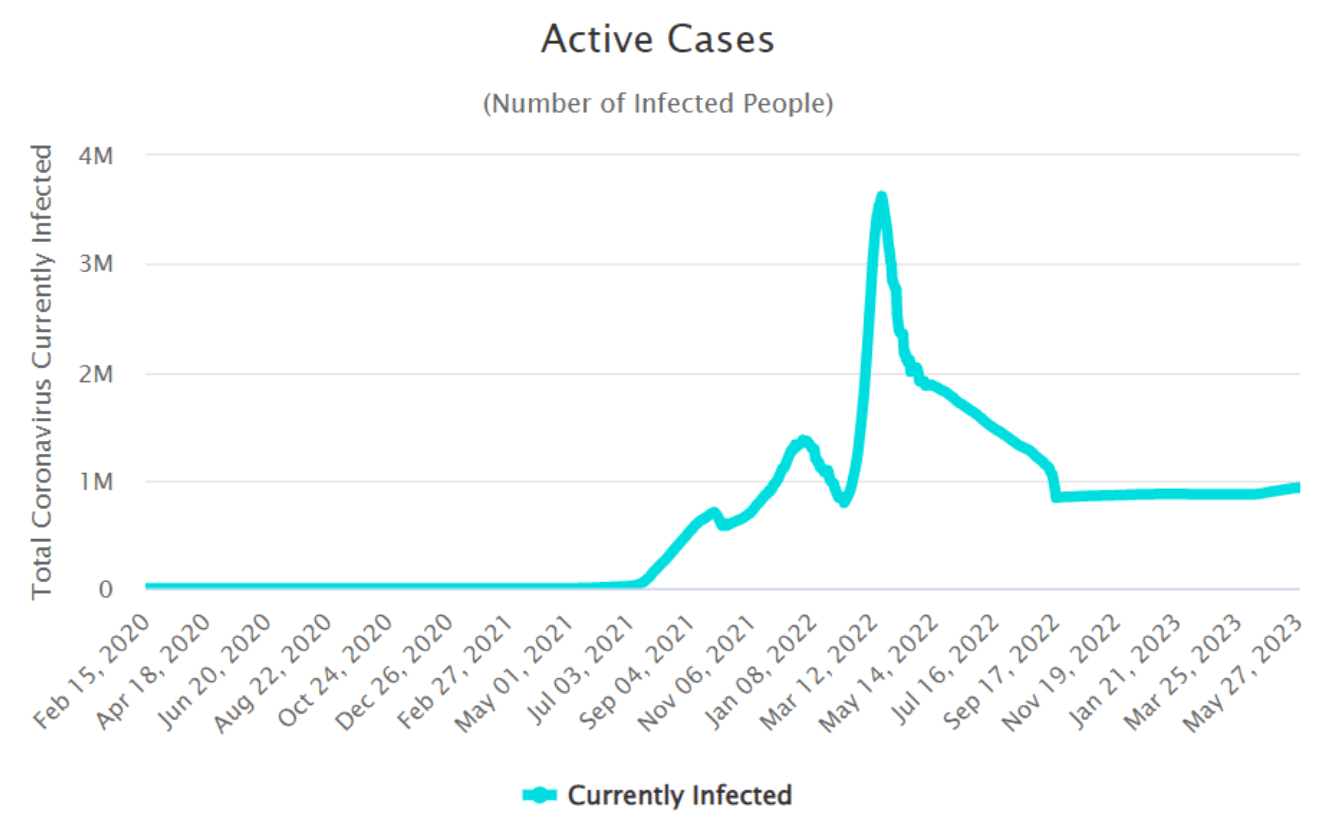 We hope the Vietnam deep-dive gives you some confidence to explore Vietnam as a market, and to be inspired to create more truly local content. If you need any help or want to have more discussions - do drop me a LinkedIn invite, I'm always excited for conversations!
---
Sources:
The main bulk of the analysis is on the history of Vietnam's podcasting, which brings together multiple data sources, and opinions. The links + GWI data is not used exclusively, rather the numbers are presented with inputs from the contributors - this enables us to triangulate a more accurate picture of the landscape's data and history. Vietnam leaned more on contributor inputs as there were few data recorded in Vietnam.
https://vneconomy.vn/podcast-xu-the-nghe-bao-dang-len-day-hua-hen.htm
https://vtc.vn/podcast-dang-la-xu-huong-cua-san-xuat-chuong-trinh-phat-thanh-giai-tri-ar692454.html
https://nhandan.vn/bao-nhan-dan-ra-mat-ban-tin-thoi-su-hang-ngay-tren-cac-kenh-podcast-post667392.html
https://vietcetera.com/vn/10-podcast-hay-tren-spotify-de-tuoi-tre-bot-chenh-venh
https://vietcetera.com/vn/nghe-podcast-o-dau-cham-diem-6-app-podcast-pho-bien-hien-nay
https://cuoituan.tuoitre.vn/podcast-o-viet-nam-mot-thi-truong-hua-hen-1558251.htm
https://zingnews.vn/chien-luoc-phat-trien-cua-cac-don-vi-sach-noi-post1298164.html
https://www.scribd.com/document/583128738/Vietnam-Media-Landscape-2022-Full-Report-shared-by-WorldLine-Technology#
https://www.techinasia.com/vietnamese-audio-startup-secures-11m-seed-money
https://english.mic.gov.vn/Pages/TinTuc/tinchitiet.aspx?tintucid=154965
https://cuoituan.tuoitre.vn/podcast-o-viet-nam-mot-thi-truong-hua-hen-1558251.htm
https://technode.global/2022/11/24/vietnamese-audio-content-platform-fonos-raises-1-8m-pre-series-a-round-to-expand-into-podcasting/
https://vir.com.vn/onmic-at-the-forefront-of-the-digital-audio-wave-in-vietnam-91005.html
Voices of Vietnam: A Century of Radio, Red Music, and Revolution by Lonán Ó Briain
Dr. Tuong-Minh (Clāra) Ly-Le & Viet Tho Le of EloQ Communications. EloQ Communications is a leading Public Relations (PR) and Integrated Marketing Communications (IMC) agency based in Ho Chi Minh City, Vietnam and handling projects in Vietnam and throughout the ASEAN region. Their client list includes Grab, Lazada, Microsoft and many more.
Bao Khanh Nguyen - Co-Founder of OnMic. Khanh has over 10 years as a strategic and integrated communication planner across multiple industries, his venture OnMic is a voice-streaming platform towards barrier-free expression and authentic connection through voice.
Oscar and Xuan, founders of Fonos. Fonos is the leading audio platform for Vietnam with content including audiobooks, book summaries, meditations, sleep stories, and podcasts.
Annie Nguyen founded The PodSelf, which produces Làm Podcast Thôi - the pioneering podcasting consultancy and production agency that empowers individuals and businesses of all sizes to amplify their voices and tell their stories. Their approach is dynamic, creative, and approachable, and seeks to help clients create engaging podcast formats that resonate with their target audience and improve their sonic branding.
Thao M. Duong - A senior business development and non-card game category leader for VNG corporation. Outside of work she is an independent podcaster, who had produced Nghe Lỏm.
And to the many other contributors who we cannot be specific about, Cảm ơn.
Listen
| | |
| --- | --- |
| | Guang Jin YEO is an ex-P&G media analyst & strategist for Asia. He owns a podcast production house, 1 Up Media, based in Singapore, where we primarily work with TV networks. Our biggest podcast, embarrassingly, is on "True Crime". When he isn't working, he likes to promote content creators for free on his ~3.5K LinkedIn channel. Drop him a message, and let him tell the world about your story! |
This page contains automated links to Apple Podcasts. We may receive a commission for any purchases made.