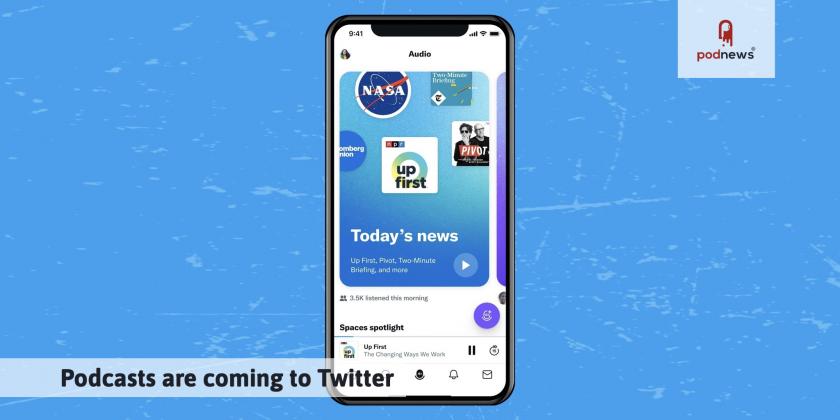 Podcasts are coming to Twitter
Podcasts are coming to Twitter, the company announced late Thursday. Shows appear in the redesigned Spaces tab. However, you'll not be able to choose individual shows: the interface gives pre-selected shows in topic-based playlists, called "Stations". It uses RSS, and is curated from what people you follow listen to. A spokesperson has told Input that there is no search facility nor any ability to add your own RSS feeds. Described as a "test", it'll be available to random users around the world in English.

What goes around, comes around: Twitter was built by a company whos first product was Odeo, a podcast directory and hosting service.

Most podcast producers use Zoom for guest interviews, according to new research from Interview Valet, announced at Podcast Movement. 74% of guest interviews have a video component; and 5% of shows charge the guest to appear.

The organisers of Podcast Movement have apologised after Ben Shapiro, a controversial right-leaning commentator and former editor-at-large of Breitbart News, was a surprise visitor to the event on Tuesday; and that his top 10 podcast company The Daily Wire was exhibiting. Online, there was both criticism of Shapiro's presence, and of Podcast Movement's apology.
Podcast News

Small Talk is Dead
is new this week from Spotify's Gimlet. A limited series from three producers from the company's Sound Up program, the show explores the rules around race, gender, and money.

Björk: Sonic Symbolism
is new from Talkhouse and Mailchimp Presents. Created and hosted by Björk, the intimate and immersive new podcast features a first-person reflection on the textures, timbres and emotional landscapes that characterized the creation of each of her albums.

Marvel's Voices
returns this week for a new season. Hosted by Angélique Roché, the season looks at how a variety of cultures and mythologies have played a key role in the creation of Marvel characters, and how their cultures and nationalities have influenced stories within the Marvel Universe.
Number one for podcasts - Aug 26
Pod Events
Getting
the
five
latest
events
This section is continually updated. Data: Podevents. See more and add yours, free
Latest Pod Jobs
This section is continually updated. Data: Podjobs. See more and add yours, free