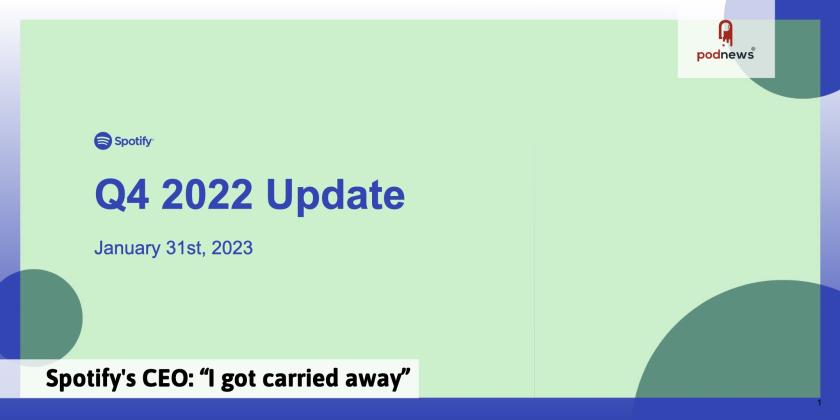 Spotify's CEO: "I got carried away"
LISTEN
· · 6.3 minutes to read
Moves and hires
Tips and tricks - with Podcast Movement Evolutions
Podcast News

Crime Analyst
has
joined the AdLarge podcast portfolio
. The show is hosted by world-renowned former New Scotland Yard criminal behavioral analyst, Laura Richards. Cathy Csukas, CEO of AdLarge, describes the show as acutely focused, smart and informative.

Songs My Ex Ruined
is new from Nevermind Media today - a podcast about songs people can never listen to again, because their terrible exes destroyed them forever. It's hosted by music journalists and podcast producers Courtney E. Smith and Melissa Locker.

Insider Interviews with E.B. Moss
returns for a new season today, kicking off with the former CEO of NPR, Jarl Mohn. Known by podcasters as "the former CEO of NPR", he's also the creator of E! Entertainment TV; and known to arts institutions as a generous benefactor.

Spotify's For The Record
contains interviews with Paul Vogel, Daniel Ek and Alex Norström after their financial results.
Spotify's
Earnings Call
podcast contains the full earnings call recording.
Enter The Webbys. Prove You're The Best
Paid content
For over two decades, The Webby Awards has honored the creativity and ingenuity around the world. Just by entering, you show that your team can compete with the most impressive media companies, brands and leaders in the industry. Past winners include Stitcher, Audible, The Daily, WaitWhat, Pivot, California Love and Lemonada Media, and shows like Song Exploder, And That's Why We Drink, Ologies with Alie Ward and more.
To ensure winners reflect the very best in podcasting, The Webbys added new Podcasts honors including Best Partnership or Collaboration, Experimental & Innovation; Best Video Series; Scripted (Fiction) and Technology Podcast added to Individual Episode. Plus, for the first time, The Webby Awards will recognize Podcast Company of the Year.
Learn more, and enter the 27th Annual Webby Awards by the next week's Extended Entry Deadline on February 10th, 2023.
Daniel Ek on Spotify's investment in podcasting
From the earnings call (from 27'53" - transcript lightly edited).
"Investors remain sceptical that podcasting is a good business, and that it has meaningfully moved the needle for Spotify. Can you help them understand why you believe in the investment to date - especially in the context of your recent management changes?" - Rich Greenfield, LightShed Partners
Daniel Ek: Four years ago we entered into podcasting the major player in podcasting had been doing it for 20 years and was considered the unassailable leader. So we wanted to tackle this heads on: and we realized that this was a nascent space that was growing.
All of it still was under-consumed to what we believe the potential was in the industry. And we took the medium and have grown the audience overall globally by a huge margin to what was through four years ago.
It wasn't just that we took audience from another platform but we actually grew the pie meaningfully for podcasters. And as a result you know now we have over five million creators on Spotify - so a massive increase in the number of people who are creating podcasts. This is true across the world.
We went from being almost nowhere four years ago to now being the leader in many markets around the world in this space.
And that adds several benefits to Spotify. It adds the benefit that it makes our business more defensible, because now it is meaningfully contributing to our advertising story.
It is also so that from a competitive lens when we've added this content what we're seeing is that consumers are not just consuming music on the platform but they're consuming music and podcasts to a great extent and the number of users on our platform that are consuming podcast keeps growing as well and as that's happening their retention increases, and as that happening it is impacting our business.
Now what you're probably asking underneath all of that is that it's been a drag on the gross margin side so what does that mean for the future. Well - we've been making many investments. Some of them have been working greatly and you should expect us to double down on those and some of them not surprisingly haven't worked out.
There are certain shows that work really really well for us and there shows that didn't perform as we expected, and I think that's a sign of maturity that you know you go for the growth first and then you seek the efficiency. But generally what you should expect from us is across the board now to be focused more on that efficiency and creating more leverage and that's certainly true in podcasting too.
The management changes really had nothing to do with a change of strategy and podcasting - they are more around increasing the speed of decision making and increasing the focus on efficiency across the board. The next era of Spotify is one where we're adding speed plus efficiency, not just focused on on speed or growth at all costs. That is a big shift, but it is also what we said during the investor day in June.
And now we're going to have to live up to that and I know some investors don't believe that we're serious about it: but hopefully my remarks today show that we are really really focused on driving efficiency going forward.

You can hear this clip in
Podnews Extra
- find it in your favourite podcast app.
Podcast data for Feb 1
Pod Events - with Radiodays Europe 2023
Getting
the
five
latest
events
This section is continually updated. Data: Podevents. See more and add yours, free
Latest Pod Jobs
This section is continually updated. Data: Podjobs. See more and add yours, free