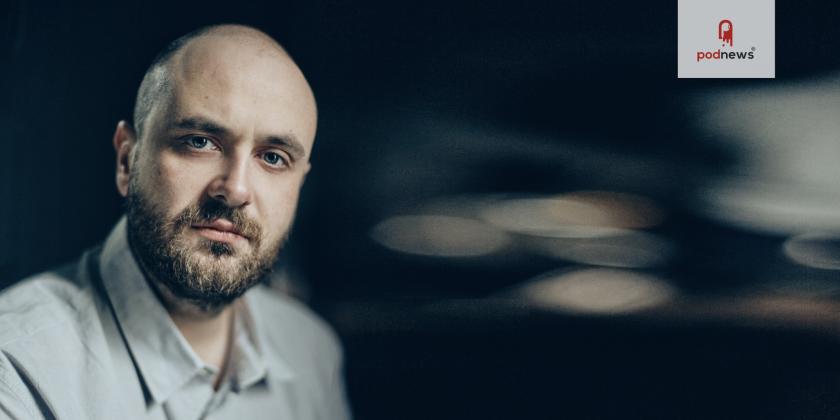 UK's fast-growing independent podcast company Novel secures £5 million from capital investor VGC Partners
Press Release · London, UK ·
Multi award-winning premium podcast production company Novel has closed its Series A round, securing a £5 million investment from growth capital investor VGC Partners.
Founded in 2019 by Sean Glynn (CEO, pictured above) and co-owned with Max O'Brien (Chief Content Officer) and Matt O'Mara (Managing Director), Novel has grown rapidly to become the biggest independent podcast company in Europe.
Specialising in cinematic longform narrative series and investigative journalism, Novel has strategically positioned itself to capitalise on the global boom in podcasting. The number of podcast listeners worldwide has rocketed from 274.8 million when the company launched in 2019, and is predicted to nearly double to 504.9 million by the end of 2024 (eMarketer 2021). All indications point to the continuation of this prodigious growth.
Novel stands out as the clear industry leader in audio, having struck UK-first deals with the world's leading podcasting networks including iHeartRadio, Wondery and Gimlet, while also producing series for the BBC, The Financial Times, Google and The Premier League.
The quality of Novel's work has attracted industry-leading talent on both sides of the Atlantic. The 50-strong global team includes Executive Creative Director Julie Shapiro (formerly VP of Editorial at PRX & Radiotopia), Creative Director of Production Austin Mitchell (formerly Senior Producer at The New York Times and Gimlet) and Head of TV and Film Neil Krishnan (formerly Director of Creative Acquisitions at Universal Studio Group).
Novel has achieved huge success with narrative podcasts such as the Apple No.1 hit Harsh Reality which explored the horrors of reality TV, and the multi award-winning investigative journalism series The Bellingcat Podcast. The Superhero Complex, which tells the story of Seattle's "real-life superheroes" was named second in TIME's 10 best podcasts of 2022.
Novel's £5 million investment from VGC will be used to accelerate growth with strategic partners, and to establish the company's own network of originals. Premium podcast IP is increasingly being adapted into TV and film, given the ability to build sizable audiences far more efficiently than an audio-visual pilot or a book.
As a growth capital investor, VGC Partners bridges the gap between venture capital and private equity – typically investing between £5m and £10m to support digital media, tech and consumer companies. This investment in Novel builds on VGC's experience of backing IP- and content-rich businesses with the quality and cultural relevance to have longevity and to translate across formats and continents.
Sean Glynn, Novel's Founder and CEO, said: "At Novel, we're proud to have built a thriving independent business. Now the time is right to take the skills we've honed working with industry-leading partners and apply them to content we fully own. We've recruited a highly experienced international team to deliver a rich and varied slate of original shows. The launch of our own originals network is an exciting new step for Novel and in VGC we've found a partner that truly believes in our content and our vision."
Dan Rookwood, VGC Operating Partner & Head of Brand, added: "Novel prides itself on being both fiercely creative and fiercely commercial. We see huge opportunity for Novel in the creation of premium original content IP and particular potential in the adaptation of these shows into TV and film. We were blown away by the pipeline of ideas that Novel has lined up and we're excited that our investment will now enable so many of them to go into production. You heard it here first. And you'll be seeing it on screens next."
This is a press release which we link to from Podnews, our daily newsletter about podcasting and on-demand. This is reprinted verbatim; we may rewrite headlines and descriptions.