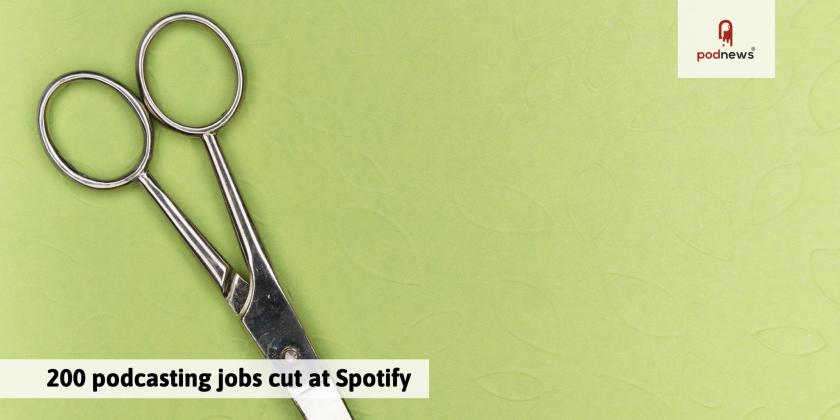 200 podcasting jobs cut at Spotify
LISTEN
· · 2.9 minutes to read
Spotify is to cut 200 jobs from its podcasting division. The company says that's 2% of Spotify's global workforce; but these are substantial cuts to the podcast division. While Spotify couldn't tell us how many staff work in podcasting overall, various reports suggest Gimlet has around 125 employees, Parcast has about 40, and The Ringer about 120.

Spotify Gimlet The Ringer Parcast

The company's Parcast and Gimlet production studios will be merged as "Spotify Studios"; The Ringer is to continue as a separate brand.Spotify Gimlet The Ringer Parcast
Sahar Elhabashi, VP, Head of Podcast Business, also announces: "Simultaneously, in collaboration with the podcasting community, we are broadening our analytics capabilities by expanding Spotify For Podcasters, which will help creators maximize their audience on Spotify and beyond." We've asked Spotify for more details on this.Spotify

Separately, The Athletic appear to be scaling back on its slate of soccer podcasts in the UK, according to tweets from David Cameron Walker, The Phil Hay Show, and The Square Ball.

Apple Podcasts is to get a new look and new features in the upcoming iOS 17.

Apple Apple Podcasts

"Apple Podcasts will support episode artwork for all shows." (See our episode artwork on the Podnews Daily). Episode artwork is already supported by Spotify and Pocket Casts.Apple Spotify Apple Podcasts Pocket Casts Podnews
If you're subscribed to apps like The Economist or Calm, you'll get access to premium audio from those apps automatically within Apple Podcasts.Apple Apple Podcasts
Apple Music's radio shows will be available on-demand within Apple Podcasts.Apple Apple Podcasts
A developer beta is available now.
Google
Podcast Movement
Signal Hill Insights
Tips and tricks - with Podnews Live - where podcasting connects
Podcast News

Many people now believe that our problems are just too large for individuals to do anything worthwhile about.
An Army of Normal Folks
sets to change that. Hosted by businessman, speaker and coach Bill Courtney, the show believes that everyone can have an impact and change their community for the better. The show launches today.

The 13th Step
is a story
some people didn't want NHPR to tell
. It's about sexual misconduct in the addiction treatment industry, and the dangers journalists and sources can face when they expose alleged wrongdoing by powerful people. How could so many people be harmed in an industry dedicated to healing?

The popular mental health podcast
How Do You Cope? …with Elis and John
returns to BBC Radio 5 Live and BBC Sounds today. The first episode will hear comedians and long-standing best friends Elis and John open up about the struggles they have faced since recording the last series. Elis talks about the stresses of moving house with his family in tow, while John opens up about battling his relationship with alcohol.
Podcast data for Jun 6
Pod Events
Getting
the
five
latest
events
This section is continually updated. Data: Podevents. See more and add yours, free
Latest Pod Jobs
This section is continually updated. Data: Podjobs. See more and add yours, free