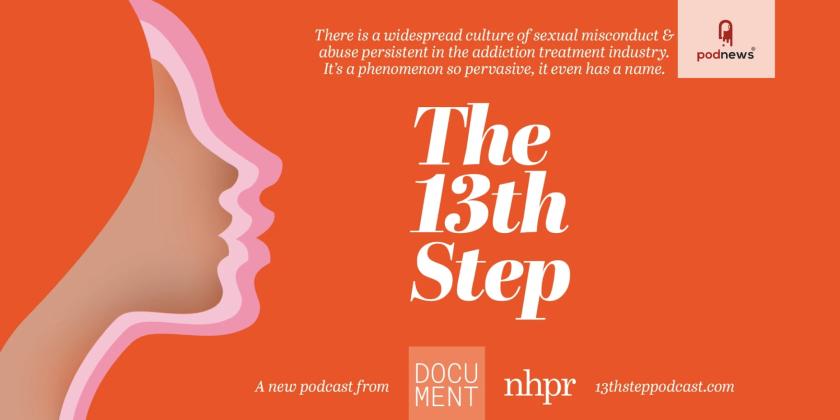 'I got sued for this reporting:' NHPR launches new investigative podcast
Press Release ·
How could so many people be harmed in an industry dedicated to healing?
Eric Spofford is a brash entrepreneur who served thousands of people as the founder of New Hampshire's largest addiction treatment network. When he sold the company, he made millions. But behind Spofford's success is a darker story implicating an entire industry.
Sources say Spofford sexually harassed or assaulted women, including former clients or employees of his own treatment centers – allegations Spofford denies.
How did he get away with it? That question led investigative reporter Lauren Chooljian on a journey into the American addiction treatment industry. Along the way, she found a longstanding – and long tolerated – culture of sexual misconduct. A phenomenon people in the recovery world call "the 13th step."
This new seven-part series – from the team who made hit podcasts Bear Brook and Stranglehold – explains why that misconduct remains unpoliceable. And why America can't truly address the addiction crisis until it takes "the 13th step" seriously. It also gets personal — illustrating the danger for journalists and their sources, when they expose alleged wrongdoing by powerful people.
The 13th Step is for anyone who has been touched by the addiction crisis, who cares about the fate of the #MeToo movement, or who seeks out gripping audio storytelling. This podcast is a production of the Document team at New Hampshire Public Radio, and received support from the Fund for Investigative Journalism. For more information, visit the website.
Listen
This is a press release which we link to from Podnews, our daily newsletter about podcasting and on-demand. We may make small edits for editorial reasons.
This page contains automated links to Apple Podcasts. We may receive a commission for any purchases made.