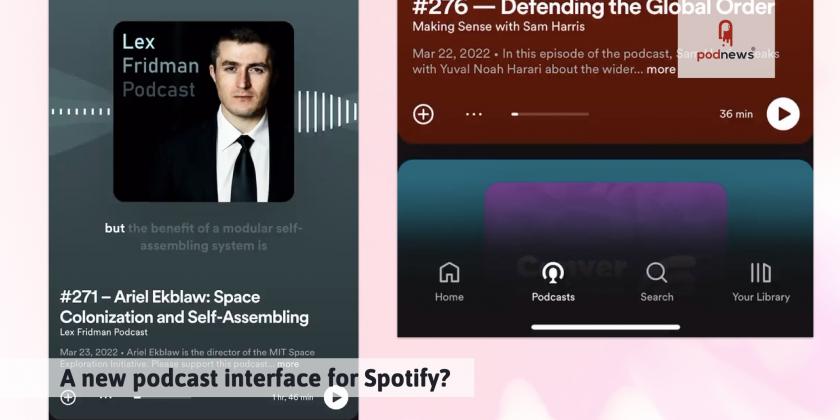 A new podcast interface for Spotify?
LISTEN
· · Updated · 2.8 minutes to read
Spotify is working on a brand new podcast interface. Spotted by Chris Messina, who posted a screen recording archived by Podnews here, the new interface adds a dedicated Podcasts tab, vertical scrolling, and live captions for all shows. Messina is running a pre-release version of Spotify; it's unclear when this will be released, if at all. #exciting

A much-previewed talk at Podcast Movement Evolutions by YouTube's new director of podcasting, Kai Chuk, didn't contain any new announcements. He did promise that "over the next few months you'll hear some announcements from us as to how we plan to continue supporting the podcast ecosystem".

The Podcast Movement team has posted a video look at Podcast Movement Evolutions. (Spot our Editor at 38 seconds in, just before Will Ferrell and Paris Hilton).
The Tech Stuff
Podcast News


Podland News
this week, recorded at Podcast Movement Evolutions, features special guest Alban Brooke of Buzzsprout. Sam, James and Alban talk about the conference, YouTube's 'big announcement', and much more.
Pod Events - with The Podcast Show 2022
Getting
the
five
latest
events
This section is continually updated. Data: Podevents. See more and add yours, free
Latest Pod Jobs
This section is continually updated. Data: Podjobs. See more and add yours, free