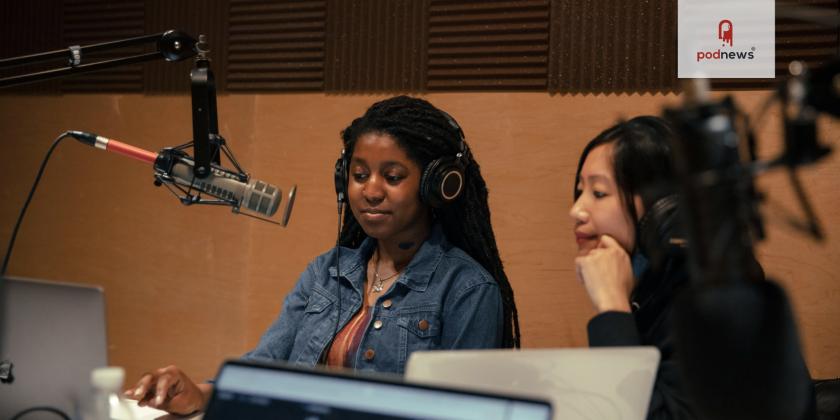 Who are the up-and-coming women and non-binary podcasters?
Press Release · Santa Monica, CA, USA ·
Above: Adjo Evonlah from Jojo's Jam, and Tiffany Yu from Tiffany & Yu
Who are the up-and-coming women and non-binary podcasters?
Ossa Collective knows the answer.
The world's premier women- and non-binary-focused podcast advertising marketplace, Ossa Collective recently hosted its first-ever production camp to support development of sponsored podcasts.
Held in Los Angeles, the two-day workshop culminated with four pitch presentations from widely diverse creative teams. Started by Ossa founder and CEO Marla Isackson, the workshop aligned with the growing brand's mission to promote inclusivity and profitability for women and non-binary podcasters.
A company and community on the rise
"This is such a gratifying experience," Isackson said, speaking to roughly 60 guests who attended the presentations and cocktail reception at Title 9 Production Studios in Santa Monica. "These creators were given just 48 hours to fully develop and pitch branded podcast concepts, and the results are phenomenal."
Isackson, who brings 25 years of experience with companies like AmEx, Barnes and Noble and WebMD, founded Ossa in 2018. The collective has grown to a network of 1,300 podcasters, reaching 12 million monthly listeners.
Putting podcasters in the spotlight
The real stars of Ossa are the individuals in its network, including the 18 podcasters who participated in the camp covering topics ranging from Latinx issues and sports to living with disabilities. At the camp, creators were immersed in the experience of creating a fully sponsored podcast, with each team given a brief and all necessary tools to write, edit, produce, host and pitch a concept for advertisers.
"It's only been two days and I feel like I've already learned so much about how to really engage sponsors in the content we're creating,"" said Lisa Tahir, a camp participant whose own podcast, All Things Therapy, has included such guests as Marianne Williamson and John Gray, author of Men Are From Mars, Women Are From Venus. "Creative community is so important, and that's just one of the many things Ossa provides."
This is a press release which we link to from our daily newsletter about podcasting and on-demand. This is reprinted verbatim; we may rewrite headlines and descriptions.