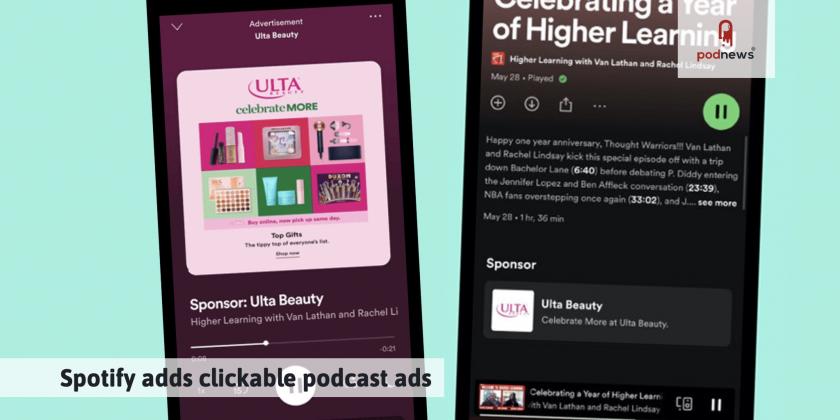 Spotify launches podcast ad banners
LISTEN
· · 6.2 minutes to read
Moves and hires - with Pod People
Podcast News - with Quill
Analysis: Spotify's new CTA cards aren't new and aren't open: but that's why they might work
"We're making podcast ads interactive for the first time," claims Spotify, in their launch release.
This isn't true.
The open MP3 chapter specification - of which Forecast is a capable editor - bakes time-aligned titles, links and images into a podcast's audio file, so you can have ads with a "BUY NOW" button opening in your browser directly. Support has been patchy, however; MP3 chapter points and chapter images are (relatively recently) supported by Apple Podcasts, but the click-through element isn't. (Try the Accidental Tech Podcast, episode 459, for an example: it works great in Overcast.) Spotify doesn't support MP3 chapters at all.
The new JSON-based chapter specification from Podcast Index also allows graphical banners and clickthroughs which can be timed with audio, but use a separate JSON file, allowing independent editing of the chapters and much simplified playback code. Only a year old, that's supported by a number of podcast apps, including Podcast Addict; and by many podcast hosts, including Buzzsprout. Spotify doesn't support JSON chapters at all.
Entale, Adori Labs, and many other startups have also made great strides in adding interactivity to podcasting - not just for advertising, but for content, too.
Spotify's solution (which we spotted in testing) is proprietary, and will only work within the Spotify app, and will only work in Spotify Original & Exclusive podcasts for now (and only in the US).
But that's why it'll work.
Advertisers will get enhanced analytics, since every listener is signed-in. They'll get tools to help them add these graphical elements, and clear specifications to do so, since the only way they can add them is through Spotify's systems.
Spotify also has the ability to tweak the user interface. Notably, "CTA cards will appear in the app as soon as a podcast ad begins playing, and will resurface later on while you're exploring the Spotify app" - a clever piece of UX that understands that you're unlikely to look at the screen of your player when you're listening to a podcast: but when you next fish it out of your pocket or bag to find something else to listen to, the ad will be on-screen, waiting to sell you the benefits of whatever ad you heard a while ago.
And (as Entale could have told them in 2019), this sort of advertising works. Spotify claim it's doubled the number of site visits.
The open alternatives are, as we discovered in late 2017 when looking at chapter support, lamentable.
The benefit of podcasting's open ecosystem is also, in this case, the problem. Advocates of open standards are often anti-advertising: and coding support takes time and effort - why should a podcast app developer built in chapter support if few people are clamouring for them, and the podcast app developer doesn't benefit? Particularly, why would Spotify, Apple or Google build in support for this into their own apps? And why would an app developer want to build in something that could get negative feedback?
Proprietary solutions will help Spotify succeed: ensuring you have to host with Spotify, sell with Spotify, and get played on Spotify. In return, Spotify ensures that your content will work correctly on all Spotify podcast players, which are rapidly becoming a market leader. It's not a lock-in: you can still offer your listeners a poor, sub-standard experience on other players after all; yet listeners will naturally gravitate to the podcast app which supports the features they want; so Spotify will continue to grow.
As the walls go up, and the open nature of podcasting is eroded by another Spotify announcement, it's more important than ever that the rest of the podcast ecosystem works together on enhancing the open ecosystem for all. Or, in five years time, Podnews will have to change its name to Spotnews. And that's a very expensive domain.
Pod Events
Getting
the
five
latest
events
This section is continually updated. Data: Podevents. See more and add yours, free
Latest Pod Jobs
This section is continually updated. Data: Podjobs. See more and add yours, free