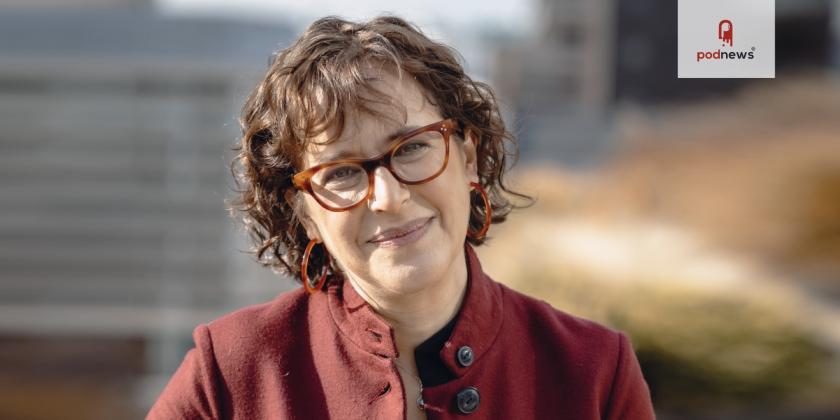 Joshua Malina, Rabbi Shira Stutman, and PRX Present "Chutzpod!," A New Podcast Bringing a Jewish Lens to Life
Press Release · Washington DC, United States ·
Actor Joshua Malina, faith-based leader Rabbi Shira Stutman (above), and public media organization PRX today launched Chutzpod!, a new weekly podcast bringing a Jewish lens to life's toughest questions with ancient texts for modern times.
On "Chutzpod!," Malina and Stutman use Jewish tradition and the weekly Torah portion to discuss current affairs and important life questions. The podcast is for Hebrew school scholars and those who dropped out, those who want to learn and be inspired, but don't want to schlep to synagogue, listeners of all or no faiths, and anyone trying to live a meaningful life during these trying times. While Malina and Stutman have radically different career trajectories and reside on opposite ends of America, they teach and learn from one another, crack jokes, and argue about everything under the sun. "Chutzpod!" will also feature surprise guests, including entertainers, lawmakers, and authors.
The first episode is available now.
Today's episode of "Chutzpod!" centers around the question of what, or who, is considered "other." Reflecting on text read in synagogue this week, Malina and Stutman discuss how the Torah portion might inform how people engage one another now, one year after the insurrection at the U.S. Capitol.
"I'm thrilled to join Rabbi Shira each episode to do some learning and have some fun," said Malina. "These are dark times, and I am hopeful that we will find a little light by looking at life through a Jewish lens."
"With this podcast, we want to delve into questions of the day that are present for us while pulling on text and tradition to help inform our lives," said Stutman. "'Chutzpod!' will be at times irreverent, serious, fun, and deep, but at heart we want to provide audiences with solace and sustenance. We'll discuss immediate topics ranging from climate change to democracy, but explore the personal side of things, too. Jewish faith tradition has something to teach everyone and we hope this podcast is a learning experience for all, including us."
Joshua Malina made his professional acting debut in the Broadway production of "A Few Good Men," and has since starred on "Sports Night," "The West Wing," "Scandal," "The Big Bang Theory," and "Shameless." Malina is also the co-host and co-creator of "The West Wing Weekly," a podcast made alongside Hrishikesh Hirway and part of the Radiotopia podcast network from PRX.
Rabbi Shira Stutman is a nationally-renowned faith-based leader, and is the founding rabbi of Sixth & I in Washington, D.C, a beloved center for arts, entertainment, ideas, and Jewish life with a mission to reimagine how culture and community can enhance people's everyday lives. Named one of America's most inspiring rabbis by "The Jewish Forward," Stutman has also served as a rabbi-in-residence for the Jewish Federations of North America, as a board chair of Jews United for Justice, and has taught on the faculty of the Wexner Heritage Program of the Wexner Foundation. She is currently writing a book on the blessing of interfaith couples.
"Chutzpod!" is co-hosted and co-created by Malina and Stutman. Tim Shovers serves as Executive Producer. Last year, Shovers launched the "Nats Chat" podcast and he was also a podcast producer at AXIOS.
"Chutzpod!" is distributed by PRX. The show is available free on-demand across all major podcast platforms, including Apple Podcasts, Google Podcasts, Spotify, Stitcher, Overcast, and Amazon Music.
About PRX
PRX is a public media organization shaping the future of audio by producing and distributing content, building technology, and training talented, independent producers. With an award-winning portfolio of iconic public radio programs such as 'The World," "This American Life," "The Moth Radio Hour," "Latino USA" "Snap Judgment," and "Reveal," PRX is also home to a growing body of podcast productions, including via the Radiotopia podcast network. More at PRX.org.
Listen
This is a press release which we link to from our daily newsletter about podcasting and on-demand. This is reprinted verbatim; we may rewrite headlines and descriptions.
This page contains automated links to Apple Podcasts. We may receive a commission for any purchases made.