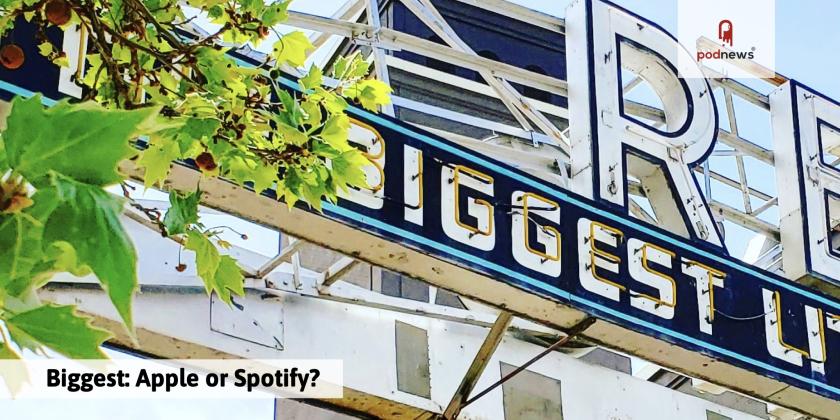 Biggest: Apple or Spotify?
LISTEN
· · Updated · 4.3 minutes to read
Canadaland
Capsho
Podfest Global is to take place between Mar 27-30, and claims it'll be the largest virtual podcasting event ever. The event is dedicated to monetisation and audience growth, and tickets start at $49 - but if you use the code PODNEWS then you'll get complimentary access. Nice!

JAR Audio, a 50% woman-owned company, is running a pilot competition for emerging women podcasters. The company will make and host a pilot episode, give mentoring and script support, and otherwise help your idea see the light of day. You've until May 1 to apply - and yes, you keep your IP.

JAR Audio

Hernán López, the former CEO of Wondery, has been convicted of wire fraud and money laundering conspiracies while working for 21st Century Fox. Awaiting sentence, López faces up to 40 years in prison and millions of dollars in penalties. A lawyer for López said that they will appeal. López left Fox in 2016 before founding Wondery, which was sold to Amazon at the end of 2020. There's no suggestion that Fox, Wondery or Amazon were involved.

Amazon Wondery

PodcastOne signed an agreement with Seekr, an AI content-scoring platform, to provide brand suitability for its advertising partners.

SmartPassiveIncome is running a free 10-10-10 Podcasting Challenge. Starting on Wednesday, in 10 working days, they say you'll reduce your podcast editing to 10 minutes and book 10 guest appearances to expand your reach.

Microphone manufacturer Shure is building the Shure MVX2U, a small attachment to turn any XLR microphone into a USB-C device. It's compatible with the company's Motiv desktop application for compression and EQ. Hank, from Free Podcast Tools, has found the manual for the as-yet unlaunched product.

Shure

BBC Podcasts Premium has launched on Apple Podcasts in Australia following its launch in the US and Canada last year.

Apple Apple Podcasts

Scott Galloway pulled his show from Spotify in Feb 2022, writing a long article explaining the decision and how you can make similar difficult choices. We can't find a similarly long article explaining why he quietly returned to Spotify around Feb 13; he didn't return our request for comment.

Spotify

Powered by ChatGPT, Podcast Mania lets you type in a few words to create a full podcast using AI. We asked it for a full episode: you can hear the results in the latest episode of the Podnews Extra podcast.

Podnews

The New York Times asks: "would you date a podcast bro?"
Tips and tricks - with Phantom Producer
The Tech Stuff - with RSS.com
According to the Podcasting 2.0 podcast, Pocket Casts - one of the most popular independent podcast apps - is to support transcripts and JSON chapters. Meanwhile, 9to5 Google reports that Pocket Casts is developing a Wear OS app for smartwatches.

Pocket Casts

Should we drop support for VTT and even HTML file support for the podcast:transcript tag?

Podnews was supporting a podcast:transcript type of "txt/plain" in our RSS feed, which, it turns out, we entirely made up. We've removed that from our feed. Whoops.Podnews

How about a tag, podcast:acceptsGuests - so that people know whether a show has (or doesn't have) guests?

Dave Jones is working on a fast podcast guid resolver.

Thanks to boosts from Mike Dell - "Vegas Boost! Good to see you!", he says; Dave Jones, who says "Yay, Captivate!" at the news that the podcast host was adding more podcasting 2.0 features; and Adam Curry, "value received and returned". Boost us with your comments in Fountain or other new podcast apps.
Moves and hires
Adam Sachs, who joined SiriusXM through the acquisition of Team Coco, is taking on an expanded role as Senior Vice President of Entertainment, Comedy, and Podcasts Programming for SiriusXM. This is a newly created role that brings together Podcasts with Entertainment & Comedy programming for the first time.SiriusXM Team Coco
Podcast News


In Proximity
is new today from Proximity Media, providing listeners with
a deep dive into the creative process
of making movies, television, music, podcasts, and more, as well as a behind-the-scenes look at the making of the multimedia company's highly acclaimed projects and future titles.
Podcast data for Mar 13
#1 in Apple Podcasts

The Deck Investigates (audiochuck)

The Deck Investigates (audiochuck)
#1 in Spotify

The Joe Rogan Experience (Joe Rogan)

The Joe Rogan Experience (Joe Rogan)
Over the last week, 218,724 podcasts published at least one new episode (down 0.6%). source