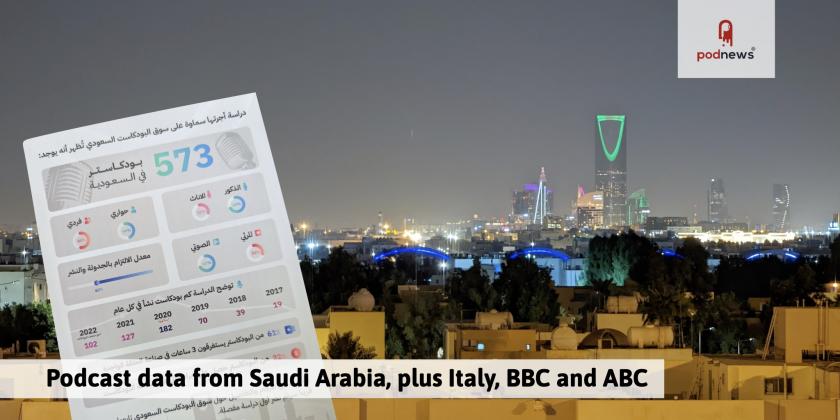 Podcast data from Saudi Arabia, plus Italy, BBC and ABC
LISTEN
· · Updated · 4.3 minutes to read
Data: In Saudi Arabia, Samawah Media published data on the Saudi podcast market. There are 573 podcasters in the fast-changing country, the company says: 33% make shows using video. Here's a translated version of its initial findings.

Data: BBC Sounds, the corporation's app for radio, music and podcasts, has posted a weekly average of 4.3m users, representing no growth from the previous quarter. It did, however, achieve a record audience of 4.53m people using it in the week following the UK government's now-retracted 'mini-budget'.

The BBC posted 178m plays of "on-demand radio and podcasts" in the quarter, also flat; 392m plays of audio overall, also flat; and an additional 256m podcast downloads on third platforms, a decline of 3.1% quarter-on-quarter.

Data: In Australia, the ABC's Annual Report was published. The national broadcaster is seeing 33m downloads per month for its podcasts (p64), up 22% year-on-year. (ARN's iHeartPodcast Network Australia, the #1 according to the Australian Podcast Ranker, got 18m downloads in Sep 2022). News shows got the highest increase (50% year-on-year); the ABC News Daily achieved 46% higher downloads than its predecessor, The Signal. Long-form interview podcast Conversations remains #1, with an 8% drop. /ht Oscar
Share your work with the internet's best
Paid content
Since 1996, The Webby Awards has been recognized as the preeminent international honor for Internet excellence. Last year's Webby Awards received over 14,000 entries from around the world.
Webby Winners are selected by a community of artists, innovators, and creators spanning all facets of digital culture. When you enter The Webbys, your work is seen by our judging body, the International Academy of Digital Arts and Sciences (IADAS).
New judges for Podcasts this year include: Andy Slavitt, Author & Host of In the Bubble, Misha Euceph, CEO, Dustlight Productions, Audie Cornish, Anchor, Correspondent & Host, CNN Audio, Roxane Gay, Host, The Roxane Gay Agenda, Gary Coichy, CEO, Pod Digital Media and Jay Shetty, Host, On Purpose.
To take advantage of the best pricing, apply for the 27th Annual Webby Awards by the Early Entry Deadline of October 28th, 2022.
The Tech Stuff - with RSS.com
Podcast News - with Lemonada Media
Podcast data for Oct 24
Pod Events
Getting
the
five
latest
events
This section is continually updated. Data: Podevents. See more and add yours, free
Latest Pod Jobs
This section is continually updated. Data: Podjobs. See more and add yours, free