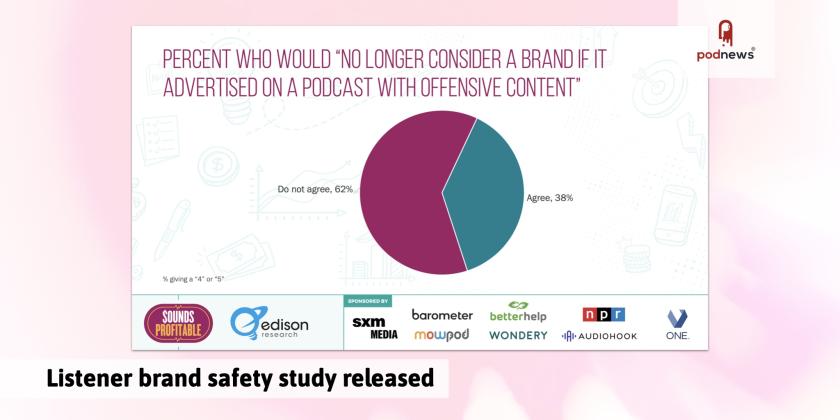 Listener brand safety study released
LISTEN
· · Updated · 2.5 minutes to read
In further evidence that we live in unprecedented times, where nothing that we thought we knew remains constant, Podbean's Rob Greenlee is now running an Apple Mac. The impromptu appearance of the device caused The New Media Show co-host Todd Cochrane to temporarily lose all power of speech, before exclaiming: "Are you kidding me? Wow". Greenlee added "I can truly be ambidextrous: Windows on this hand, Mac on this hand".
Further reading: the BBC's Director General, Tim Davie, spoke about the future of the UK media industry: arguing UK media is worth £109bn ($132bn) to the UK's economy each year, and calling for the media regulator to "regulate for success with speed". He didn't mention podcasts, thought … Meghan Davies, International MD at Acast, reflects on 2022 and explains why the company has their eyes on Italy for 2023 … and David Oxenford, a noted media lawyer, suggests that Big FTC Penalties on Google and iHeart for Deceptive Endorsements in Broadcast Commercials Mandate Care in Crafting Your Local Advertising
Moves and hires
Big failures are often the springboard to bigger success.
Paid content
Tips and tricks
Podcast News - with Campaign Legal Center

In our
New Podcast Trailers
podcast, you can enjoy trailers from every show we mention here: so, if you're thinking of finding something new to listen it, if it's got a trailer, it's in here.

Lateral with Tom Scott
is a fun listen if you like "No Such Thing As A Fish" but you wished it was played like a game show. It features a number of top podcasters and YouTubers, and is hosted by YouTuber Tom Scott.

The PBLA Podcast
is brand new today from Bruce Wawrzyniak. It's the official show of the new Professional Box Lacrosse Association, which begins its first season of play on Dec 29 and features nine teams competing in America's newest indoor lacrosse league.
Podcast data for Dec 8
Pod Events - with Podcast Movement Evolutions
Getting
the
five
latest
events
This section is continually updated. Data: Podevents. See more and add yours, free
Latest Pod Jobs
This section is continually updated. Data: Podjobs. See more and add yours, free