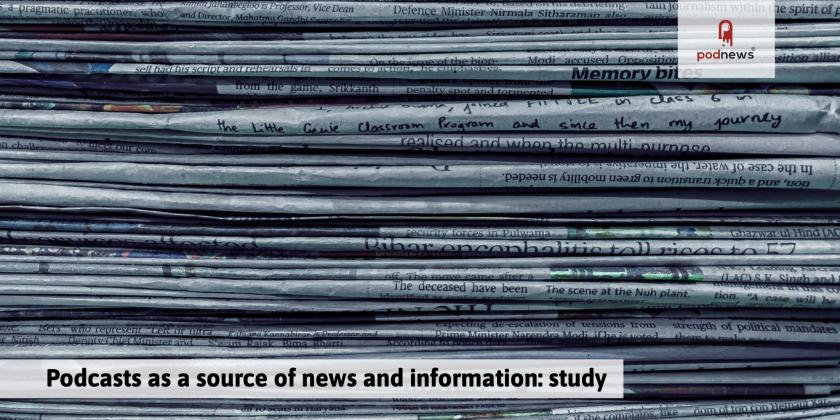 Podcasts as a source of news and information: study
LISTEN
· · 2.8 minutes to read
Data: The Pew Research Center has released a study examining podcasts as a source of news and information. The study suggests that two-thirds of all podcast listeners have heard news discussed on the podcasts they listen to; and almost all of them expect that news to be accurate. However, few directly listen to podcasts from a news organisation. The full study is here.

We talk to Elisa Shearer, a Senior Researcher at Pew Research Center, on Friday's Podnews Weekly Review. Subscribe wherever you get your podcasts.

talkSPORT, a UK sports broadcaster, has launched a football podcast network. The network includes many fan-led soccer shows, and the network will enable advertisers to target football supporters at scale.

Video podcasts are coming to APM. Financially Inclined, starting on Thursday, will break down money lessons for a teen and young adult audience. Episodes will be available on both YouTube and, in audio form, via RSS.
Audioboom has announced a slate of new podcasts, including financial, comedy and horror.

A generally held truth is that none of Spotify's The Ringer shows are exclusive to the platform. That's not quite true: The Ringer MMA Show has been mainly exclusive on Spotify. The show was once produced on Spotify Greenroom; it appears to now be made using Twitter Spaces.
AI Corner
Moves and hires
Nir Zicherman is to leave Spotify. With Michael Mignano, he was co-founder of Anchor, and is currently VP and Global Head of Audiobooks, which he describes as ground-breaking work. Mignano left Spotify last June; Zicherman's last day is Sep 30, when he will work on "a new project in the startup space".

The new board of The Podcast Academy has been announced: "Congratulations to Donald Albright, Chris Cochran, Sirisha Kuchimanchi, Juleyka Lantigua, Christy Mirabal, Sierra Reed, Jen Sargent and Matty Staudt as they join or continue on with our Board of Governors starting May 1st."
Podcast News

When does competition become an obsession? Stories of the wildest fights, feuds, and frenemies are on
Fierce Rivalries
with Delta Work and Kelsey Padgett, as they explore
how petty and dramatic things can get
when two people want nothing more than to beat the other. Bette Davis and Joan Crawford are the subject of the first episode, from Sony Music Podcasts and Somethin' Else.

The Last Ride
follows the story of two young men of color who went missing in Naples, Florida, nearly two decades ago. Felipe Santos and Terrance Williams vanished three months apart, on the same road. They were last seen with the same, now-fired sheriff's deputy, who said he gave them each a ride to a Circle K convenience store. He has never been arrested or charged. It's from WGCU, Naples Daily News, and The News-Press.
Podcast data for Apr 19
Pod Events
Getting
the
five
latest
events
This section is continually updated. Data: Podevents. See more and add yours, free
Latest Pod Jobs
This section is continually updated. Data: Podjobs. See more and add yours, free