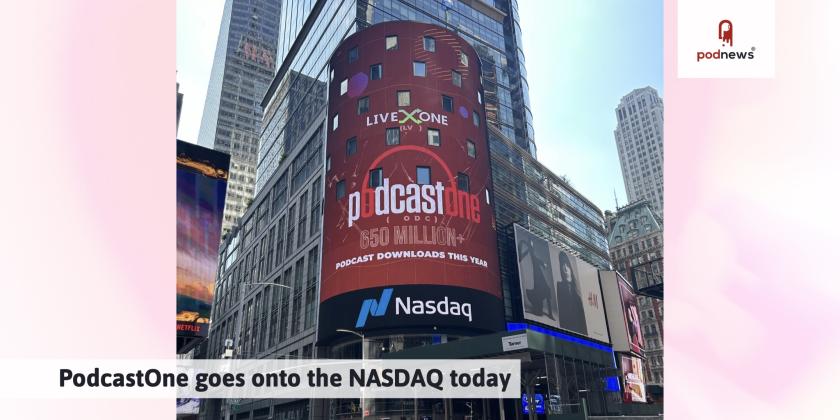 PodcastOne goes onto the NASDAQ today
LISTEN
· · 3.3 minutes to read
Google
Patreon, a monetisation option that many podcasters use, has launched a community chat feature.

Sounder has been named as one of the top 100 companies shaping the future of workplace culture. The company is the only audio company in the list.

Sounder

Data: when Germans drive, they mostly listen to music, but 23% listen to spoken content including podcasts, according to a survey for a fuel company. Around 76% of drivers turn the volume down when they're parking, says the data, which also says that 22% sing along loudly, 19% hum, but 48% "enjoy themselves internally without showing it to the outside world".

Headliner has revealed the results of a user survey. Podcasters who spent more time editing reported higher enjoyment levels.

What's the best transcription software for podcasts? Transistor's Justin Jackson has done the hard work so you don't have to.

SiriusXM wrote about the biggest trends the team heard at Podcast Movement. They didn't mention the Podnews Puppies?! Hmph.

Podnews SiriusXM

Global Resonance - Women's Voices Across Borders is an online event next Wednesday at 5pm London time (12pm New York time). The panel are Rhea Chedid of Spotify, Lory Martinez of Ochenta Studio, Imriel Morgan of Content is Queen and Molly Jensen of Afripods.

Spotify
"From all of us at Huberman Lab, thank you for the great work you do. We read Podnews daily and it is our main source of podcast industry news." Thank you to Huberman Lab for becoming our latest supporter. Huberman Lab is frequently ranked in the Top 15 of all podcasts globally and is often ranked #1 in the categories of science, education, and health & fitness. We're grateful for your support! (You can be like them)
Podnews
Moves and hires - with Podnews Live: where podcasting connects
Tips and tricks
Podcast News - with Airwave

Part of the Airwave Podcast Network:
The Past and The Curious
is a history podcast for kids and their families. The show shares the stories of spies, funny foods, George Washington's foibles, early advancements in cartooning and ballooning - with a professional music score and important songs.

The
Podnews Weekly Review
this week interviews the new Chief Business Officer of Acast, Greg Glenday; and the chart-topping music artist Ainsley Costello - who tells us how she's using, and earning from, podcasting. James is in an airport lounge. Sam isn't.
Acast
Podnews

Podcast data for Sep 8
#1 in Apple Podcasts

Strike Force Five (Strike Force Five)

The Rest Is Football (Goalhanger Podcasts)
#1 in Spotify

The Joe Rogan Experience (Joe Rogan)

The Diary Of A CEO with Steven Bartlett (Steven Bartlett)
Over the last week, 201,605 podcasts published at least one new episode (up 0.9%). source
Events
Getting
the
five
latest
events
This section is continually updated. See more and add yours, free
Latest Jobs
This section is continually updated. See more and add your vacancies, free