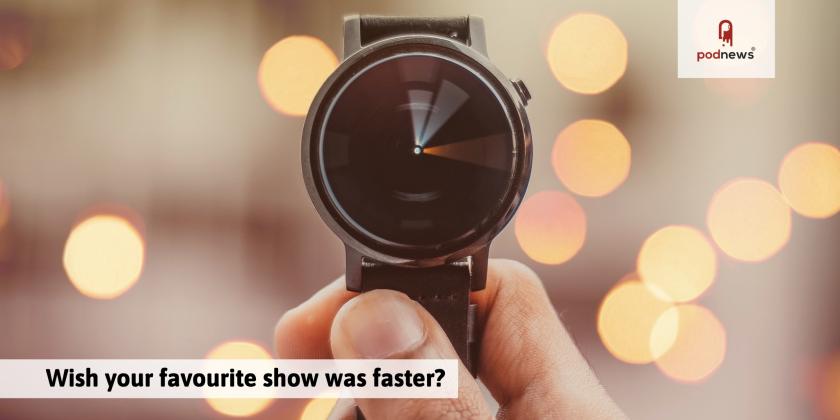 Wish your favourite show was faster?
LISTEN
· · Updated · 2.8 minutes to read
Podcast too long? PodFast is an upcoming service that will produce audio summaries of podcasts. It claims to use "cutting-edge AI".

Deals: Podcast producer Kast Media has signed with SoundStack … TV 2, one of Denmark's largest media companies, has signed with Acast … and PodcastOne has renewed a number of the largest shows on its network, including The Adam Carolla Podcast, The Jordan Harbinger Show, LADYGANG, Off The Vine with Kaitlyn Bristowe, and Court Junkies.

YouTube's new CEO, Neal Mohan, has written a blog post on the company's 2023 priorities. There's a paragraph about podcasting, which reflects the announcement made last week.
Apple
Spotify
Apple Podcasts
Moves and hires
Podcast News

Wonder Media Network's
Womanica
has
joined iHeartPodcasts
. The daily podcast is "about a woman from history we might not know about, but should".

The juiciest rivalries you've never heard of,
BEEF with Bridget Todd
is new this week from Next Chapter Podcasts. Bridget Todd tells the stories of legends in their fields and how they tried to stomp out their competition only to find that their enemies become the driving force behind their success, ultimately changing the world as we know it. It's like Business Wars but for pop culture history; the first episode features advice columnists Ann Landers and Dear Abby.

Truth and Lies: The Boston Strangler
is new from ABC Audio - a true-crime companion podcast to the 20th Century Studios' film, "Boston Strangler," which premieres on Hulu on March 17. Much remains unsettled: all but one of the murders remain unsolved.
Podcast data for Mar 2
#1 in Apple Podcasts

The Coldest Case In Laramie (Serial Productions & The New York Times)

The Coldest Case In Laramie (Serial Productions & The New York Times)
#1 in Spotify

The Joe Rogan Experience (Joe Rogan)

Do You F***ing Mind? (Alexis Fernandez)
Over the last week, 221,676 podcasts published at least one new episode (up 3.0%). source