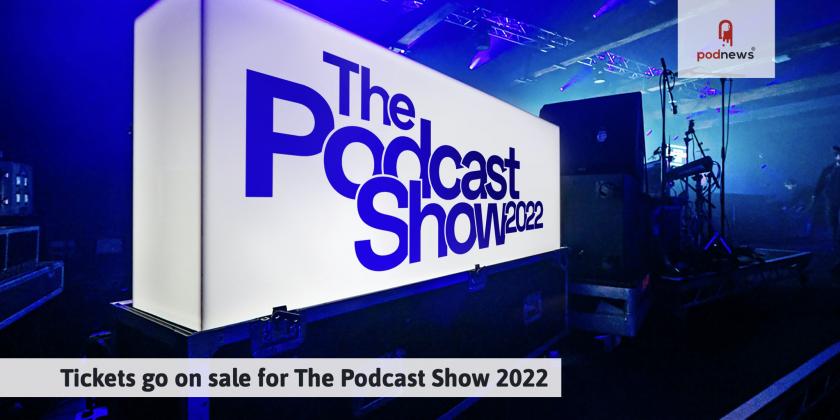 Tickets go on sale for The Podcast Show 2022
LISTEN
· · 3.2 minutes to read
Delegate day passes have just gone on sale for The Podcast Show 2022, coming to London in May. May 25-26 promises an international festival with a number of inspirational speakers including Jen Sargent, CEO of Wondery, Miranda Sawyer, audio critic from The Observer, Ross Adams, CEO of Acast, and Steph Simon, Head of Community & Creators at Clubhouse. Additionally, right through the week of May 23-29, you'll be able to watch your favourite shows live on stage in a number of different venues. You can get your day passes today - use promo code PODNEWS for 20% off a limited number of day passes. Podnews is a media partner (and we'll be there).

A new Blubrry Podcast Statistics interface will be launched next week. CEO Todd Cochrane calls it "something spectacular".

Media Monitors has released its US PodRank data, showing top podcasts and publishers for two weeks in December. The company puts Joe Rogan as #1; suggests that comedy is the top category; and says iHeart is #1 for podcasting. Media Monitors is owned by iHeart; but the data is similar to Podtrac's December data for participating publishers.
Facebook appears to have rolled-out audio rooms across the world - here's an example from Paul Spain from yesterday. All rooms auto-record and post to your profile (unless you don't want that). They work on iOS, Android and the web. (We still don't see podcasts internationally, though?)

A podcast has turned into its own radio station in the UK. Libsyn-hosted The Alfred Daily, a 40-minute daily local news show, is now being broadcast on 107.3FM across Shaftesbury in Dorset. The podcast, and station, is staffed by volunteers, and uses the Hindenburg editor. The podcast has been doing 1,000 downloads a day (the area it covers is just 12,000 people).

In The Netherlands, the Podcast Top 2021 was published - the result of more than 2,500 votes from dutch podcast listeners. While 91% of the country speaks English, the first English-language podcast in the list was at #108.

Poddin is a new podcast transcript service. Jo Moh is the founder, and looking for feedback.

You've heard of Wordle? Podchaser has released Poddle, which uses podcast art.

Romantic comedy Meet Cute and independent TV studio wiip are now a couple. The two companies will hold hands, skipping and jumping in freshly mown meadows work on a television show based on the Meet Cute podcast. Aw!

Dylan Buckley, a former AFL footballer and now podcast host, has launched Producey, a podcast production house and "content and amplification business", in Richmond VIC, Australia.

The longest-running podcast from the BBC, In Our Time has been catalogued using the Dewey Decimal Classification system by Stuart Ian Burns, a fan of the show.

Do you have a short audio fiction podcast, already produced as a single episode? Want to make sure it's heard? JaZzyMaE Media is on the hunt for short produced works as part of their own comedy/drama, Muriel.

Podcast host? Are you seeing a lot of downloads from something calling itself iTunes/12.9.5 (Macintosh; OS X 10.14.5)? We're curious…
Tips and tricks
Podcast News - with Quill

Produced by Quill:
Contributors
features provoking conversations about how to take your organization one step further by prioritizing more than just the bottom line. Hosts Marnie Niemi Hood and Russell Evans from the CAAT Pension Plan sit down with leaders who are contributing to the well-being of the country and global stage by innovating industries and leading change.

When I Met You
is new from Meet Cute - unique, true love stories that will take you to the moment people fell in love. With 6-minute episodes told as a dialogue between two people, listeners will get a quick dose of dopamines.
Pod Events - with The Podcast Show 2022
Getting
the
five
latest
events
This section is continually updated. Data: Podevents. See more and add yours, free
Latest Pod Jobs
This section is continually updated. Data: Podjobs. See more and add yours, free