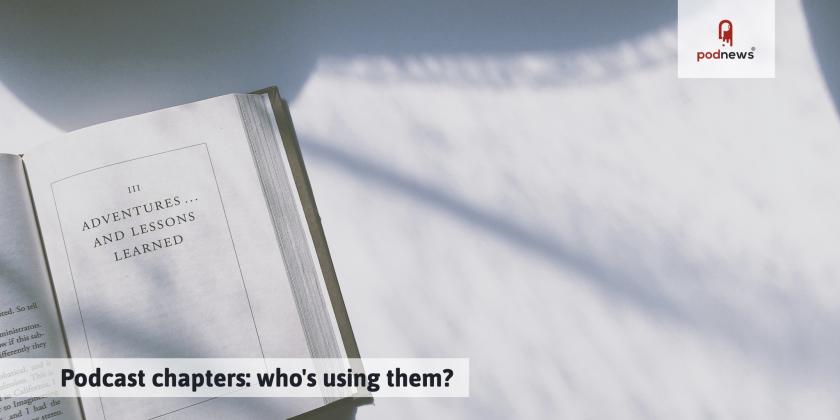 Podcast chapters: who's using them?
LISTEN
· · Updated · 3.1 minutes to read
Spain's most-read online newspaper, El País, has launched a daily podcast. The daily 20-minute show is presented by Ana Fuentes and Íñigo Domínguez.

Luminary has "a couple of hundred thousand" subscribers, according to Hot Pod Insider.

TikTok on the clock, but the party don't stop: except, says Rephonic, podcasters are ignoring TikTok. Twitter is significantly over-represented across all podcasts, the company summarises; but TikTok has by far the highest average number of followers.

Podtrac has shared February's Top US podcast publishers. Audience was up 18% year-on-year. In February (which has 10% fewer days than January), NPR decreased downloads by 7.8% but iHeart increased by 1.8%. It lists participating publishers only.

Podtrac also published its top 20 US podcasts. There was no change in the top 5. It lists participating publishers only. The Trojan Horse Affair, released on Feb 3, was new at #20. That podcast has just gained a review in Podcast Review.

Jason Howell picks his favourite podcasts for Pocket Casts. Meanwhile, Crowd Network's Tom Fordyce gets interviewed in Pod Bible.

Acast is to hold a number of events for International Womens Day. It is also to close its podcast app, claiming that the app does not "support the company's vision of a completely open podcast ecosystem". The company also admits that few people used it, saying: "the shutdown of the app will not have any noticeable effect on Acast's revenue or the number of listens." They'll continue operating the RadioPublic app, however, which - on iOS - last got an update in September 2019.

"Apple's podcast app is only getting worse, and I will never stop using it" says Joe Berkowitz, writing for Fast Company.

Lava, "a new app designed to empower & expand the growing community of audio-first creators", has launched on iOS. You can record a "convo" (about 30 minutes), or a "hot take" (about 30 seconds). You can also add your RSS feed there. If you've got the app, we're here; we've added it to our list of podcast directories.
Moves and hires
Sabrina Tavernise is to join The Daily from the New York Times as its second host.
Podcast News


The
Dead Eyes
podcast, a podcast investigation on why actor Connor Ratliff was fired from Band of Brothers because Tom Hanks said he had "dead eyes," will have a guest for its episode on March 10th… none other than Tom Hanks himself.
Wil Williams takes up the story
.

Now the world is opening up again, it's always good to consider a nice holiday.
The Beach Is Just The Beginning
is new from The Antigua and Barbuda Tourism Authority, set against their 40th anniversary of independence. -
read more
Pod Events - with The Podcast Show 2022
Getting
the
five
latest
events
This section is continually updated. Data: Podevents. See more and add yours, free
Latest Pod Jobs
This section is continually updated. Data: Podjobs. See more and add yours, free
Comments via boostagram
To send us a comment, listen to this episode on a supported podcast app, and send a message using a "boost". It will appear here within ten minutes.