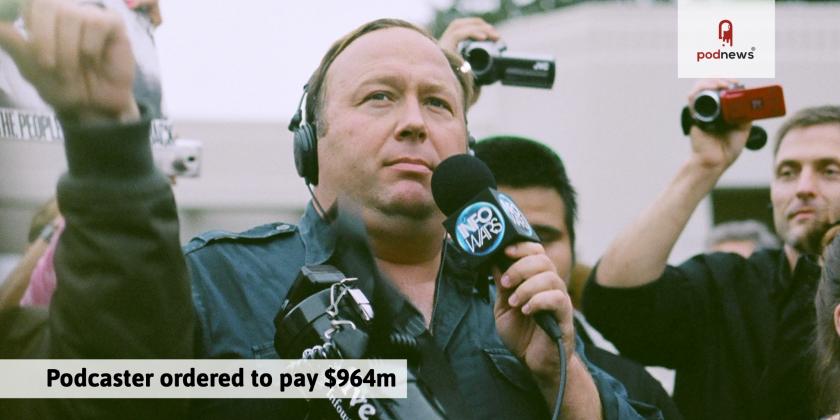 Podcaster ordered to pay $964m
LISTEN
· · Updated · 3.7 minutes to read
Can you help us grow? So far in October, we've welcomed 293 new subscribers from companies like Spotify, NPR, Pandora, Nova Entertainment, the Washington Post, TED, the BBC and Veritone. At the time of writing, we're on 24,963 subscribers. We'd quite like to be 25,000 by the end of this week, because that's a nicer number. Can you help by mentioning us on your favourite social networking platform, or telling your colleagues? We'll be your friend for life.
Thank you to Paramount, reaching more than 4.3 billion people across more than 180 countries, for becoming our latest gold supporter today. We're grateful for your support. (You can be like them!)
Get your ticket now for Podcast Futures New York - 19th October!
Paid content
If you work in podcasting—or call the shots on your own podcast—you'll benefit from this full day of specialist panels, stage sessions and keynote speakers. All included for $55.
Oh, and the networking. The heartbeat of a podcasting event!
Discussion points include the future of podcasting and…
Gen Z
in-car listening
getting discovered
the value of ad tech
'how to' on podcast networks
and spotlights on creators who do it differently
10am - 5pm, Wednesday 19th October. Hosted at Javits Center in New York. Learn more and buy your tickets to Podcast Futures today
Moves and hires
Fyona Smith, formerly Head of Radio & Podcasting for AFTRS, is moving to Ireland to be Managing Editor for Today FM.
Tips and tricks
Podcast News - with Lemonada Media

From Lemonada Media:
Raised by Ricki
looks back on and re-examines the groundbreaking Ricki Lake Show. Hosted by award-winning talk show host Ricki Lake and television personality and digital creator Kalen Allen.

Proper Australians wear R.M.Williams every day (and so does our Editor even if he's just a pom).
R.M.Williams OUTBACK Great Australians
is hosted by OUTBACK Senior Associate Editor Terri Cowley, and has in-depth interviews with some great Australians away from the bright lights of Australia's cities.

Surviving El Chapo: The Twins Who Brought Down A Drug Lord
is new today from Lionsgate Sound, G-Unit Audio and iHeartPodcasts. Speaking publicly for the first time ever with co-hosts Curtis "50 Cent" Jackson and investigative journalist Charlie Webster, Chicago-born identical twins Jay and Peter Flores let listeners into how they went from dealing $2 billion worth of drugs to government informants who brought down the infamous drug lord, "El Chapo." The trailer is available now.

Avery Trufleman's
Articles of Interest
is back for
a new season, called American Ivy
. "I was only planning on making one episode devoted to preppy clothing," says Trufelman. "But, this story ended up being so surprising, so impactful, and so resonant, that it changed my entire idea of what trends are and why they spread." The seven-part season starts on Oct 26.
Podcast ads (kind of) in the wild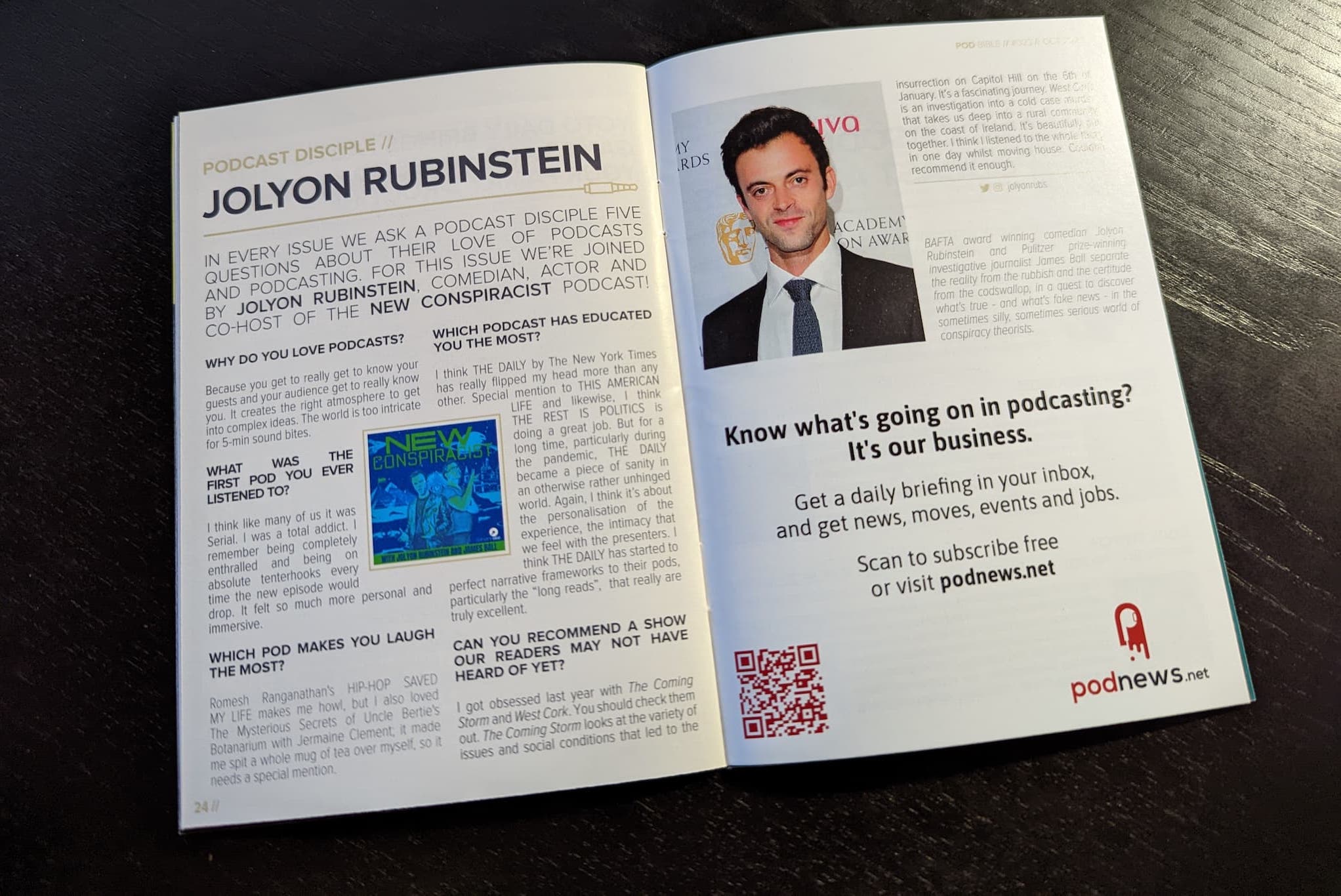 Pod Bible magazine issue #23 (read it here) has a very excellent page 25. Sponsored by Audible and Acast, it's 36 pages of excellent podcasts, and half a page of hastily laid-out advertisement for your favourite daily podcast newsletter.
Podcast data for Oct 13
Pod Events
Getting
the
five
latest
events
This section is continually updated. Data: Podevents. See more and add yours, free
Latest Pod Jobs
This section is continually updated. Data: Podjobs. See more and add yours, free