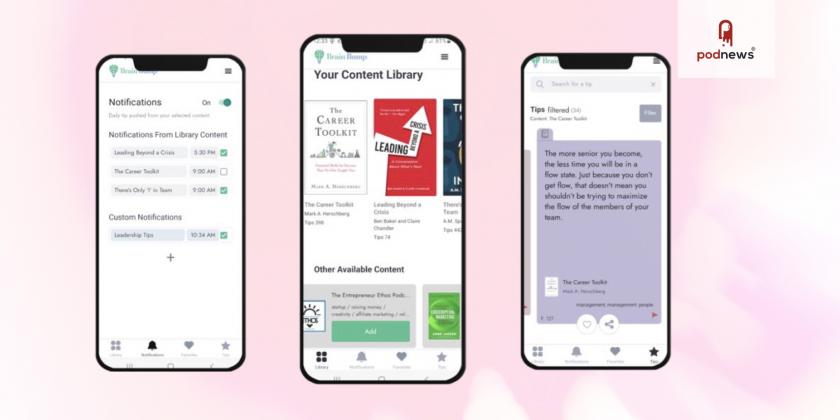 Brain Bump, an innovative app that helps people retain ideas from books and podcasts
Press Release · New York, NY, USA ·
Cognosco Media, LLC, a groundbreaking media company taking content beyond the printed page, announced the launch of a new, patent-pending media / education app: Brain Bump. Recognizing that people quickly forget what they read in a book, or hear on a podcast, the app takes the key ideas from the content and surfaces them to the user to help the ideas stay top of mind, requiring only a few seconds a day to be effective.
Brain Bump combines the core functionality of a book summary app, a flashcard app, and a daily affirmation app. It takes the highlights from the content and puts them in the user's pocket. The user doesn't even need to open the app, since the passive learning of the push notifications helps keep the content (and brand) top of mind without requiring the user to take any action. The app supports content from books, blogs, podcasts, classes, and talks.
"When I launched my book, I looked for an app like this to help my readers remember the key ideas. I was surprised to find no such app existed," said Mark Herschberg, the app's creator. Brain Bump also allows for just-in-time access. Herschberg notes, "Consider where you read ideas versus where you need ideas; Brain Bump takes the ideas from between the covers and lets the user access them when and where they are needed."
"I am so excited to be included in the Brain Bump app. I truly believe that this new innovative format enables people the microlearning they desire and the ability to reference larger amounts of content when it suits them. It is a great way to build my brand and content library," said Ben Baker of Your Brand Marketing and co-author of Leading Beyond a Crisis, one of the many books on the app.
"I love the Brain Bump app! It's so fast and easy and jump starts my day with tips and information I can use right away. It's good to know that I can go there and find what I'm looking for – any time, even at the last minute," commented Jan Wallen of RaiseYourFees.com, author of Raise Your Fees Without Losing Clients, another book on the app. She continued, "It's helped me prepare for presentations, and I can go back and review key ideas whenever I want to. Brain Bump does even more than I expected, so I use it every day."
Tammy Gooler Loeb, author of Work from the Inside Out, and one of the many thought leaders on the app remarked, "At a time when our work lives are constantly changing, I believe it is critical to have effective and efficient ways to offer people the information they need to navigate their careers and the marketplace. I am thrilled to share my expertise and experience as a career and executive coach through Brain Bump, as I can best address people's career needs in a timely manner."
The free app will continue to add new content each month; app users will automatically have access to additional content and tips. Unlike book summary apps, Brain Bump works with authors and other content creators to promote their content. Unlike note taking apps, the user doesn't have to do the work of creating the notes, they come with the app.
Brain Bump is available for download on the Apple App Store and in Google Play.
This is a press release which we link to from Podnews, our daily newsletter about podcasting and on-demand. This is reprinted verbatim; we may rewrite headlines and descriptions.