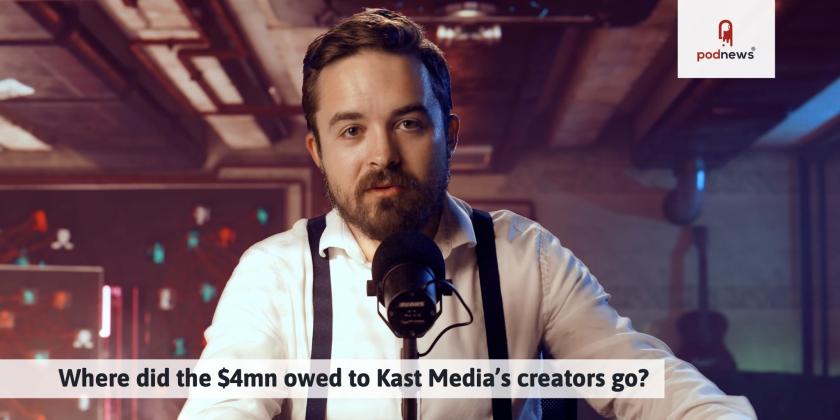 Where did the $4mn owed to Kast Media's creators go?
LISTEN
· · 3.8 minutes to read
On YouTube, a twenty-minute documentary on Kast Media has been published by "Coffeezilla", the investigative journalist Stephen Findeisen - featuring Theo Von, Brendan Schaub, Whitney Cummings, Brian Last and Jim Cornette who all allege that they weren't paid by the company. The journalist talks to Kast Media's Colin Thomson and his former partner Dustin Knouse, and to creators on the network. Findeisen makes a number of allegations against Thomson personally, as well as the company. At press time, the video had over 1.5mn views.

YouTube

Minimum guarantees: The Coffeezilla video alleges that minimum guarantees were made to creators by Kast Media that became unsustainable. Similar minimum guarantees have been made - and then cancelled - by Audacy, who made an agreement with APM; and a Tenderfoot TV agreement with Cadence13 is the subject of legal action. We are aware of at least one further podcast network who is not paying creators on time.

Audacy Cadence13 Tenderfoot TV

Correction: an earlier version of this story said that Audioboom had cancelled a minimum contract. As detailed in the company's H1/23 financial report, the company has one onerous contract which they made provision for; but Stuart Last, the company's CEO, tells us "We have not and will not cancel this contract. Audioboom has never cancelled a minimum guarantee that has been contracted with a partner. We honor our contracts with creators including payments of minimum guarantees within those contracts." We're happy to make this clear.Audioboom

Goalhanger has recently agreed a new podcast with Richard Osman and Marina Hyde to host an all encompassing entertainment podcast called All Things Entertainment. The announcement was made at a Spotify event in London.

Spotify
Thank you to Alan Haburchak for becoming our latest personal supporter. Supporters like Alan help us retain independence, so we're less reliant on advertisers. Alan wants stickers for his laptop - we'll dig some out!
Moves & Hires
Podcast News - with Airwave
This page contains automated links to Bookshop·org. We receive a commission for purchases made; and the purchase also supports local bookstores.
Podcast data for Sep 15
#1 in Apple Podcasts

After Bedtime with Big Little Feelings (Audacy and Big Little Feelings)

I'm Not Here To Hurt You (Irish Independent)
#1 in Spotify

The Joe Rogan Experience (Joe Rogan)

The Diary Of A CEO with Steven Bartlett (Steven Bartlett)
Over the last week, 205,848 podcasts published at least one new episode (up 1.7%). source
Events
Getting
the
five
latest
events
This section is continually updated. See more and add yours, free
Latest Jobs
This section is continually updated. See more and add your vacancies, free