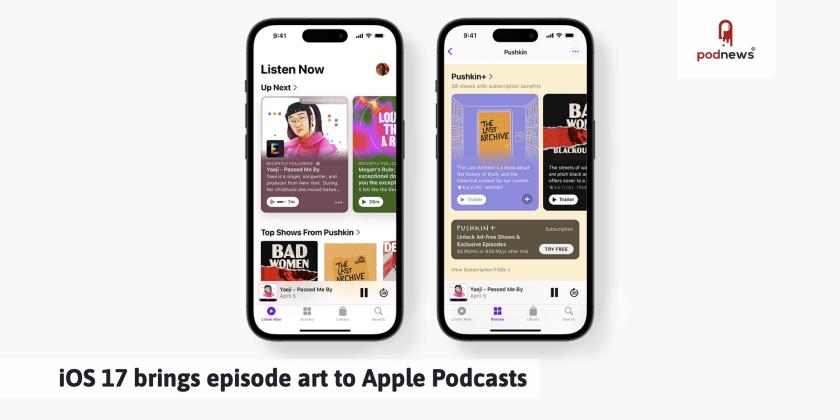 iOS 17 brings episode art to Apple Podcasts
LISTEN
· · 4.2 minutes to read
Apple
Spotify
Google
Apple Podcasts
First look: Triton Digital unveiled its Canada Podcast Trends report with data from the country. An accompaniment to the Canadian Podcast Ranker, it reveals that Canadians listen to three hours of podcasts on average per week, and that true crime is the most popular category.

Triton Digital

First look: Lemonada Media has launched a full-service studio for brand, talent, foundation and non-profit partners looking to create original podcasts.

Lemonada Media

First look: NPR has renewed a brand-lift measurement solution with Veritonic, to measure the impact of their client and sponsor audio campaigns.

PodReacher has unveiled a service that turns your podcast into a book, and can publish it on Amazon within eight weeks.

Amazon PodReacher

A new version of Open AI's Whisper speech recognition software was released today. It includes improvements to word timestamp accuracy and support for the podcast namespace requirements. Ryan Heise tells us the magical incantation is: whisper --word_timestamps True --max_line_width 32 --max_line_count 2 audio.mp3 which outputs JSON, SRT, VTT and TXT formats. (As of today, we also support JSON transcripts).

Apple has an Apple Podcast Studio in Apple Park, Cupertino. The team at Las Charlas de Applesfera recorded it in directly after Apple's Wonderlust event. The podcast team describe it as "a generously sized recording room that includes everything any podcaster needs to produce quality content". The Podnews Weekly Review would sound nice from there, just saying.

Apple Podnews
What's a "first look"? It's where Podnews has been trusted to be one of the first to cover a new product or service to our 29,300 readers.
Podnews
Moves and hires - with Podnews Live: where podcasting connects
Tips & Tricks
Podcast News - with Airwave
Podcast promotion in the wild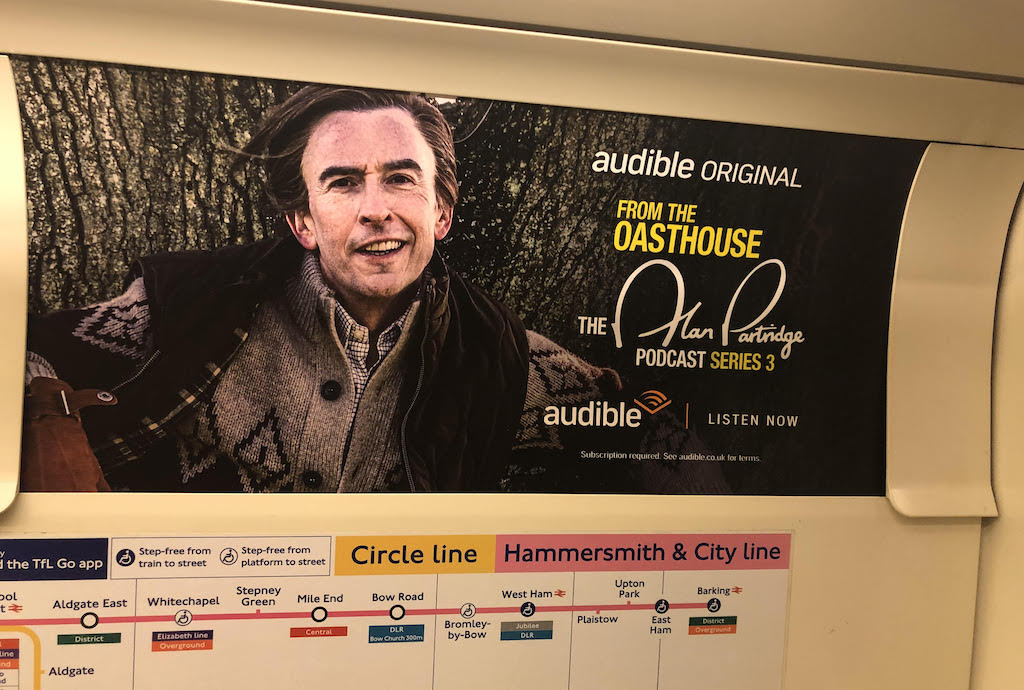 Seen by Podnews reader Katie on the London Underground, Audible is marketing series three of the Steve Coogan podcast From The Oasthouse, The Alan Partridge Podcast. An "Oast house" (two words) is a building in Southern England designed to dry hops, the chief ingredient of beer, apart from water that is, which we guess is really the chief ingredient of beer come to think of it. Here are some pictures of oast houses that we can't afford to buy from Alamy.
Audible
Podnews
Podcast promotion in the wild is our series showing podcasts being promoted on poster sites, in tube trains, on aeroplanes, those stickers in the gents, on t-shirts, postcards and all kinds of other places, reaching the 58% of people who don't listen to podcasts at least once a month, because that's where the real growth is. It also lets us write things about beer and/or oast houses. Send any you spot (podcast promotion, not oast houses) to editor@podnews.net or just hit reply.
Podcast data for Sep 19
#1 in Apple Podcasts

Exposed: Cover-Up at Columbia University (Wondery)

TED Talks Daily (TED)
#1 in Spotify

The Joe Rogan Experience (Joe Rogan)

Comfort and Growth with Crystal Lim-Lange (Crystal Lim-Lange)
Over the last week, 207,974 podcasts published at least one new episode (up 1.7%). source
Events
Getting
the
five
latest
events
This section is continually updated. See more and add yours, free
Latest Jobs
This section is continually updated. See more and add your vacancies, free